Looking to eat vegan while in Eau Claire? Never fear, we've got you covered with so much more than just salads.
I am not a vegan. However, I've always enjoyed challenging myself by making food out of my comfort zone. This often extends into my dining out choices, so I set out to find the best vegan dishes in Eau Claire. The only qualifier? No salads. No offense to the salad, as I love a good one, but I know the vegans out there would appreciate expanded dining options.
1. Vegetable Burger at the Informalist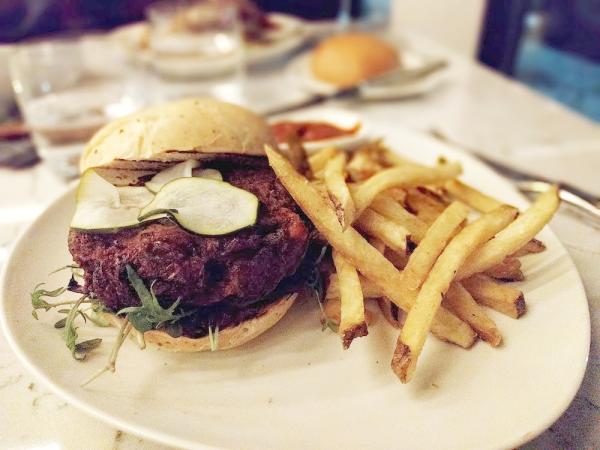 The Informalist is known for its rotating and creative menu, so while the vegetable burger may not always be on there, something vegan will be.
What I loved most about this burger of mixed root vegetables is that somehow they managed to make the outside crispy. I've had quite a few black bean and vegetable burgers, but none with the same amazing texture as this one at The Informalist.
2. Vegan Gluten Free Carrot (Corn) Dog at Locavore Mobile Kitchen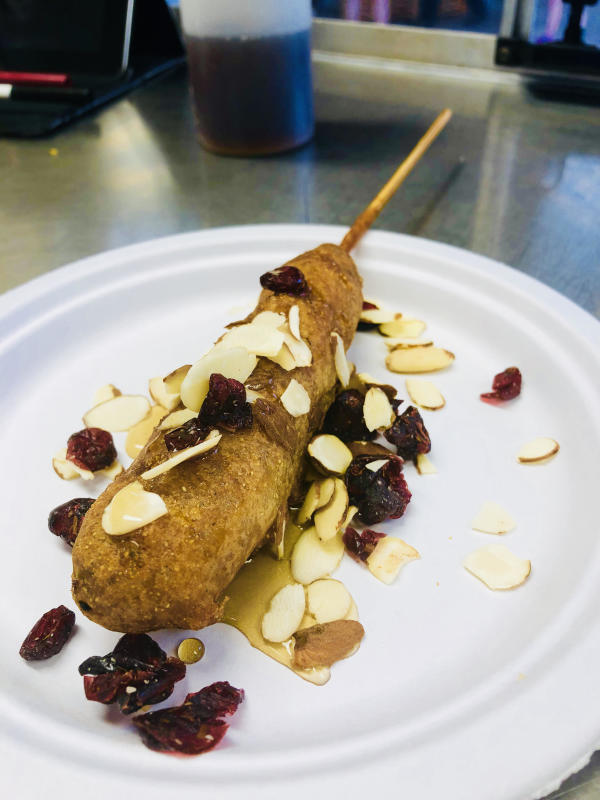 Image credit: Locavore Mobile Kitchen
One taste and you will be chasing this food truck all over the city. Luckily, it won't be hard to find! This delicious mobile kitchen can be found outside of Shift Cyclery & Coffee Bar every Sunday during the summer, and every Saturday at the Eau Claire Downtown Farmers Market from May-October!
One of the most popular dishes featured at this mobile kitchen is the carrot "corn dog" featuring a roasted carrot, local maple syrup, a gluten-free vegan batter, toasted nuts and dried berries. They also offer a beet dish glazed with apple and topped with toasted hazelnuts. Nuts and berries are a staple to Locavore because they are native to Wisconsin and the oak savannah biome that we live in, according to Amy Huo. Locavore's vegan dishes cannot be beat.
3. Moo Shu Tofu at Ninja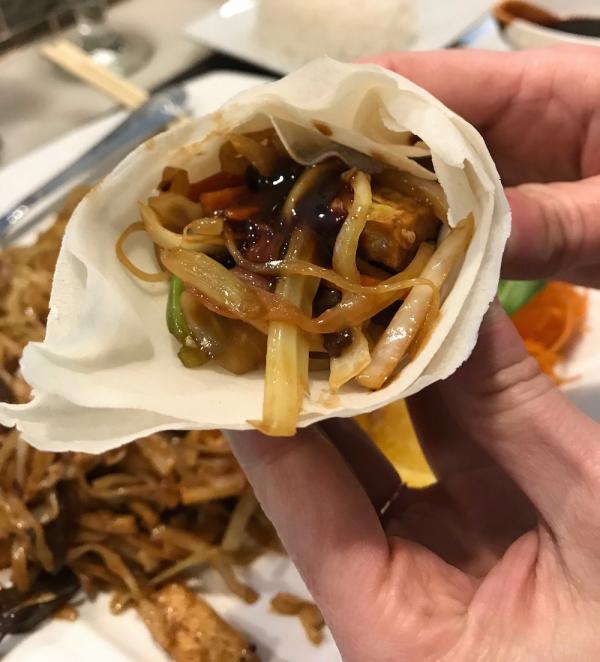 Ninja Sushi was the second place I ever dined out in Eau Claire and is one of my favorites because of their sushi lunch special. 
Now, you will have to go a little off the menu to get this, but the extra work is so, so worth it. Chicken and Pork Moo Shu are on the menu, but tofu is available on request. Additionally, you'll have to ask to hold the egg, but otherwise, this dish is ready to go (despite the name, hoisin sauce doesn't contain fish).
Moo Shu Tofu was new to me, but I've now added it to my favorites because I don't think I've had a meal with cabbage that I haven't loved. You have fried, thin strips of cabbage with tofu in a savory sauce. Ninja serves both steamed rice and crepe-like rice pancakes which I loved making into little savory wraps.
4. Soups & Grain Bowls at Forage
Last but not least is Forage in Banbury Place. Not only is this a great place to learn new cooking skills, but they also frequently host pop-up restaurant times (which also means their menu changes often!) Vegan soups in the past have included a chickpea curry, with fresh bell pepper and cauliflower or chilled pea soup with mint.
The staff at Forage is also fond of their vegan grain bowls which always include fresh roasted seasonal veggies, quinoa, different kinds of rice, a fresh, healthy green sauce and a crunchy aspect like curry roasted cashews
I genuinely believe these dishes can be enjoyed by vegans and non-vegans alike. Are there other vegan dishes you love in Eau Claire? Share below!