Ultimate Midwest Indie Road Trip from Chicago to Eau Claire
If you haven't had time to fine-tune your favorite music playlist, now is your chance because you'll need something to bop your head to as you take a well-worth 5.5-hour ride from Chicago, IL to the Indie capital of the Midwest, Eau Claire, WI. May we recommend a few Bon Iver tracks? It would only be fitting since Eau Claire is home to Justin Vernon, the genius behind Bon Iver who has helped shape Eau Claire into the city we know and love today. Once you're here, the music won't stop; it will follow you along the way. Described as a "music mecca", the city of Eau Claire thrives on arts and culture. Not to mention, the beer here never stops flowing, the food is served farm-to-table, and the natural sights never disappoint all year-round.
You know what they say; time flies when you're having fun. To maximize the fun, you'll want to make sure you plan ahead and give yourself some time at each of these unique stops on the itinerary. Now, load up your car and crank the volume up because you're going on a road trip to Eau Claire, WI!
Once you arrive at this first stop, you won't know where to look. State St. in downtown Rockford is plastered with murals every which way that bring the concrete buildings that line the streets to life. While the mural scene in Rockford gets you reaching for your camera, Eau Claire has a handful of Insta-worthy murals itself. You may even spot similar murals painted by the same artist in each city. Molly Z. has painted murals in both Rockford, IL and Eau Claire, WI along with several other places throughout the country. Her artwork is fun, vibrant, and memorable; you can't miss it. Double the points if you can snap a selfie in front of her murals in both Rockford and Eau Claire!
If you like this, check out Eau Claire's murals!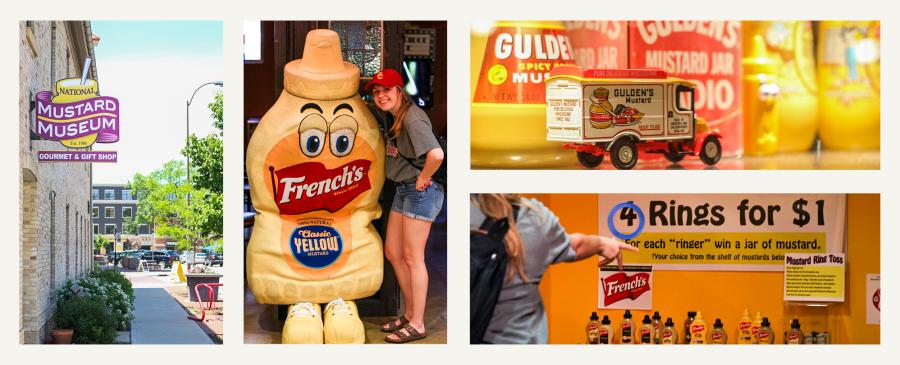 Who knew such a place existed?! No kidding though, this place is like a shrine for mustards. The National Mustard Museum is equipped with two stories worth of mustard madness; the first floor is a fun gift shop where you can purchase a souvenir for yourself and some mustard-loving friends and then there is a staircase that leads to the lower floor that is a mustard fanatic's ultimate dream. You descend into a room of 6,090 mustards on display from all 50 states and 70 countries. You will learn how mustard is made and you can even play a game of mustard ring toss! If that's not enticing enough, this 8th world wonder has FREE admission! If you don't get your mustard fix here, Eau Claire is home to Silver Springs Foods, the world's largest horseradish farm, that produces 9 different kinds of mustards. You can find Silver Springs mustard served at several Eau Claire restaurants or even grab a bottle to take home with you after your trip.
If you like this, check out the Wisconsin Logging Museum in Eau Claire!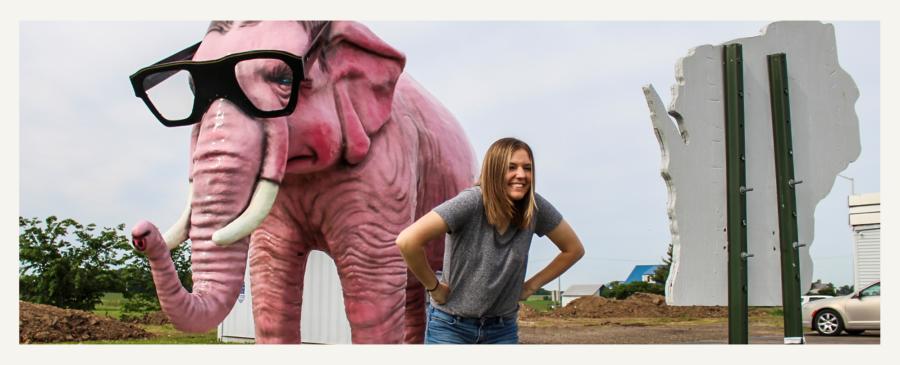 3. Pinkie the Elephant in Deforest, WI
The next stop on the list is an elephant so pink that he just had to be named Pinkie. This little guy standing right off Highway V next to a Shell gas station is anything but little. Pinkie has stayed put in that very spot since the mid-1960s. People from near and far purposely stop at this gas station to pay a visit and grab a selfie with Pinkie. They even made a selfie stand for you to set your phone on to get a perfect snapshot with this elephant. It gets even better… There is also a bin of props for you to use with your photo. Make sure you smile for the camera and say cheese! 
If you like this, check out the Eau Claire Sculpture Tour!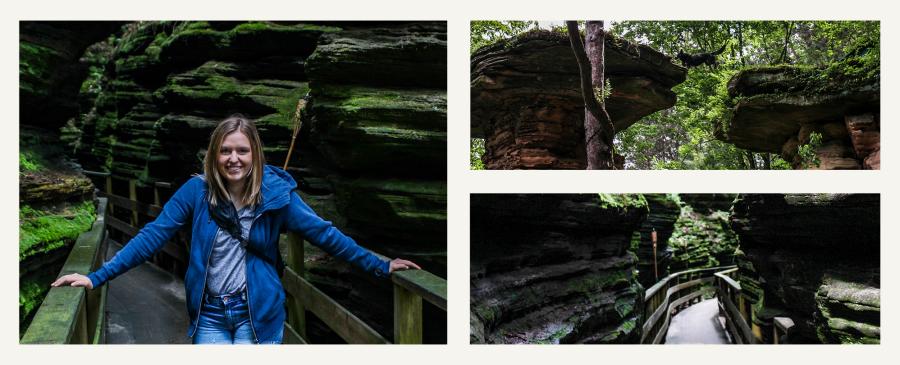 If at this point of the road trip you are tired of sitting in the car, don't worry! It's time to step foot on a boat! Witches Gulch is a majestic narrow canyon located in the Wisconsin River State Natural Area, but there is a catch: it is only accessible by the Upper Dells Boat Tour! Before you slip on your boat shoes, call the Dells Boat Tour and ask what time of day their boats will be leaving so you can purchase your tickets and plan accordingly. Throughout the 2-hour boat tour, you will make two stops; one of them is Witches Gulch. Pro tip! Bring a sweater if you are one to get chilly because Witches Gulch is 15 degrees colder than the temperature out on the river! After strolling through and learning about the history surrounding the gulch, you'll cross over to the other side of the river to the final stop: Stand Rock. Stand Rock has a rich history as well and is now home to jumping German Shepherds. This stop is jam-packed with lots to learn, lots to see, and lots to laugh about because the tour guides have quite the corny jokes up their sleeve!
If you like this, check out Carson Park in Eau Claire!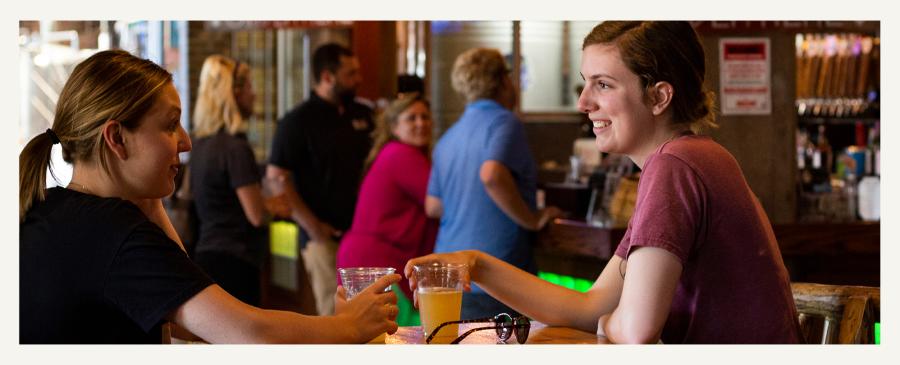 Now that the road trip is coming to a close and you are nearing Eau Claire, it's time for a well-deserved brewski! Northwoods Brewpub and Grill, tucked away in Osseo, WI, stands inside a 100-year-old industrial building and is made to feel like you are away in a lodge in the woods. With 35 beers on tap, a pool table, music, TVs to watch the big games on, and flavorsome foods to pair with your beer, this microbrewery is a haven for all beer-lovers!
If you like this, check out all the other breweries in Eau Claire!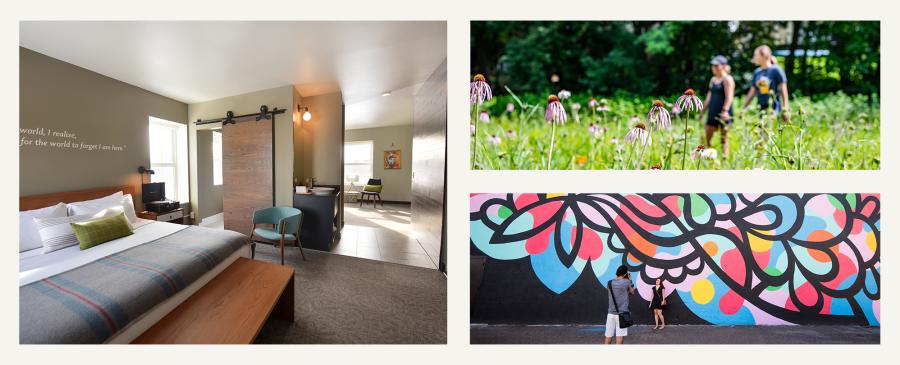 This is the part of your trip when you queue up a song that gets you pumping a celebratory fist in the air because you've made it to your destination - the indie capital of the midwest! There is so much to do yet, so get a good night's rest. Eau Claire has many places to lay your head whether it's at the Lismore or the Oxbow Hotel. As the sun rises on a new day, the possibilities are endless. You can take a cooking class at Forage, or go brewery hopping, or make your own art crawl throughout the town. Better yet, you can do it all! If you have any questions or are in search of some more recommendations, give us a call at 715-831-2345 or message us on Facebook.
We hope your visit is a memorable one because we want you to come back! Eau Claire has something pinned on the calendar year-round. Check out some of the sweet music festivals in the summer or pack up your snow boots and gloves to take on our snowshoe and cross-country skiing trails. What're you waiting for?! Pack your suitcase, drive safely, and we'll see you soon!
Make It a Foodie Road Trip!