Downtown Awards & Celebration
Celebrate all that makes Downtown Eau Claire so wonderful! Join us for great food, fun music, and a celebration of all things Downtown Eau Claire.
Each year we take a poll about the places and things you love about Downtown Eau Claire. The DECI board and team also select organizations and people to honor who help us achieve our mission. Stay tuned for your chance to vote in 2023 and make plans to attend on 2/16/23.
VOLUNTEER OF THE YEAR: ANN SESSIONS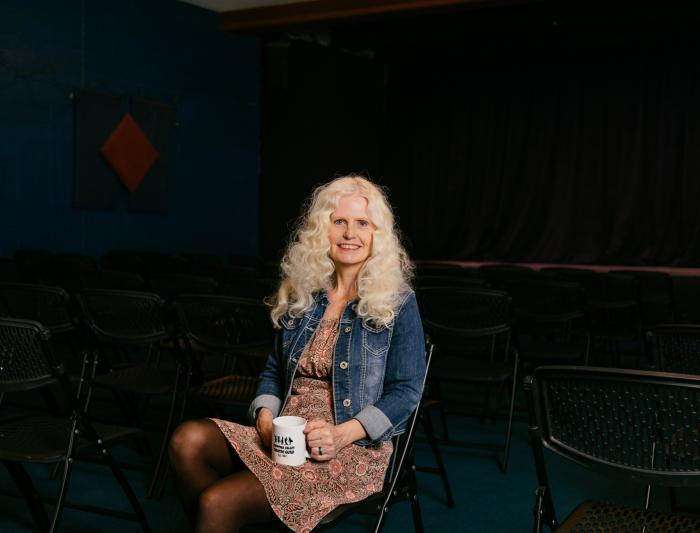 Ann has volunteered in pretty much every capacity possible for DECI, and we're better for it! She has served on our Board of Directors and on our Executive Committee, our Arts and Culture Committee, Events Committee and if you're attending a DECI event, chances are better than not that she is helping out at the event in some way. Thank you to Ann for her commitment to downtown and her community through her generous support!
MEMBER OF THE YEAR: VISIT EAU CLAIRE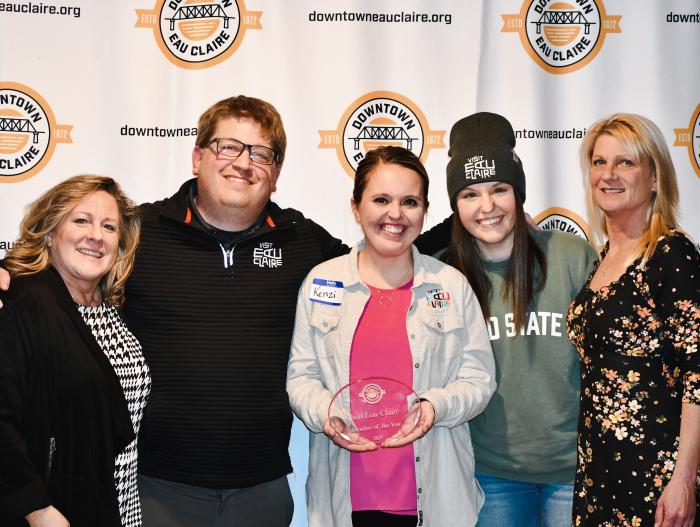 Downtown Eau Claire and Visit Eau Claire often find ourselves working toward the same goals for our downtown and our community. Over the past couple of years we've been able to work closely with them on a number of projects, and we're grateful to be able to partner with an organization that loves Downtown Eau Claire as much as we do!
OUTSTANDING ACHIEVEMENT: BRENT DOUGLAS FLOWERS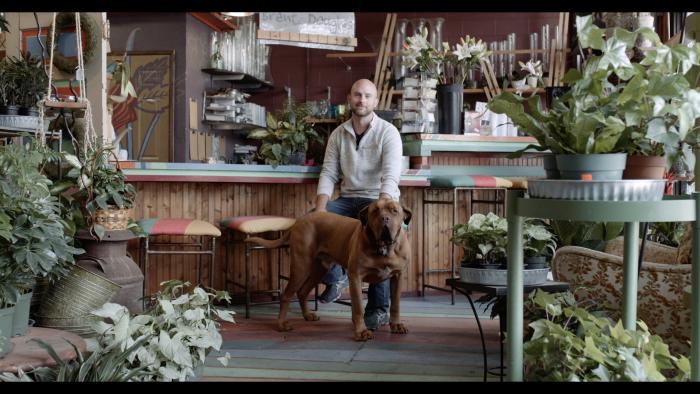 Brent Douglas Flowers is a popular South Barstow District business and has been a long-standing supporter of projects to improve our downtown. They have been huge supporters of The Color Block project, an important partner on our Grand Evening on the Bridge annual event since its inception, and have even used their green thumbs to beautify the neighborhood with flower and vegetable planters along Barstow Street. We're so glad to have them in Downtown Eau Claire!
EVENT PARTNER OF THE YEAR: OLSON'S ICE CREAM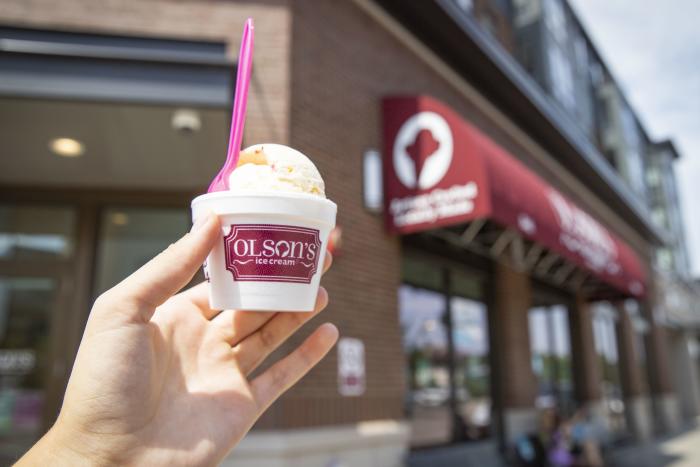 This year, we'd like to recognize Olson's Ice Cream for their partnership and support of our Haymarket Holiday. For the past several years, they have kept the sweet treats flowing at our free hot cocoa stands through their donation of hundreds of cups of hot cocoa and their team's time and hard work.
FAVORITE NEW BUSINESS IN 2021: TOKEN JEWELRY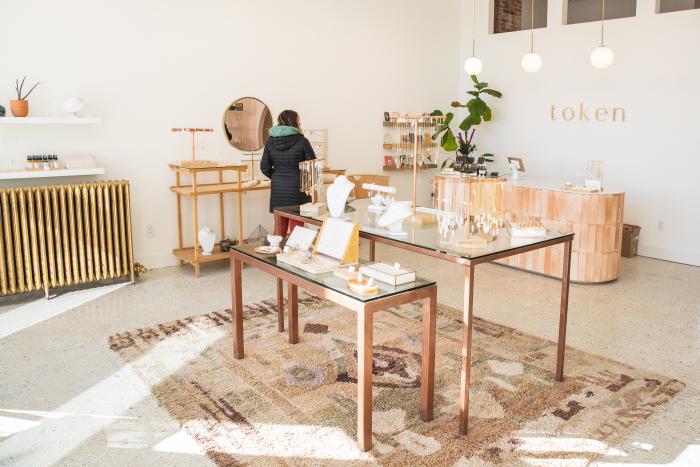 Opened in 2021 at 106 West Grand Ave, Token Jewelry has been producing unique, hand-crafted jewelry since 2005. Owner and founder, Sarah Wilger made the leap to running the business full time in 2015.
Token continued to build a local presence and their online retail business from their studio in Artisan Forge Studios, and then made the move downtown in the last year.
They undertook a massive remodel of the building at 106 West Grand, and have achieved an impressive transformation for their space (they were also second place for Most Impressive Glow Up In public voting!).
Congratulations to Token Jewelry, the DECI 2021 Favorite New Business!
2021 FAVORITE DOWNTOWN EVENT: SOUNDS LIKE SUMMER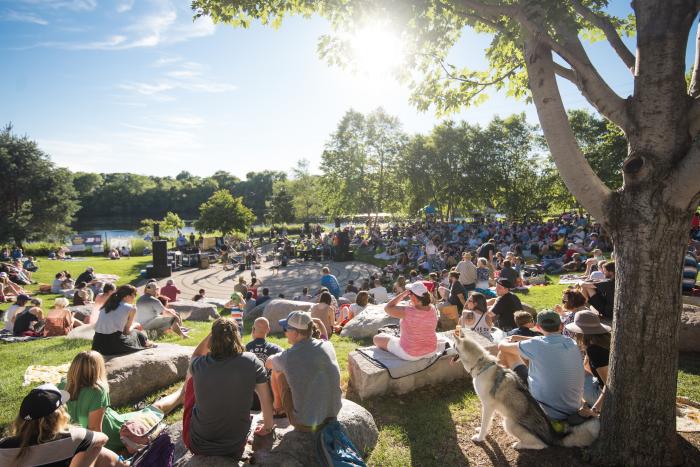 The Sounds like Summer concerts have grown into a hallmark of summer in Downtown Eau Claire. The free concerts feature a wide variety of music and performances. Even if you're not attending the event, the impact on Downtown is very evident. There's a buzz downtown on Thursdays in the summer and that's thanks in large part to the Sounds Like Summer concerts.
Congratulations to Volume One - we're grateful for all the work you do to bring live local music to our downtown!
2021 MOST IMPRESSIVE GLOW UP: SANCTUARY MURAL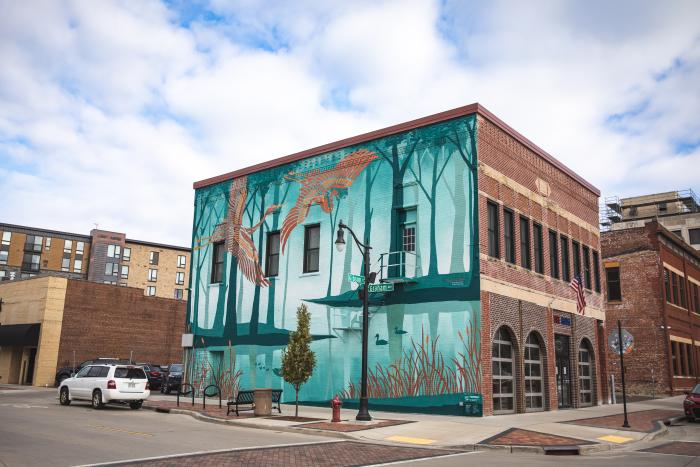 The Sanctuary mural, on the corner of Gibson and Graham Ave. was truly a community project. The mural was supported in part by a DECI Enhancement Grant while The Pablo Group in collaboration with The Lakely/Oxbow Artist in Residence program spearheaded the project. They engaged the community in a public submission process for ideas for the mural, ultimately choosing a design by Madison-based artist, Sylvia Annelise. They mobilized volunteers to assist in the production of the mural under the expert direction of Sylvia and produced a work that not only adds some striking visual interest to Graham Ave, but also reflects some of the natural assets of our downtown. The mural has helped enhance the experience of visitors and residents in our downtown with the addition of this large-scale art to a historic downtown building!
2021 BEST NEW DEVELOPMENT: L.E. PHILLIPS SENIOR CENTER EXPANSION
This $3 million, 4,000 square foot expansion of the existing L.E. Phillips Senior Center at 1616 Bellinger St added a new fitness center geared toward the needs of the aging population. The expansion also has added several multipurpose rooms and the space to collaborate with senior center members and the broader community. We're happy to see the Senior Center's vision come to fruition and congratulate them on being this year's Best New Development!