Eau Claire Public Arts Council
The Eau Claire Public Arts Council will enhance the quality of life and the creative economy in the Chippewa Valley by supporting and advocating for the arts through programs, initiatives and public artworks, both permanent and temporary. In cooperation with the City of Eau Claire, we will coordinate selection, design and placement of murals, sculpture, public art displays and visual art events.
 artFULL Eau Claire is an initiative through which we collaborate with others to further celebrate, create and engage the Arts in Eau Claire. Artists can sign up to join the artist registry. 
Projects
---
"We Are the Chippewa Valley" Request for Proposals/Call for Artwork 
PROJECT CONCEPT
With great appreciation to the Pablo Foundation for an arts grant, the Eau Claire Public Arts Council (ECPAC)  invites all BIPOC artists 16 years of age or older that reside in the Chippewa Valley to submit work that represents their artistic style that explores and celebrates their identity. The intent is to bring a message of art, culture, and recognition to celebrate the BIPOC artists and multicultural communities throughout the Chippewa Valley. This call for work will result in the artwork of 12 artists who will be jury selected and featured in a group online exhibition. Artists that are selected will each receive a $500 stipend for reproduction rights and publication rights for their artwork. Artwork will also be displayed in our region on local buses in the form of 'visual wraps', as well as on printed calendars and postcards for sale throughout the community.
>>Learn More & View Entry Form
Firehouse Mural Request for Proposals/Call for Artwork from Pablo Group 
PROJECT CONCEPT
Pablo Group is searching for an artist or artists to install a mural on the Graham Avenue exterior wall of The Fire House, which faces the Pablo Center. Interest has been such that Pablo feels it necessary to open this process to the public, in our continued efforts to support and foster the artistic development of the Chippewa Valley, as well as to enrich pedestrians' experience of downtown Eau Claire.
ColorBlock from Sculpture Tour Eau Claire
Sculpture Tour is proud to announce the 2nd year of the ColorBlock Mural Project! We are coming back strong, with a vibrant collection of murals to add to the art of downtown! The mission of ColorBlock is to incubate and inspire visual arts, as well as to revitalize and re-energize parts of downtown that need some love! Deadline has been extended to July 1.
Ongoing
The Public Arts Council is currently seeking funds to get us started. Learn more and consider supporting our organization.
---
Past Projects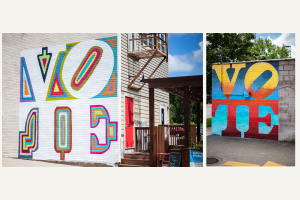 We completed two 'Love to Vote' mural project in Downtown Eau Claire, with muralist Clark Stoekley at Ramone's on Galloway and Details on Water Street. Artist Clark Stoeckley approached ECPA board member Emily Anderson about the possibility of including Eau Claire in his nationwide mural and stencil project, "Love to Vote," which riffs on Robert Indiana's famous "Love" image to suggest that voting is a way of expressing civic love. ECPA believes this project supports our mission to bring social awareness and the power of art to foster civic engagement. Learn more about the Love to Vote project.
"Combining Creativity with the Kubb Capital of North America" - Eau Claire Public Arts Council (ECPAC), in partnership with Visit Eau Claire, collaborated with local high school art teachers and students to add art to 24 kubb sets. Participating area high schools include: Altoona High School, Chippewa Falls High School, Memorial High School and North High School in Eau Claire. The kubb sets will be gifted to the region's hotels and attractions so they can be displayed and available for free check-out at various establishment concierge desks.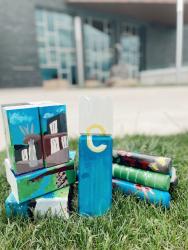 ---
Contact Us 
Get in contact with the Eau Claire Public Arts Council.
Vision
The vision of the Eau Claire Public Arts Council is to animate our city, inform our residents, influence our community and visitors, encourage creative expression and engage the artists in the Chippewa Valley and beyond.
Goals
Increase accessibility to the visual arts and arts activities for all residents, demonstrating the enhancement of creative arts in quality of life, tourism and creative economic development.
Foster and enhance appreciation for cultural diversity, pride and community values.
Assist with the funding of creative endeavors for artists and arts organizations.
Collaborate with and encourage the efforts of Eau Claire artists and arts organizations.
Integrate the arts into area neighborhoods and downtown.
Support City revitalization efforts through strong design and aesthetics.
Board Members
Jo Ellen Burke, President 
Emily Anderson, Vice President 
Janice Roberts, Secretary 
Andrea Worthy 
Arthur Grothe
Brooke Newmaster 
Dave Solberg 
Dennis Beale (Aaron Abram, proxy)
Jody Balow
Sara Larsen
Suzanne Lutwick
Eau Claire Public Arts Council Facebook
Public Arts Map