Eau Claire's 150th Birthday | The Sesquicentennial
Eau Claire's Charter (Birth) Day: March 19, 2022!
The City of Eau Claire was formed when three villages formed one larger civic government. The charter was officially approved on March 19, 1872. The Eau Claire area has a long-standing history prior to its official incorporation in 1872. Historically, the area was inhabited by Native Americans - mainly the Ojibwe and Dakota bands. Beginning in 1736, warfare between the two nations meant neither risked living here year-round. However, it wasn't until 1767 where English traveler Jonathan Carver first wrote about the region. The Eau Claire region was frequently traveled by French fur traders in the 17th, 18th and 19th centuries. Following the Civil War, Eau Claire's lumber industry was booming with over 75 sawmills in the area. Once the lumber industry collapsed in the 20th century, Eau Claire became well known for its investment in education with the inception of the University of Wisconsin-Eau Claire in 1916. 

Today, the City of Eau Claire has a population of 68,886, earning the spot of the 8th largest city in the state of Wisconsin. Eau Claire continues to have a large economic presence in education as home to both University of Wisconsin-Eau Claire and Chippewa Valley Technical College. However, Eau Claire has also become the hub for many manufacturing plants and hospital systems and has over $1 billion in economic activity in agriculture. The City of Eau Claire's mission and values are exemplified through beliefs in making Eau Claire a great city, belief in local government stewardship, belief in sustainability and belief in equity.
Top 5 things you business can do to recognize Eau Claire's 150th birthday:
1. Display "Happy 150th Birthday Eau Claire" on your sign or billboard.
2. Offer customers a special relating to the 150th, such as discounting a product to $1.50 or offering a themed food/drink or another item.
3. Consider including a historical presentation at your events, or inviting a group of historians/reenactors to be a part of your event program.
4. Include a nod to the city turning 150 in your 2022 advertising efforts.
5. Take to social media and use #Celebrate150EauClaire
Top 5 things you can do to recognize Eau Claire's 150th birthday: 
1. Get out and be in the community! There will be numerous one-time events celebrating Eau Claire's birthday, but we also encourage community members to participate in the already wonderful happenings in our area.
2. Visit the Chippewa Valley Museum to see the Then and Now: 150 Years of Change in Eau Claire exhibit opening in April 2022.
3. Social Media Say Sesquicentennial Challenge: Adults, children and teens submit video submissions on your social media with the #Celebrate150EauClaire and share in the laughs - bonus if completed while eating birthday cake!
4. Eau Claire Trivia: put your knowledge to the test - how well do you know your city's history?
5. Partake in the Downtown Eau Claire historical tour. More information here.
Reserve the 150th Banner!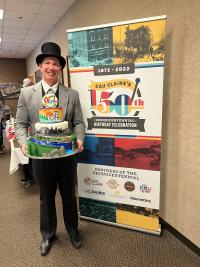 If you're interested in reserving the 150th banner for your special event, contact Cathy Marohl at Cathy.marohl@eauclairewi.gov or 715-839-4903.