Winter Contests
Winter in Eau Claire is like a whole new world; it deserves to be explored and enjoyed even in the coolest of temperatures! So, we want to reward you for venturing outside! With your parkas, hats, mittens and all, we challenge you to make some warm winter memories with us. For each contest, we will be giving away gift cards to local businesses and attractions to our winners. Are you up for a challenge? Because, we are! Our fifth winter challenge, the Good As Gold scavenger hunt, is underway on our Facebook page! Here's what you need to do:
All the colors of the rainbow have been scattered throughout Eau Claire and you must go on a scavenger hunt to find them to get to the pot of gold! Read the clues below or on the Wintermission Facebook Page to figure out where you need to go.
Once you find each color, upload a photo of you at that spot to the portal below or post it on Facebook/Instagram using #EauWinter.
The more colors you find, the more entries you will receive into the gift card drawing.
Give the Eau Claire Healthy Communities Facebook page and the Wintermission Facebook page a like!
To see what the signage looks like at each location, click here. Two winners will be chosen on March 31, 2021 and contacted directly for a $50 gift card to Metropolis Hotel & Resort and Action City Trampoline Park and a $50 gift card to Ramone's Ice Cream Parlor. Best of luck!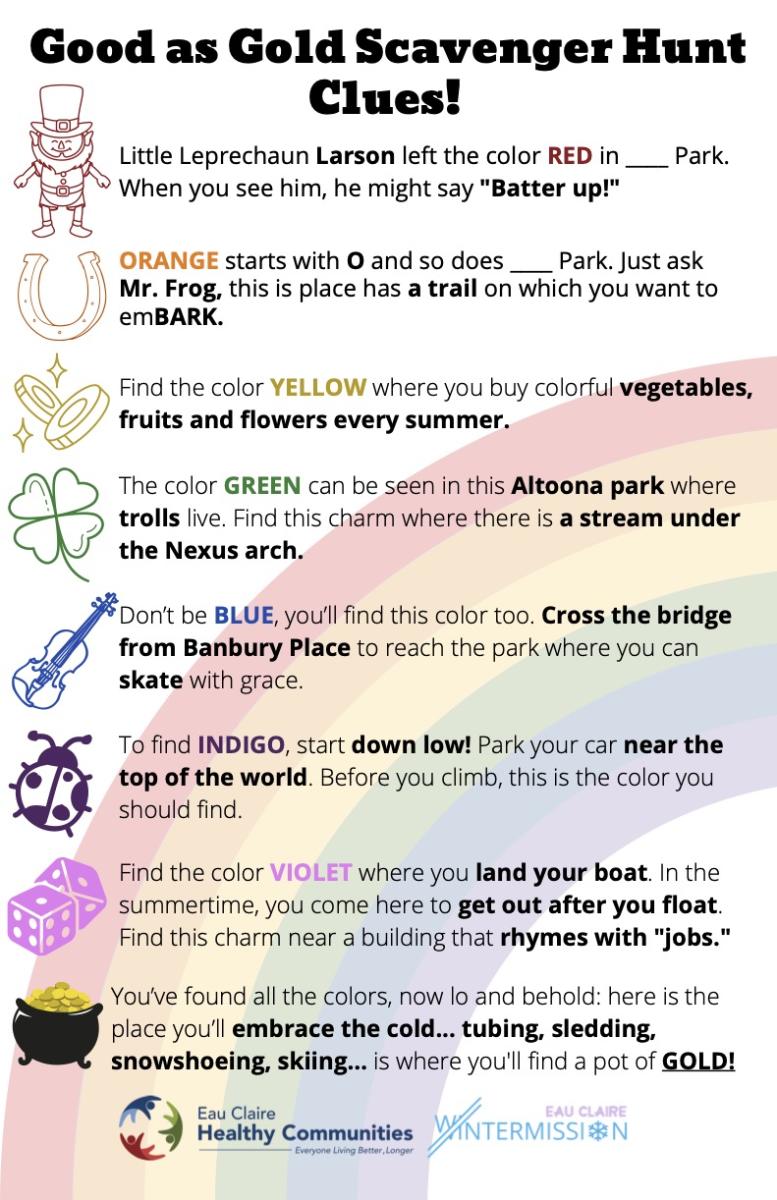 Upload your photos here!
#EAUWINTER #CAPTUREEC