Getting to know Carson Park: 5 Facts
By EC Insider Ernie Reppe
@ErnieReppe 
I love Carson Park! Between Express games, picnics, train rides, and running around the playground with my boys, I probably spend more time at Carson Park than at any other local attraction. And I not only love what Carson Park offers my family and me today, but I also enjoy learning about what Carson Park offered locals over the past 100+ years. It's fun to think about what the park was like all those years ago, and I love looking at old pictures of the park like the one above. I recently dug into some research about Carson Park at the Chippewa Valley Museum and discovered a few fun and interesting facts. 
 
1. Carson Park was originally the location of a smallpox hospital

There was talk about using some of the land for a park in the late 1860s, but then a hospital was built to deal with an outbreak of smallpox. This obviously didn't make for an inviting environment for locals and those initial plans were abandoned. The city burned the building in 1873, but people still avoided the area for a while longer. While definitely not a "fun" fact, I would say this is at the very least an interesting part of the park's history!
 
2. It was named after an area lumberman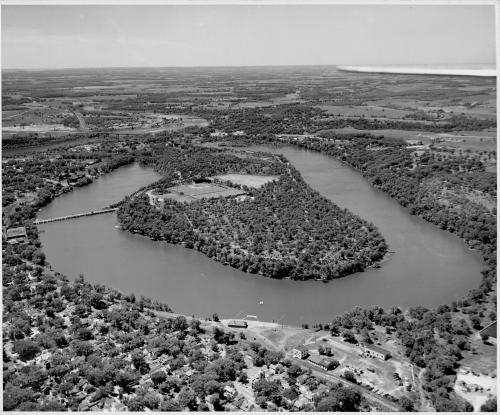 William E. Carson came to Eau Claire in 1874 and became one of the wealthiest lumbermen in the Chippewa Valley, after taking over Valley Lumber Company. Years later, after the lumber industry dried up in Eau Claire, his heirs purchased and donated the land, now occupied by Carson Park, to the city of Eau Claire in 1914. The park opened to the public the next year. Safe to say that the Carson family has left quite a legacy here in Eau Claire!
 
3. Traveling to the park by boat used to be the norm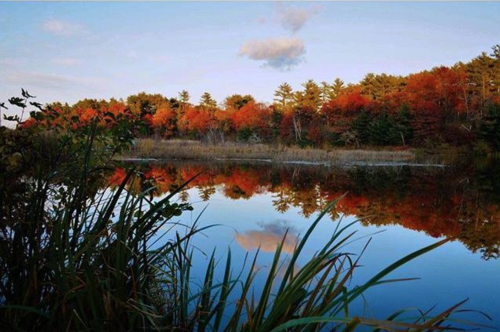 We take for granted how easy it is to access the park, but it wasn't always a walk in the park (pun intended). In the park's early history, many people used a rowboat to access the park from the area where the current bridge sits near West Grand Ave and Lake St. Shortly after opening to the public in 1915 a footbridge was built for easier access and eventually a bridge was constructed for vehicles.
 
4. The baseball stadium was built during the Great Depression

The Carson Park baseball stadium was built by the Works Progress Administration, which was a work-relief program that gave jobs to millions of unemployed people during the Great Depression. Work began on the stadium in the mid 1930s, and it hosted its first game in 1937. After a few renovations, the ballpark is still going strong all these years later.
 
5. Many Major League Baseball players got their start in Carson Park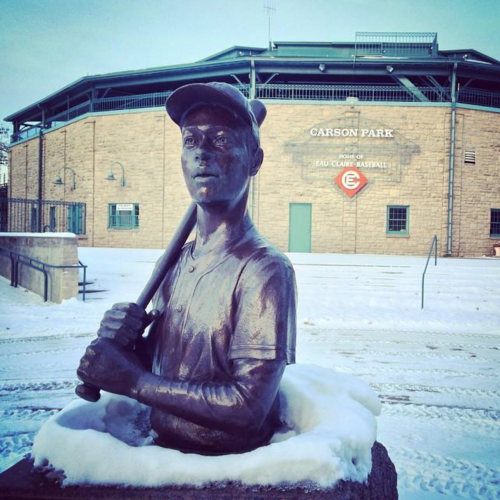 We all know the story of Hank Aaron starting his career with the Eau Claire Bears in 1952, but did you know there are other big leaguers that played in Eau Claire? Bill Bruton, Rico Carty, Wes Covington, Andy Pafko, Joe Torre, Wes Westrum, and Bob Uecker also cut their teeth at Carson Park. And let's not forget about current major leaguers Kole Calhoun and Jordan Zimmerman, both of whom played for the Eau Claire Express. That's an impressive list, but it's definitely not finished. We look forward to watching all future ball players that will pass through Eau Claire on their way to a major league roster.
 
There you have it, friends - five fun and interesting facts about Carson Park. If you're interested in learning more about Carson Park's past, please check out the Chippewa Valley Museum inside of Carson Park. They have a vast collection of Carson Park history that will keep you entertained for hours!