Ultimate Foodie Tour from Madison, WI to Eau Claire, WI
Would you consider yourself a "foodie"? This modern-day term is defined as, "a person with a particular interest in food." If that's you, then this road trip from Madison, WI to Eau Claire, WI is just what you may be looking for. As you take the trip from Madison to Eau Claire, you pass by some local restaurants that are considered to be true gems to the cities they serve. Our itinerary for this foodie tour was created with careful research and development to make sure the food you try on this trip is like nothing you've tasted before. So, grab your bags and start the car; you're going on a foodie road trip to Eau Claire, WI! (Click here for the Madison ➡️  Eau Claire Foodie Tour map)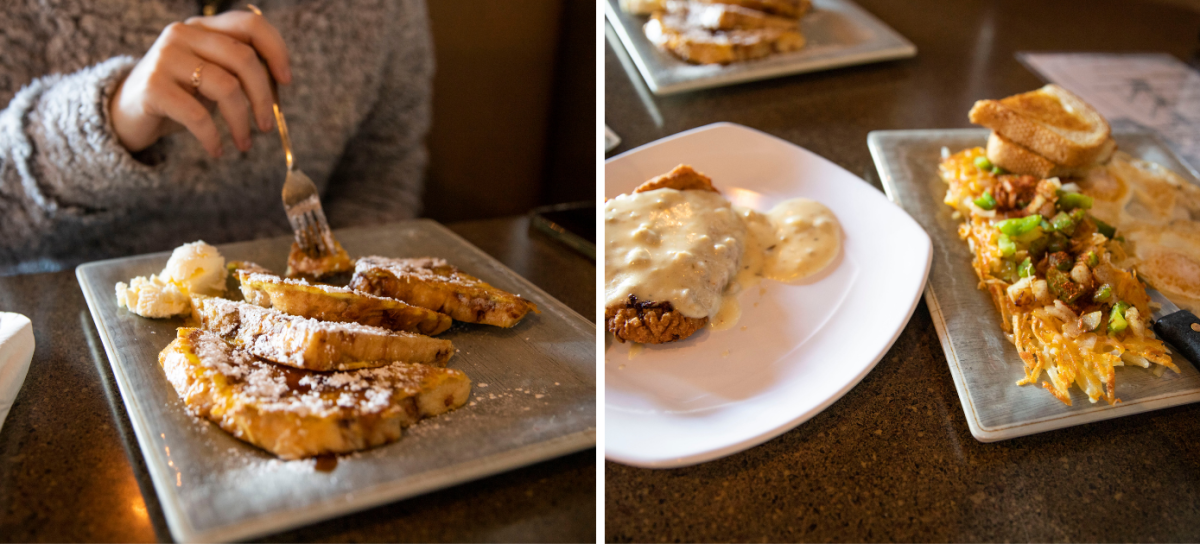 The Keg & Patio in Wisconsin Dells, WI
Kick start your day and this long road trip with a belly filled with some good breakfast! The Keg & The Patio is located in downtown Wisconsin Dells. Per its name, this restaurant has a patio bar adjacent to its building that offers an outdoor bar and an outdoor dining area. Apart from being a great place for outdoor dining, it's a great place for play too. Their patio has yard games like giant Jenga and Connect 4 for customers to play. Now on to what you should order. If you want something more traditional, go with their Cinnamon Chip French Toast. It is freshly baked cinnamon chip bread from the Great Harvest Bakery in Wisconsin Dells, drizzled with cinnamon sauce, and topped with whipped butter. That's definitely for the people that like their breakfast sweet. If you want to try something different and award-winning, then go with the "Chuckies" Breaded Pork Tenderloin. It is an award-winning pork tenderloin, direct from Iowa, topped in their sausage gravy and served with two eggs, hashbrowns, and toast. Trust us when we say it's a good kind of different! If you want to know where to go for breakfast once you're in Eau Claire, check out 6 Delicious Sunday Brunches You Should Try While in the Chippewa Valley.
If you like this, check out The Nucleus in Eau Claire!
State Street Tap in Mauston, WI
If you're into the whole "Dive Bar" scene, you will love this place. State Street Tap isn't too far from the last stop being that it's located in Mauston, WI, but it offers a whole different variety of food and atmosphere. When you walk in, you'll immediately feel the Irish influences of this bar based on its decor. They definitely love the color green! What regulars consistently rave about at this place is their pizza. Order the Wild Mushroom Trio - its truffle oil, garlic, and a mix of seasonal mushrooms. The truffle oil is AMAZING. If you like the pizza, then you're bound to like their Truffle Fries too. They are crispy french fries made with truffle oil and parmesan. DEE-LISH!
If you like this, check out Court'n House in Eau Claire!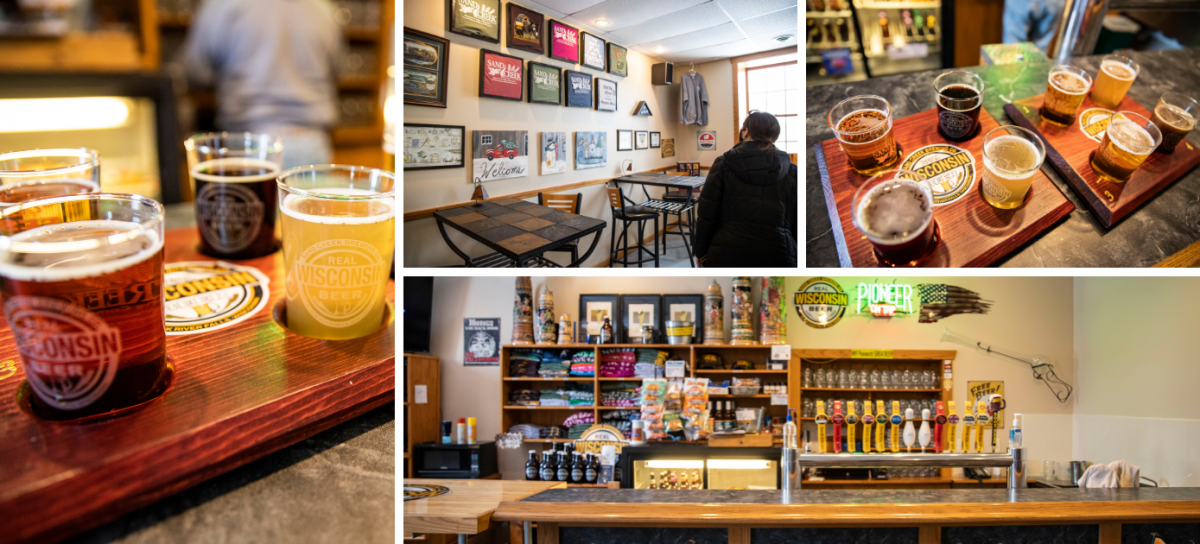 Sand Creek Brewing Company in Black River Falls, WI
There's no way you can go without visiting a brewery when you're taking a trip in Wisconsin. While Eau Claire will have plenty more for you to go to, start off with this one in Black River Falls. Sand Creek Brewing Company has a long history behind it and you can kind of tell once you see the building it's operated in. On the outside, the brick building gives off an antique vibe and fits in well with the overall feel of this small town. In small towns like this, you can always expect 5-star hospitality too. As soon as you walk through the door, not only are you greeted by the sweet smell of brewing beer, but you are also immediately welcomed by their staff and told to pull up a chair at the bar. They have something for all beer-lovers... fruity beers, light beers, and dark beers too. Try their flights of 4 or 8 and find the beer that you'll want to bring home in one of their growlers!
If you like this, check out The Brewing Projekt in Eau Claire!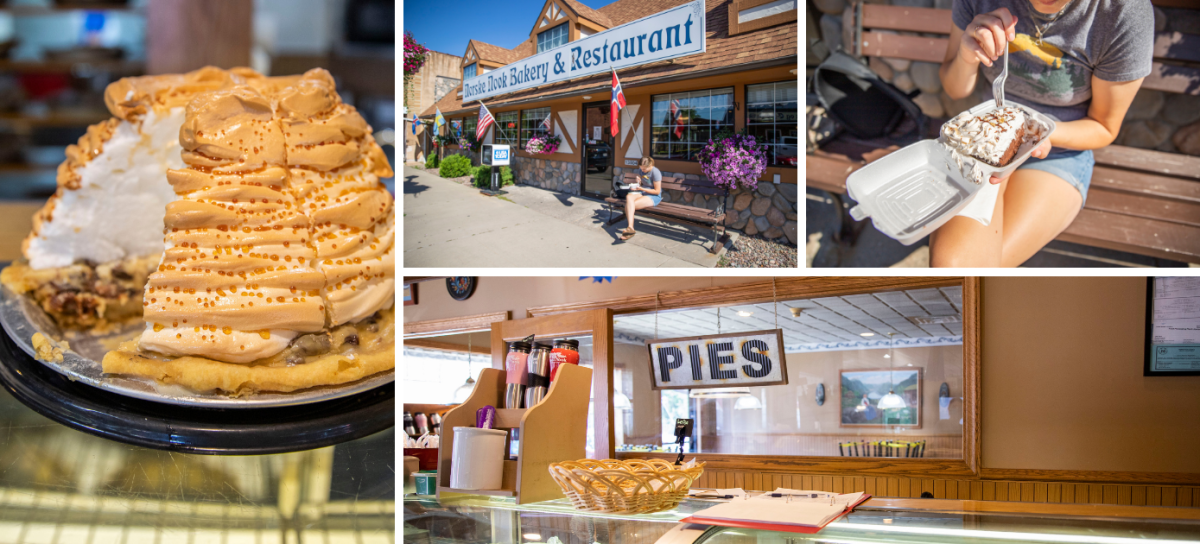 Finish off the last leg of this road trip on a sweet spot! Norske Nook is located in Osseo, WI which is just about a half-hour south of Eau Claire and it is a stop you won't want to pass by. This place is home to award-winning pies and some unbeatable small-town hospitality. As soon as you walk in, you see a plethora of blue ribbons hanging right in front of your eyes and that's how you'll know that this place is the real deal. They have an extensive menu of different pies that you can choose from and order by the slice or whole! You can even purchase their crust here to bake your own pie at home. Don't skip out on this delectable dessert!
If you like this, check out The Nostalgic Bean in Altoona (short drive from Eau Claire)!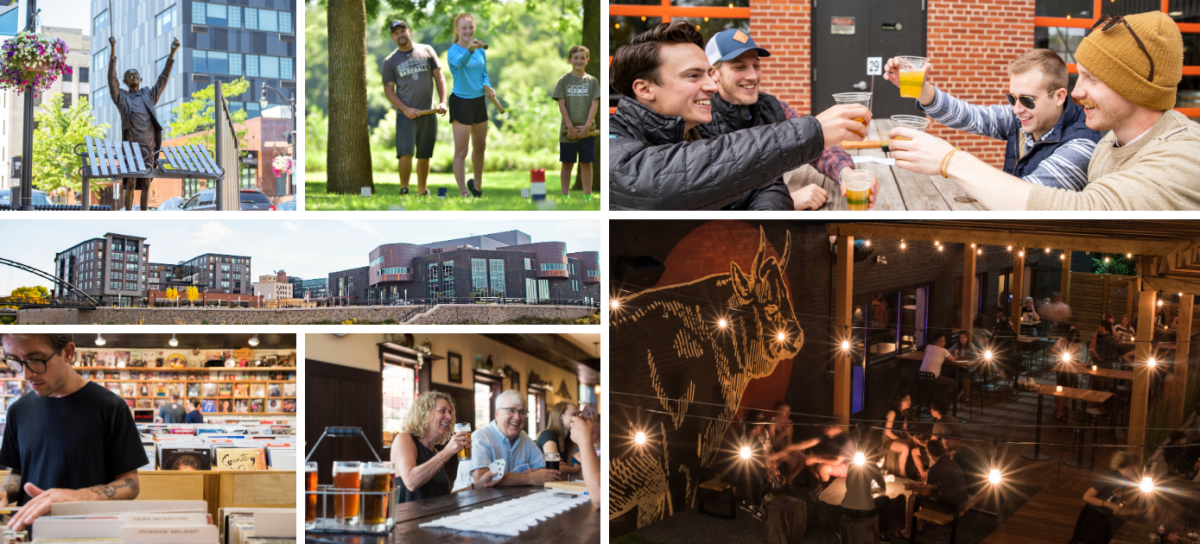 You've arrived to Eau Claire, WI!
Hello and welcome! You finally made it! Welcome to the land of originality. Your foodie adventure is far from over. In fact, it has just begun! Eau Claire is home to many restaurants that will cook you food you'll always want to come back for and treat you with unmatched hospitality. From crispy fish fries to one-of-a-kind supper clubs, from international flavors to Wisconsin traditions like cheese curds, from sweet to salty, Eau Claire has something for every palette from appetizers to dessert. Simply browse through our list of restaurants or use our 3-Day Foodie Itinerary below to make sure you're not missing out on any of the dishes that are iconic to Eau Claire. As far as things to do, we have that covered for you too. You can take in the natural wonders of the great outdoors while exploring our trails, or maybe walk through the streets of downtown hunting down the sculptures and murals that breathe life into our city. If it's a family affair, then there's much for you and the crew to do too! What're you waiting for?! Eau Claire and these delicious plates await! 
More to See On Your Way to Eau Claire
Begin Planning Your Eau Claire Experience