Foodie Tour from La Crosse to Eau Claire
Would you consider yourself a "foodie"? This modern-day term is defined as, "a person with a particular interest in food." If that's you, or you simply just love to eat tasty dishes, then this road trip from La Crosse, WI to Eau Claire, WI may just be what you need. Our itinerary for this foodie tour was created with careful research and development to make sure the food you try on this trip is like nothing you've tasted before. While there are several routes from La Crosse to Eau Claire on the GPS, this foodie tour will work best if you take Highway 53. Don't worry, we have a map ready to go for you! (The La Crosse ➡️  Eau Claire Foodie Tour Map) Discover the must-stop places on the trip here and then go pack up your car and try out this foodie road trip for yourself!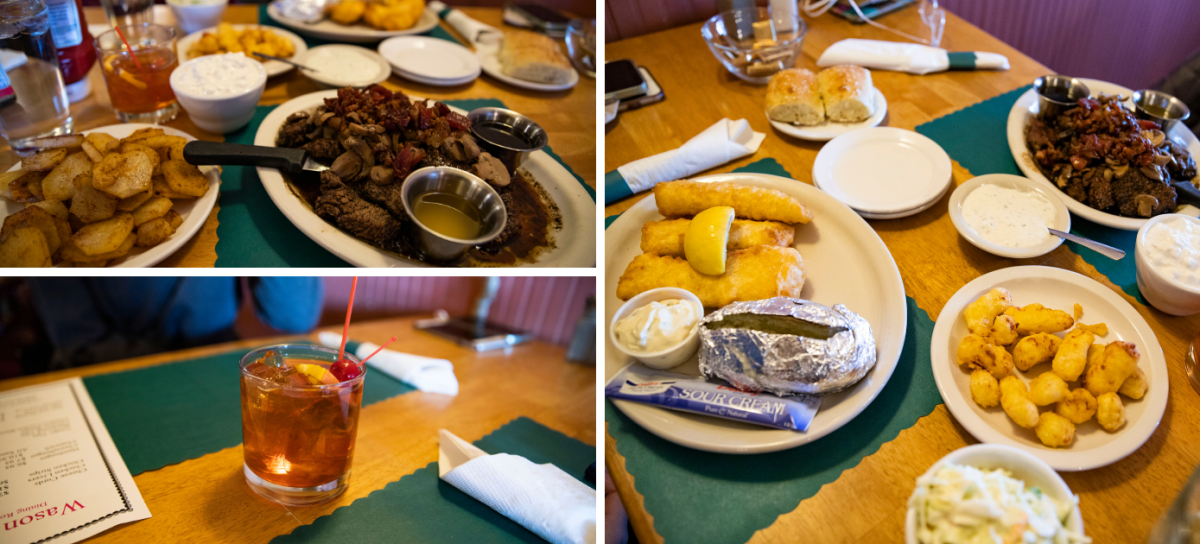 Wason's Supper Club in Galesville, WI
We hope you are starting out this road trip on an empty stomach because this first stop is a supper club that really knows how to fill you up! Wason's Supper Club is located in Galesville, WI - just about a half-hour from La Crosse. When you picture a traditional "Wisconsin Supper Club", Wason's is the epitome of it. You walk in, you're greeted as if the staff has known you their entire life, and they ask you what you'd like to drink right away. Your answer here should definitely be "an Old Fashioned, please." After you get your drinks, you need an appetizer. Of course, you have to go with cheese curds! It's the Wisconsin thing to do! After the appetizer, make sure you clear off the table because this place is really good at filling up the entire thing! At a supper club like this one, we couldn't leave without trying a fish fry. You can't go wrong with their Fried Nordic Cod. With a choice of potatoes and a side of coleslaw, a good fish fry sometimes just soothes the soul. What they are really known for are their Blackened Tenderloin Tips. The tenderloin tips are seasoned with cajun seasoning and topped with mushrooms and bacon to make for one hearty plate. It's going to be hard to remember at this place that you have more eating to do ahead! 
If you like this, check out Houligans Steak and Seafood Pub in Eau Claire!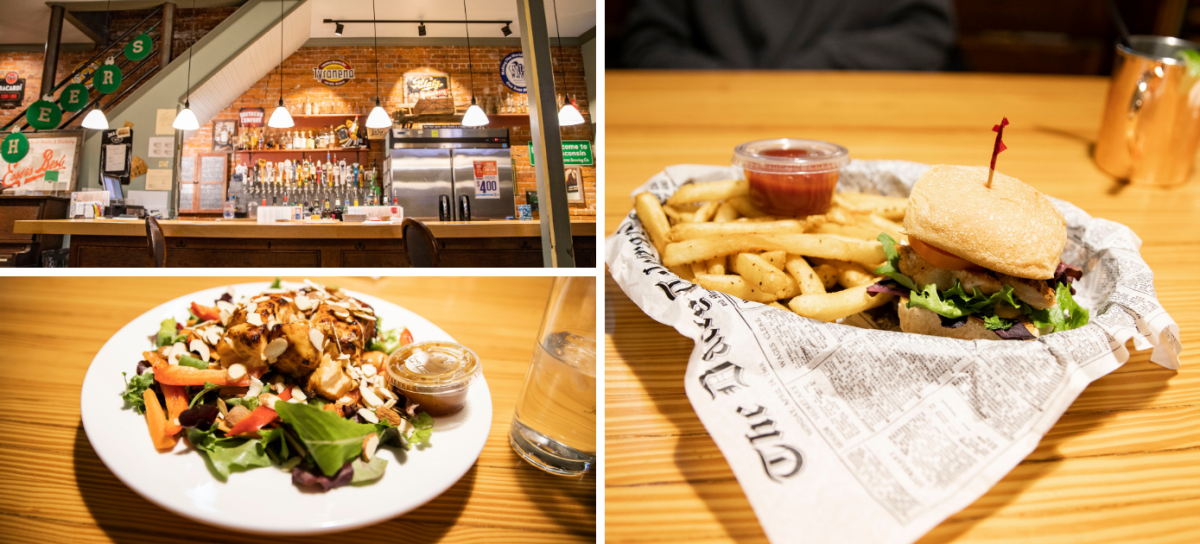 Outright Affair in Whitehall, WI
After a big meal like the one at Wason's, you'll want something light. The Outright Affair is just the place for that. When you walk inside, you'll be welcomed by some great bartenders and a very pleasantly unique ambiance. This pub is the type of place locals come to hang out for a round of drinks after work and to sit down for a laid-back game of cards. Rumor has it the mojitos here are *chef's kiss* so, give that a try if you have a designated driver for the rest of your trip. If you are looking to keep the meal light as mentioned before, then we recommend the Asian Sesame Salmon Salad! It is Honey Asian Salmon served on a bed of mixed greens and topped with sugar snap peas, red peppers, red onions, sliced almonds, and a drizzle of honey sesame Asian dressing. YUMMY! It's definitely not a conventional "house salad", so you're guaranteed to be wowed! Another light/smaller option is their sliders! They have a variety of them on their menu and you can choose between 1-3 depending on how hungry you are. We tried the Grilled Chicken Slider - grilled chicken, fresh mixed greens, Roma tomatoes, and chipotle aioli sauce squeezed in between the bread. From the first bite of this to the well-seasoned fries that come with the dish, this was a HOME RUN! 
If you like this, check out Mogie's in Eau Claire!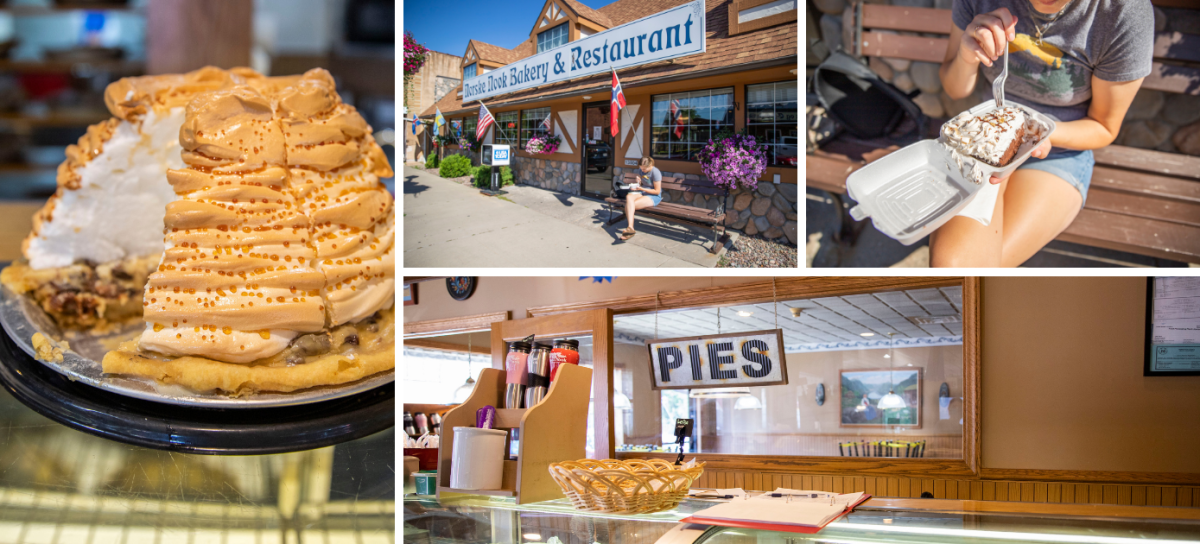 Finish off this road trip on a sweet note! Norske Nook is located in Osseo, WI which is just about a half-hour south of Eau Claire and it is a stop you won't want to pass by. This place is home to award-winning pies and some unbeatable small-town hospitality. As soon as you walk in, you see a plethora of blue ribbons hanging right in front of your eyes and that's how you'll know that this place is the real deal. They have an extensive menu of different pies that you can choose from and order by the slice or whole. You can even purchase their crust here to bake your very own pie at home. Don't skip out on this delectable dessert!
If you like this, check out The Nostalgic Bean in Altoona (short drive from Eau Claire)!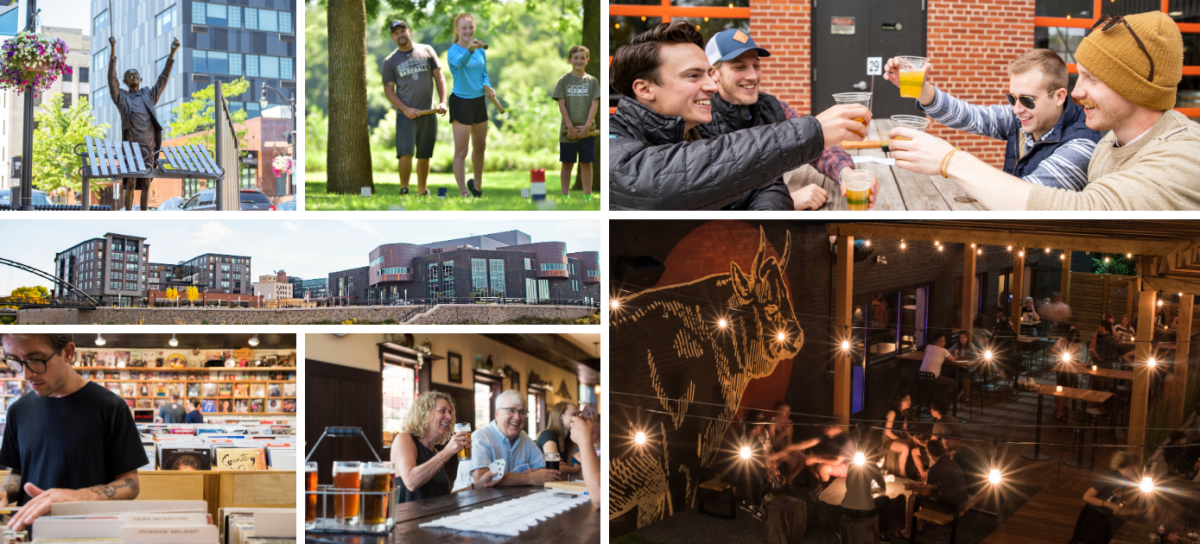 You've arrived to Eau Claire, WI!
You're here! Welcome to the land of originality. Your foodie adventure is far from over. In fact, it has just begun! Eau Claire is home to many restaurants that will cook you food you'll always want to come back for and treat you with unmatched hospitality. From crispy fish fries to one-of-a-kind supper clubs, from international flavors to Wisconsin traditions like cheese curds, to sweet to salty, Eau Claire has something for every palette from appetizers to dessert. Simply browse through our list of restaurants or use our 3-Day Foodie Itinerary below to make sure you're not missing any of the dishes that are iconic to Eau Claire. As far as things to do once you get here, we have that covered for you too. You can take in the natural wonders of the great outdoors while exploring our trails, or maybe walk through the streets of downtown hunting down the sculptures and murals that breathe life into our city. If it's a family affair, then there's much for you to do too! What're you waiting for?! Eau Claire and these delicious plates await! 
Start Planning Your Eau Claire Experience