Ultimate Foodie Tour from Chicago, IL to Eau Claire, WI
Would you consider yourself a "foodie"? This modern-day term is defined as, "a person with a particular interest in food." If you are, then this road trip from Chicago, IL to Eau Claire, WI is made just for you! As you take the 5-hour ride from Chicago to Eau Claire, you pass by some restaurants that are considered to be true treasures to the cities they serve. Our itinerary for this foodie tour was created with careful research and development to make sure the food you try on this trip is like nothing you've tasted before. So, grab your bags and start the car; you're going on a foodie road trip to Eau Claire, WI! (Click here for the Chicago ➡ Eau Claire Foodie Tour map)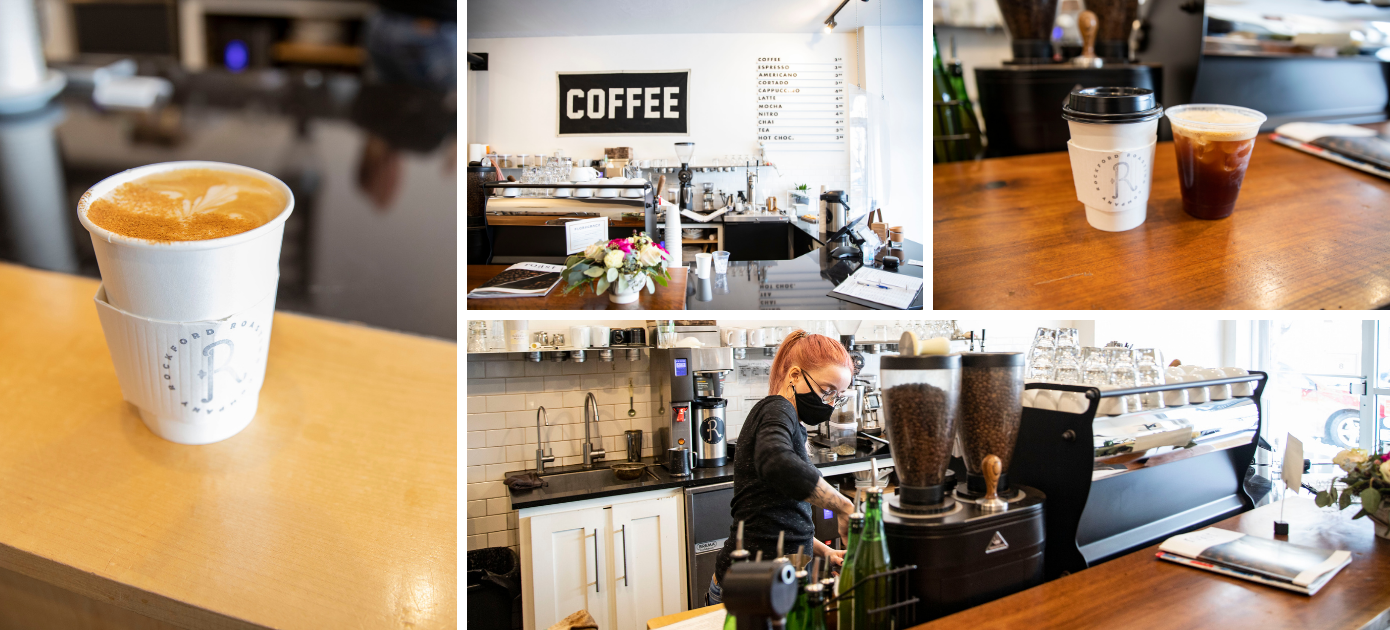 Rockford Roasting Co. in Rockford, IL
If you're a foodie with a coffee addiction, then there is no way you can go on a road trip without a tall cup of joe to kick start your day. Rockford Roasting Co. in Rockford, IL is a phenomenal first stop on your trip. This place is so good that it deserved a mention in Food & Wine Magazine in 2019. Not only that, but Alton Brown, a personality well known on the Food Network, deemed this place one of America's top 8 coffee shops in 2017. Alton said, "these guys were the first to educate me on the other parts of the coffee cherry." Rockford Roasting Co. was so honored they named a drink after him... The Alton. It is a MUST try. Served iced, it's a cup of Geisha Cascara, brown sugar, and orange bitters. If you're craving something that tastes more like traditional coffee drinks, give the Fall & Oats a shot. As per its name, it quite literally tastes like fall in a cup.
If you like this, check out ECDC in Eau Claire!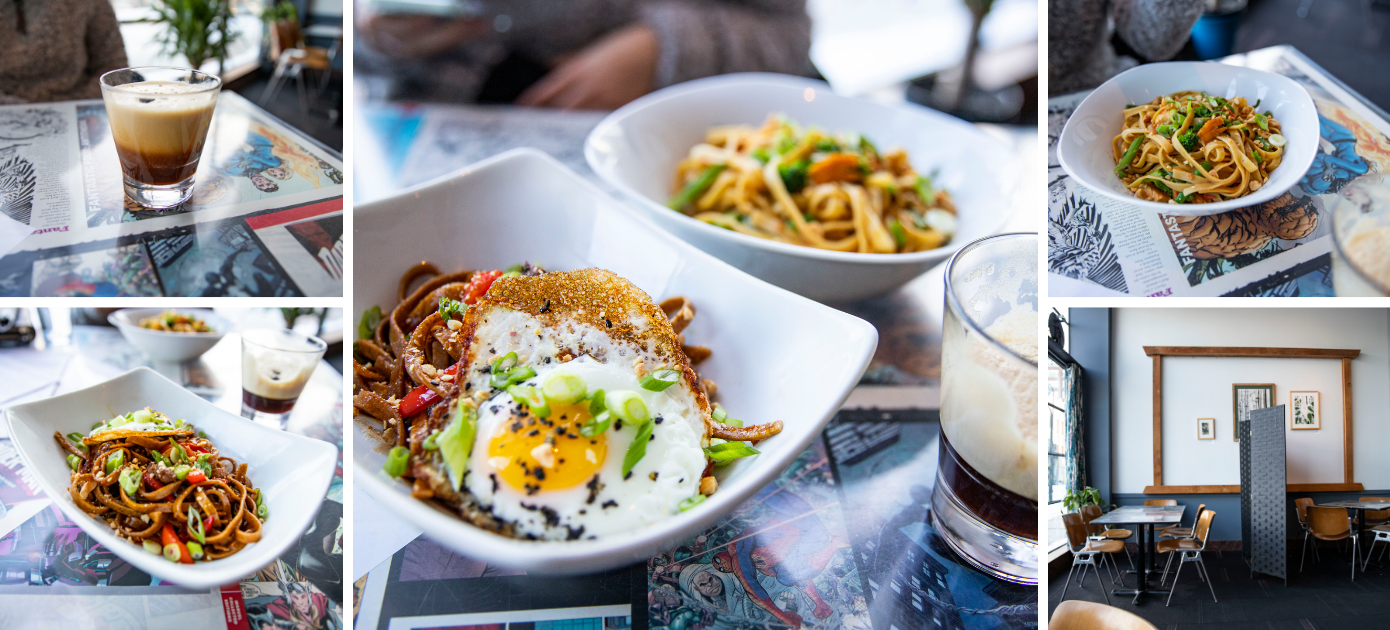 Octane in Rockford, IL
No need to pile back into the car quite yet! Octane is just a few steps down the street from Rockford Roasting Co. If the time calls for lunch on your trip, Octane definitely deserves your visit. This restaurant serves up an extensive menu of global cuisine, cocktails, and beers that don't just make for a "pretty" plate but also taste genuinely delicious. They are very well known for their noodle dishes. The lighter noodles pictured are their Thai Noodles - made with carrots, asparagus, broccoli, scallions, peanuts, fettuccine noodles, and Thai coconut sauce, The Thai coconut sauce is what does you in. It makes the dish flavorful but also gives the meal a light/airy feel meaning that it isn't the type of food that fills you up and makes you feel like you need to unbutton your jeans to breathe. The darker noodles are their Beef Bulgogi Mazemen dish. Made of pan-fried, broth-less noodles, ginger-garlic gochujang sauce, red bell peppers, scallions, flank steak, roasted peanuts and topped with a fried egg, this dish is sure to please as well. Apart from the food, their cocktails are unique too! Try the Espresso Martini if you're feeling adventurous! From the menu to the ambiance, this restaurant does "unique" very well. The cherry on top of the cake is their excellent service; they'll do everything they can to guarantee you walk out with a smile on your face!
If you like this, check out Thai Orchid in Eau Claire!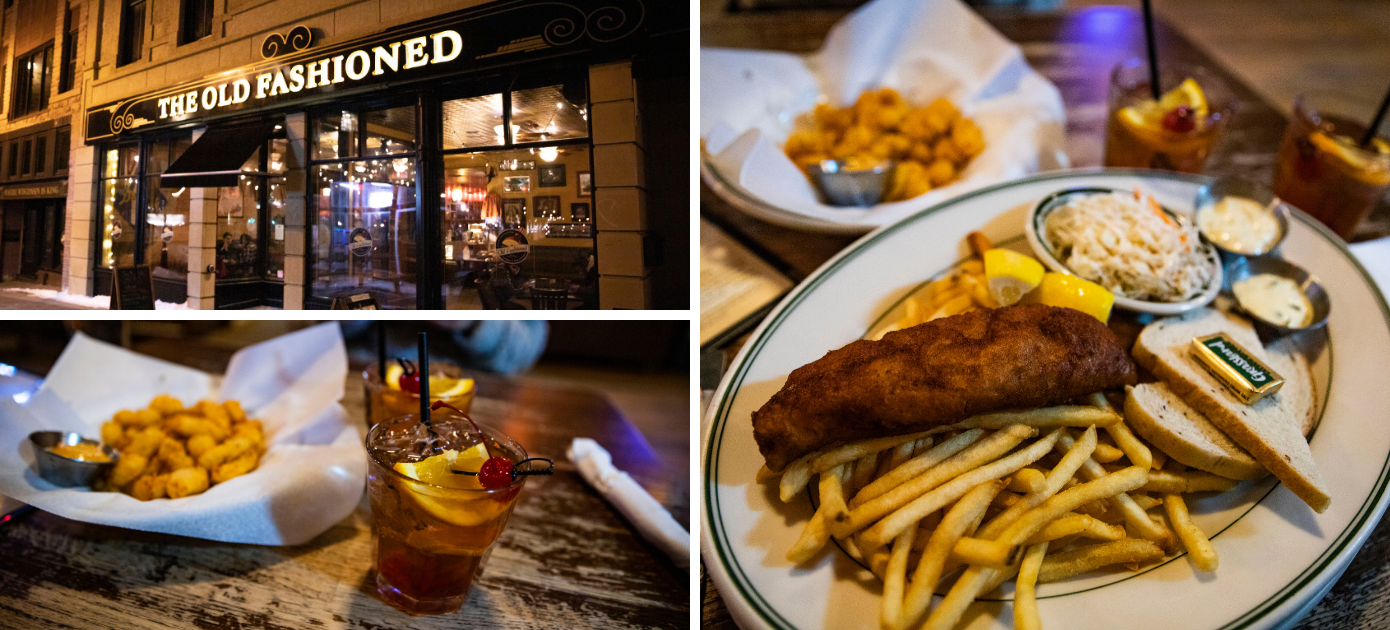 The Old Fashioned in Madison, WI
You're in Wisconsin territory now! There is no way you can go to a place called "The Old Fashioned" and not order an Old Fashioned! They have a variety of them on their menu along with some other traditional "Wisconsin" foods that you'll want to try and order. Let's start with the curds. This place is the real deal when it comes down to this cheesy delicacy; they were voted the Best Cheese Curds in Wisconsin by USA Today in 2019. You may be wondering what constitutes a good cheese curd. Well, they come out warm, gooey and squeaky topped with the perfect amount of breading. After you devour this appetizer, make room for their fish fry. They offer Cod, Perch, or Walleye. Then, pick your two sides and you'll have quite the meal ahead of you. 
If you like this, check out Houligans Steak and Seafood Pub in Eau Claire!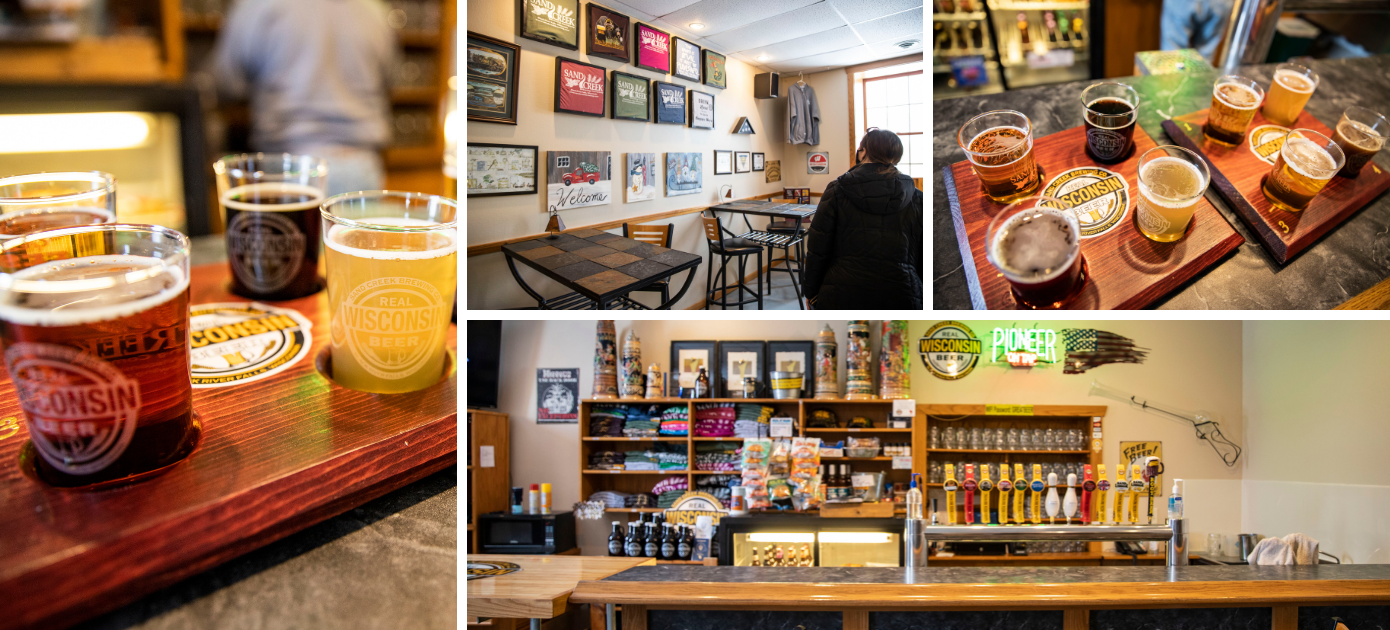 Sand Creek Brewing Company in Black River Falls, WI
There's no way you can go without visiting a brewery when taking a trip to Wisconsin. While Eau Claire will have plenty more for you to go to, start with this one in Black River Falls. Sand Creek Brewing Company has a long history behind it and you can kind of tell when you see the building it's operated in. On the outside, the brick building gives off an antique feel and fits in well with the overall feel of this small town. In small towns like this, you can always expect 5-star hospitality too. As soon as you walk through the door, not only are you greeted by the sweet smell of brewing beer, but you are also immediately welcomed by their staff and told to pull up a chair at the bar. They have something for all beer-lovers... fruity beers, light beers, and dark beers too. Try their flights of 4 or 8 and find the beer that you'll want to bring home in one of their growlers!
If you like this, check out The Brewing Projekt in Eau Claire!
You've almost made it to Eau Claire, but before you put down the fork and knife for the day, you must take an exit off the highway to Northwoods Brewpub in Osseo for one of 7 most unique burgers in the state of Wisconsin. Seriously! Their Bacon Mac & Cheese Burger made that list of special burgers by Travel Wisconsin! Made with locally sourced meat, topped with sizzling bacon, creamy mac & cheese, and finally drizzled with a sriracha bourbon sauce, this burger will send your taste buds on a TRIP. Northwoods is also a local brewery! So, if you didn't get your beer fix at the last stop, top it off here with their brews! They have bar games inside as well as an amazing outdoor patio to enjoy your meal on during the warmer months making for the perfect atmosphere to gather with your close friends and family. 
If you like this, check out Leinie Lodge in Chippewa Falls (short drive from Eau Claire)!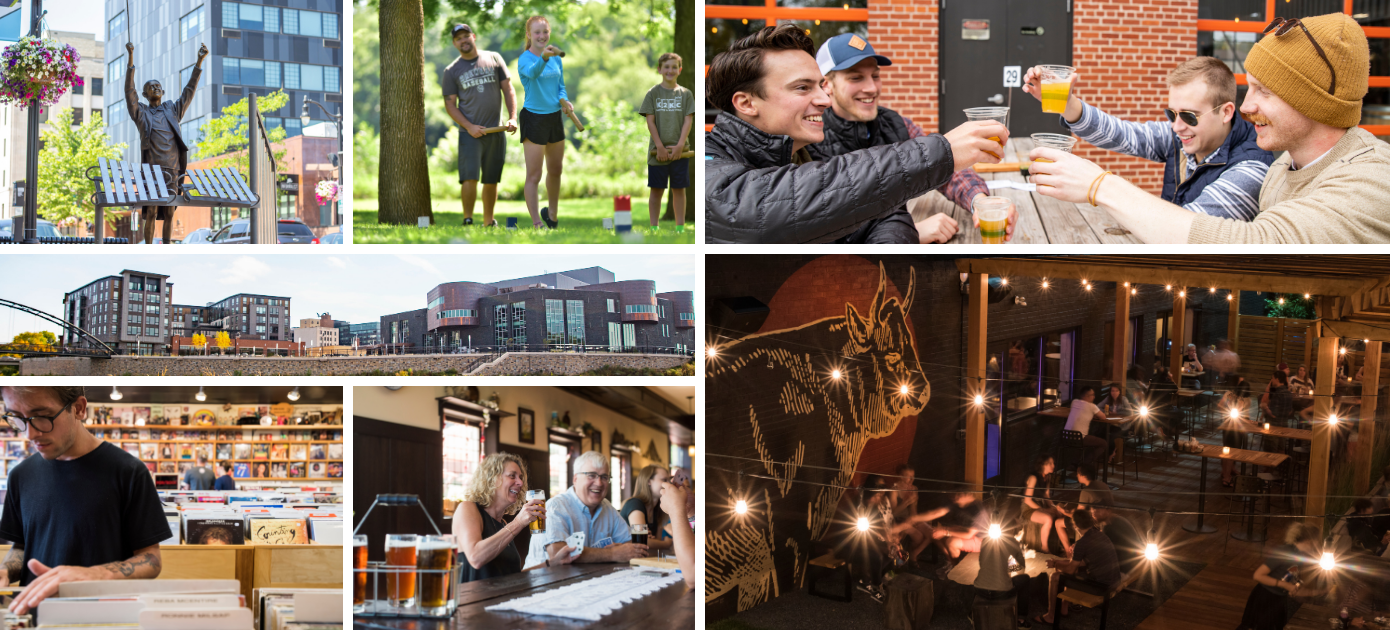 You've arrived to Eau Claire, WI!
You're here! Welcome to the land of originality! Your foodie adventure is far from over. In fact, it has just begun! Eau Claire is home to many restaurants that will cook you food you'll always want to come back for and treat you with unmatched hospitality. From crispy fish fries to one-of-a-kind supper clubs, from international flavors to Wisconsin traditions like cheese curds, from sweet to salty, Eau Claire has something for every palette from appetizers to dessert. Simply browse through our list of restaurants or use our 3-day Foodie Itinerary below to make sure you're not missing any of the dishes that are iconic to Eau Claire. As far as things to do once you get here, we have that covered for you too. You can take in the natural wonders of the great outdoors while exploring our trails, or maybe walk through the streets of downtown hunting down the sculptures and murals that breathe life into our city. If it's a family affair, then there's much for you to do too! What're you waiting for?! Eau Claire and these delicious plates await! 
Start Planning Your Eau Claire Experience
More to See On Your Way to Eau Claire