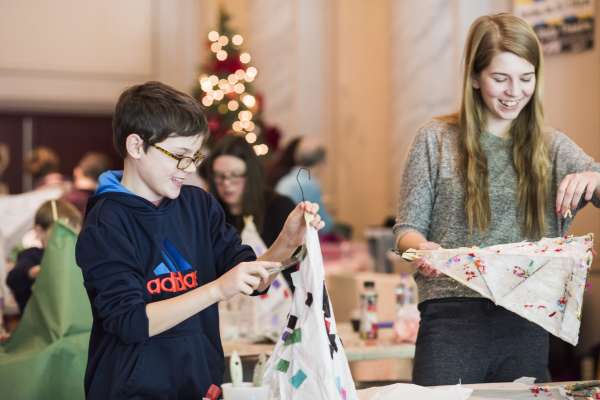 Dragons of the North Lantern Workshop
128 Graham Ave.
Eau Claire, WI 54701
Hic sunt dracones – here there be dragons! New Year's Eve 2018 comes alive as the lanterns of the third annual Light Up
Eau Clare Parade wind their way through downtown. This year's theme is Dragons of the North, a winged, weird and
wonderful celebration of the magical and the mysterious. These legendary creatures lurk on the outer limits of the map, on
the edge between the known and the unknown -- who better then than dragons to mark the coming of a new year, with all its
power and possibility? And who better than the people of Eau Claire to bring these dragons to life?
Starting in December, Pablo Center at the Confluence and Visit Eau Claire will host a month of FREE, family-friendly
lantern making workshops for artists of all ages. This year the lanterns will be bigger and better than ever; in addition to the
traditional diamond shaped lanterns, we'll be hosting three workshops geared towards families, teens, and anyone interested
in a more ambitious project!
The workshops culminate in a single parade for ALL the lanterns at 6pm on December 31 st , as the Dragons of the North light
the way over the new bridge to Haymarket Plaza and the new Pablo Center. For details on workshops, parade line-up and
schedule, and the parade route you can visit either https://www.visiteauclaire.com/ or https://www.pablocenter.org/