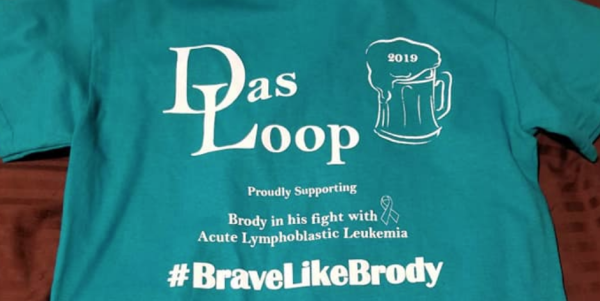 MARK YOUR CALENDARS---For the 8th Annual Das Loop, Crawling' for a Cause, Pub Crawl!

This year we will be supporting 6 year old Brody from Thorp, WI!

Brody is a typical 6 year old boy, who has recently had a game changer. He's been diagnosed with ALL, acute lymphoblastic leukemia. He's had 8 1/2 months of intensive chemo, blood transfusions, platelet transfusions, hospital stays, spinal taps regularly and bone marrow checks.
Brody is your all American boy, loves animals, driving the four wheeler, enjoys sports, playing T-ball and soccer, and he can't wait to play football (Packer fan). He also can't wait for the chance to hunt and shoot his first buck. Brody is loved by all his classmates, teachers, nurses, doctors and family. He truly has a heart of gold. He's nice, caring and outgoing.
Brody has 3 to 3 1/2 years of chemo remaining before being able to be placed in the cancer free category.