ATTENTION JAZZ ENTHUSIASTS (and those who are just down to drink and dance):
Eau Claire Jazz Fest is practically here, and you DON'T want to miss it!  Guest artists for the main event this year include Carl Allen and Doc Severinsen, both of whom will perform each night at The State Theatre.  You can buy tickets for $10 ahead of time by going here, calling (715) 832-2787, or buying a wristband at any of the participating establishments (listed below). 
Whether you're traveling from out of town or you're a local, I know what you're thinking: what should I do during my downtime in EC?  Well, you're in luck: here's your itinerary for the weekend of the 2017 EC Jazz Festival! 
FRIDAY, APRIL 21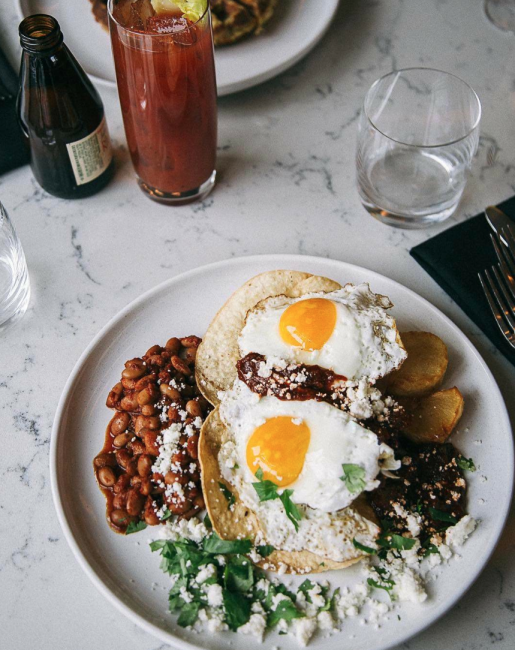 In order to prep for the day's festivities, it's essential that you start with a filling meal.  Stop by The Informalist for a charming breakfast or brunch.  The Informalist is a relatively recent addition to downtown Eau Claire, and it is located within The Lismore.  Even if you're not super hungry, I highly recommend picking up an iced mocha and a muffin or a chocolate chip scone from ECDC (which is the coffee shop right next door to The Informalist)!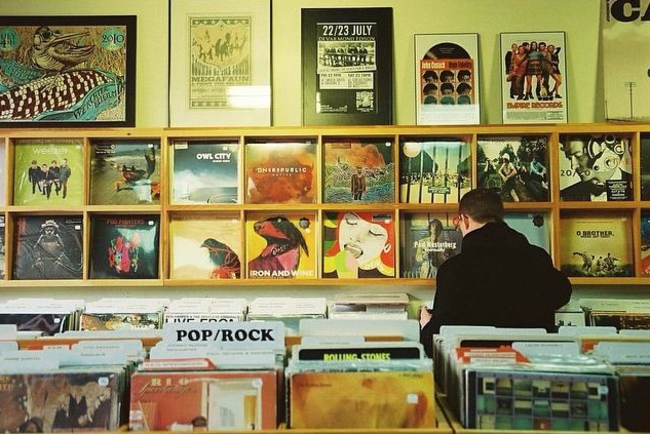 Photo credit: kyle_lehman on Instagram
Since you're already downtown, why not get some shopping done before the big event?  Downtown Eau Claire is filled with cute stops and shops including Tangled Up in Hue, Revival Records, Antique Emporium, The Local Store, Good and Sturdy Vintage, and Red's Mercantile.  If you're a musician yourself, then Pedals Plus is your premiere shop in Eau Claire to pick up musical equipment.  Oh, and don't forget to stop by Soul Brewed Coffee Roasters for a cup of coffee—I highly recommend trying the coffee on nitro.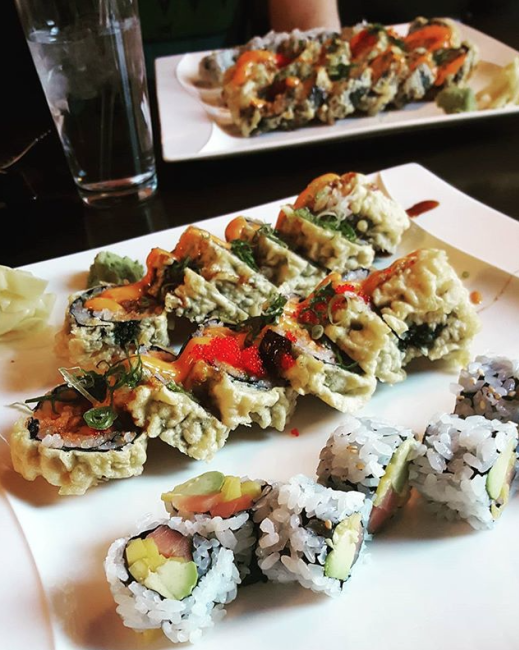 Photo credit: 715tiffany on Instagram
A delicious restaurant and one of Eau Claire's favorite date spots, Ninja Japanese and Chinese Restaurant is a popular spot among locals.  Located on Barstow Street, this restaurant has all kinds of delicious food items from Hibachi Shrimp to Ma Po Tofu.  If you ask me, you can't go wrong with General Tso's Chicken, but if you're feeling ambitious, try the sushi.  Oh, and if you're over 21, make sure you order some Sake on the side!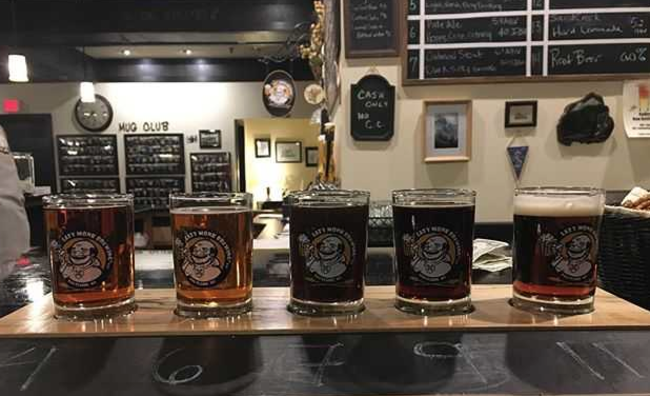 Photo credit: meashiepie on Instagram
Located just outside of downtown Eau Claire, the owners of Lazy Monk Brewing, LLC recently remodeled the building!  This German- and Czech-inspired brewery features a beautiful patio, and if you're lucky, you might even see the owner's gorgeous pup roaming about the brewery!  I recommend getting a flight of beers, but if you'd rather stick to one beer, then ultimately your best bet is either a Bohemian Pilsner or a Rye IPA.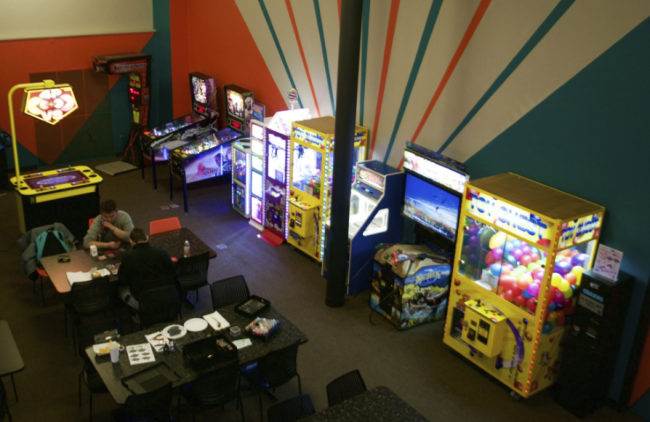 Once you're all set at The Lazy Monk, head back to downtown to get your gaming on at The District Company.  The District Company is a great spot to play some games with friends and family.  Gaming not your thing?  Take this opportunity to enjoy the calm before the storm—order one of the numerous sodas they have available, and then go for a walk around downtown Eau Claire—Phoenix Park is just a hop and skip from The District Co.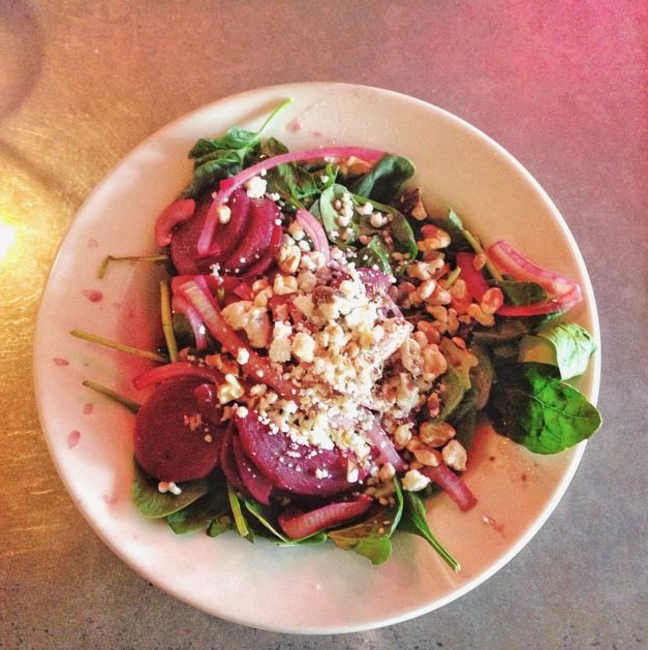 Photo credit: cassie.bennett on Instagram
After you work up an appetite from gaming or walking, make your way down to Stella Blues for some Cajun-inspired food!  (Yes, you read that correctly: CAJUN!)  With one of the most unique menus in Eau Claire, Stella Blues is sure to please; some items on the menu include Blue Angel Pasta, Southern Fried Catfish, and Shrimp Creole.  Plus, happy hour is 4-6 p.m., so you should get there just in time for some drinks! 
Main Event: Eau Claire Jazz Festival (5 p.m. to 2 a.m.)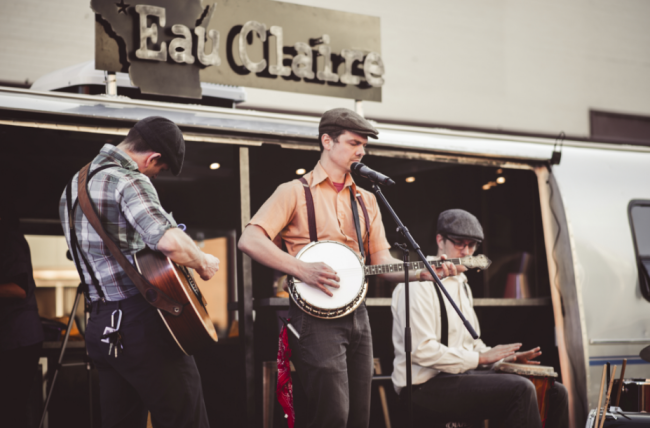 Night 1 of the Eau Claire Jazz festival sees the recreation of NYC's 52nd Street.  The magic all happens in downtown EC, and Royal Credit Union sponsors the event.  About 60 bands perform in 16 businesses on Barstow St. in order to create a lively atmosphere for festival attendees.  The goal is to transfer everyone back to the booming era of jazz.  The music starts and ends at varying times depending on the location.  Some locations are all ages, whereas others are 21+. 
Venues for the event include:
Acoustic Café

Houligans Steak & Seafood Pub

Clancy's

Valleybrook 410 Café

Micon Budget Cinema

Mousetrap

Eau Claire Steam

The Lismore

The Venue

The Plus

Firehouse

Revival Records

Stones Throw

The Dive

The Lakely

Volume One
Furthermore, head over to the State Theater at 7:30 p.m. to see the Grammy-nominated UW-Eau Claire Jazz Ensemble l and the College Honor Band and Combo. 
SATURDAY, APRIL 22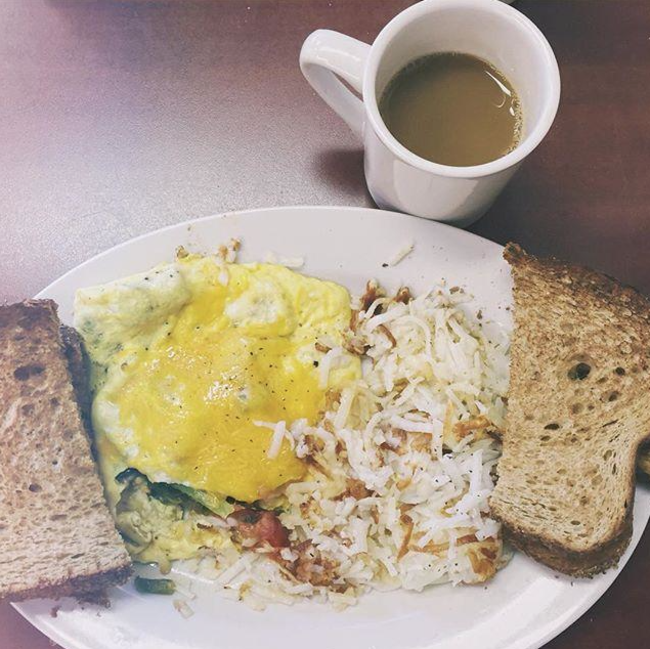 Photo credit: meg_ann_lee77 on Instagram
Whether you're wide-awake or struggling to wake up, Lynn's Chatterbox Café is the perfect place to start your Saturday morning.  This cafe has the feel of an American diner.  It features a HUGE menu, and you can choose between breakfast, lunch, and dinner; the time you arrive there to the café is irrelevant.  Oh, and I HIGHLY recommend ordering a French Vanilla Cappuccino—it's absolutely delicious! Lynn's Chatterbox Café opens at 7 a.m. and is located on Hastings Way. 
Morning Activity: Walking along the river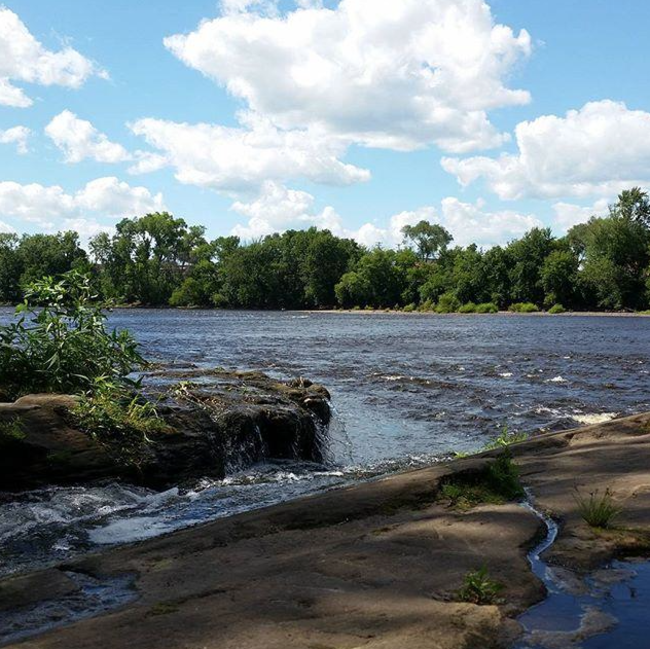 Photo credit: copy_of_a on Instagram
After filling up for the day ahead, drive on down to Water Street, find a parking spot, and go for a long walk along the river.  Even if you went for a walk down by Phoenix Park, you're sure to feel refreshed after a morning walk.  If you're feeling ambitious, take the bridge over to campus, and walk on over to Putnam Rock—it's one of the most romantic and beautiful spots in Eau Claire!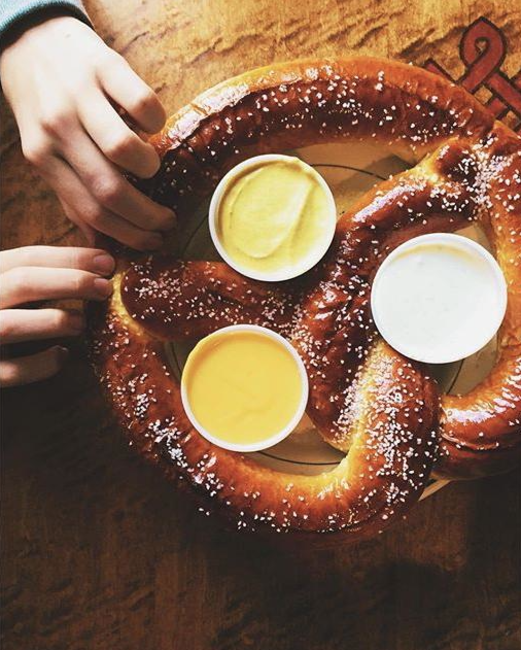 Photo credit: kateybentley on Instagram
Once you get your exercise in for the day, head back to Water Street and go down to Dooley's Pub.  This popular spot among college students has an incredible menu, and it's filled with TVs, so you can easily catch up on the score from the Bucks game.  If you're with a group of friends, I recommend ordering the shareable pretzel as well as the mac n cheese bites!  If you're over 21 and ready to drink, place an order for the Irish Sea—you won't be disappointed. 
Afternoon Activity #1: Shopping on Water Street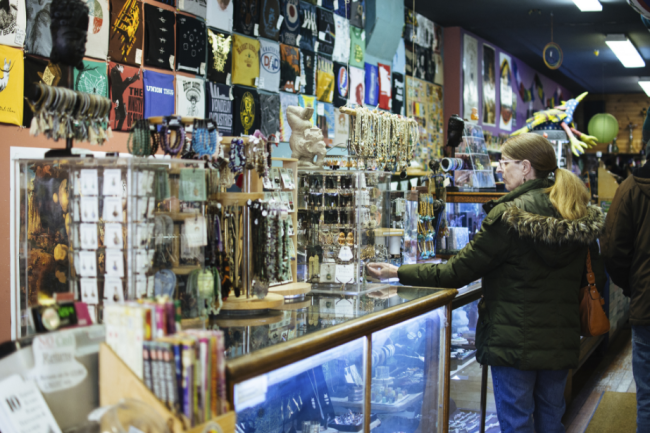 Water Street is filled with fun, quirky shops like downtown is, so you need to check them out!  Some of the stores you can go to include Trucker's Union, which has an assortment of ironic t-shirts, books, coffee mugs, and more; Willow, which has gorgeous offerings such as candles, scarves, and cards; Black Thumb Glass, which has tons of homemade items; Details, an upscale clothing store; and Ottawa House of Books, which is a cozy little bookstore. 
Afternoon Activity #2: The Joynt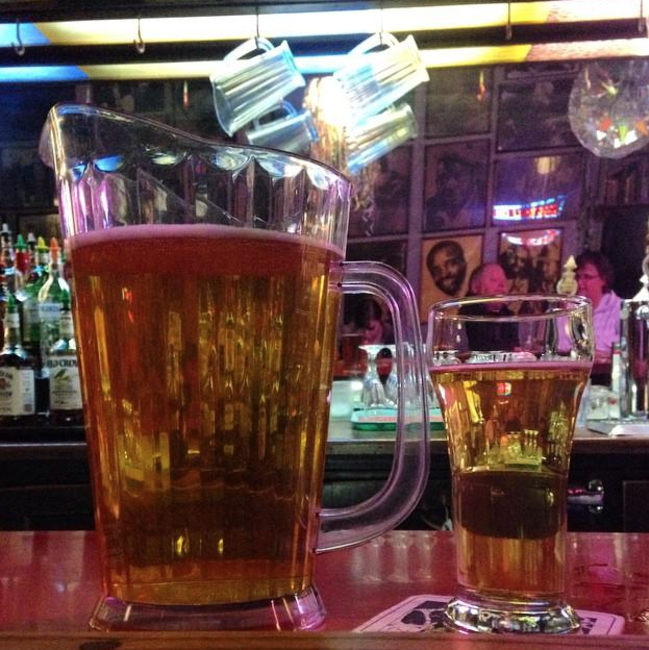 Photo credit: b0ngloarder on Instagram
Prepare to have your mind blown: The Joynt has AMAZING deals on beer!  When you're done shopping, head to this Water Street bar, put some money in the jukebox, and order a pitcher of Grain Belt or Birkhof to split with your friends.  In addition, there used be live music at The Joynt; check out the pictures on the walls, and strike up a conversation with the bartender about the musicians who performed there! 
Drinking not your thing?  Get a cup of coffee at Racy D'Lenes Coffee Lounge or The Goat Coffee House instead!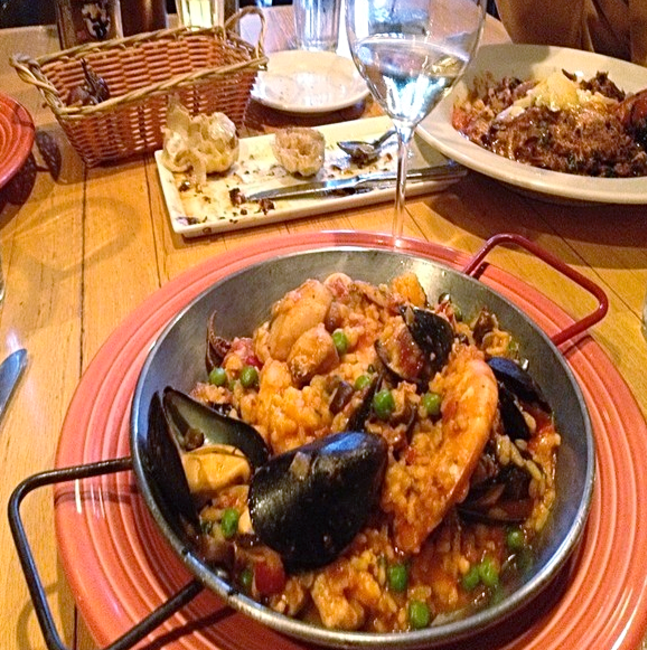 Prepare for a night of classy music by having a fancy night out at Mona Lisa's!  Another restaurant with a unique atmosphere, Mona Lisa's is adorned with wine bottle chandeliers and pictures of Mona Lisa herself.  This menu changes with the seasons, but make sure you order some of the freshly baked bread, and don't be afraid to splurge—it's well worth it! 
Insider Tip: make a reservation ahead of time!  Mona Lisa's is a popular spot, and you don't want to be late for Jazz Fest! 
Main Event: Eau Claire Jazz Festival (7:00 p.m.)
Finally, the second night of the jazz festival takes place at The State Theater, which is located in downtown Eau Claire.  This night's concert will feature the UW-Eau Claire Jazz Ensemble l and the top High School Honors Bands from the day's competition.  If you weren't able to catch the performance here on Friday night, do NOT miss it this time—buy your tickets today to reserve your spot! 
Whether it's your first year or you've gone every year thus far, you're sure to have a blast!  Make sure you take plenty of pictures and share them with us on Instagram by using the hashtag #CaptureEC