SO LONG, SUMMER! Your Last Chance to Experience all of the 'Goodies' of Sounds Like Summer 2016
So, here it is: Your guide to the last Sounds Like Summer event of 2016!
The Bands
Irie Sol plays Jamaican-style reggae music that becomes irresistible when mixed with horns, drums, and a variety of other instruments. It's impossible not to dance to this music as local professor, Joel Pace, raps and dances along with the other members of this gifted band.
Pit Wagon is a fun country-folk band made up of members Matt Vold, Emily Jensen, and Matthew Mabis. Performing since March of 2014, this group plays music that is as comforting as "Wisconsin's beer and cheese."
Sniffle Party is an electro-pop duo that produces pure magic. With the beautiful voice of Serena Wagner mixed with beats from Eric Christenson of Two Castles, these two deliver a sound that is positively dreamy.
The Food

Biggie & Bull BBQ: Did you know that the guys at Biggie & Bull BBQ are National BBQ Competitors? Don't act so surprised—Biggie & Bull BBQ offers all kinds of savory foods and traditional barbecue items. Aside from SLS, the Biggie & Bull BBQ food truck was at Rock Fest [AND] Country Fest this year, and the truck regularly stops by the Lazy Monk Brewery. Food items include a smokey pulled pork sandwich; coleslaw; beans; finger-licking good nachos; and of course, their award-winning pig wings.
Tutto Bene Wood Fired Pizza LLC: If you arrive at Sounds Like Summer feeling famished, then you should probably check out Tutto Bene. Whether you want a classic margherita or a chicken pesto pizza (aka the best thing ever), Tutto Bene will cook you up something that's out of this world. They make the pizza right on the spot, so you know that it's fresh. Oh, and it's Justin Vernon approved—they were at the Eaux Claires Music Festival!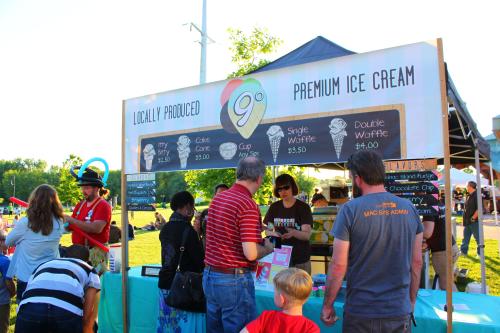 9 Degrees Ice Cream: There's nothing sweeter than eating ice cream in the park, and 9 Degrees Ice Cream (the food stand that stemmed off of Olsen's Ice Cream of Chippewa Falls) has the most delicious ice cream in the valley! While my personal favorite is the Mackinac Island Fudge, 9 Degrees offers flavors such as mint chocolate chip, strawberry, and the ever-changing flavor of the week. You can easily find the 9 Degrees Ice Cream stand by searching for a white tent adorned with touches of pastel... or just look for the longest line in the park. (Oh well: It's worth the wait!)
Burrachos Fresh Mexican Grill: The definition of 'comfort food,' Burrachos is my favorite place to eat on those nights where I'm feeling lazy and don't feel like cooking. From the el nino to the tacos, the food here is always tasty and never fails to hit the spot. Aside from the Sounds Like Summer stand, there are two Burrachos locations in Eau Claire: one on Water Street, and another down by Target and Kohl's. If you need something filling, hit up the Burrachos stand!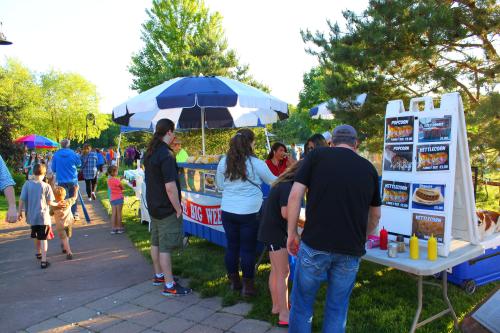 The BIG Weeny: Brats, hot dogs, chili dogs, oh my: The BIG Weeny has everything you could ask for and more! Aside from Sounds Like Summer, The BIG Weeny regularly operates at Tuesday Night Blues and the annual Chalkfest event. In addition to hot dogs, you can also buy popcorn, kettlecorn, and a wide assortment of beverages. The best part, though, is that their prices are ridiculously reasonable. A bag of popcorn for just $3? Yaaaaas please!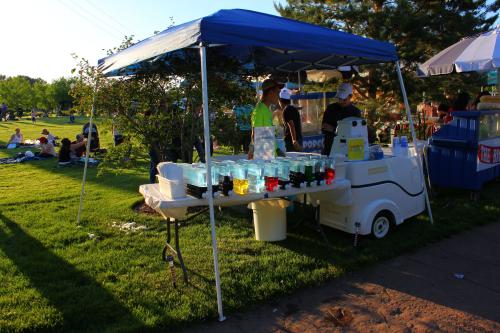 Lodie's Summer Snow-Shaved Ice: As much as we all love the great outdoors, sometimes it just gets too hot and sticky out. Thankfully, Lodie's Summer Snow-Shaved Ice offers over 60 different flavors of refreshing snow-shaved ice treats for a very reasonable price! This was Lodie's first time at Sounds Like Summer, but they also have a location on London Road (next to Memorial High School and the old K-Mart) that has been open for years. Whether you're looking for something margarita flavored or something on the healthier side (such as their new protein flavors!), Lodie's is sure to have a flavor you'll love.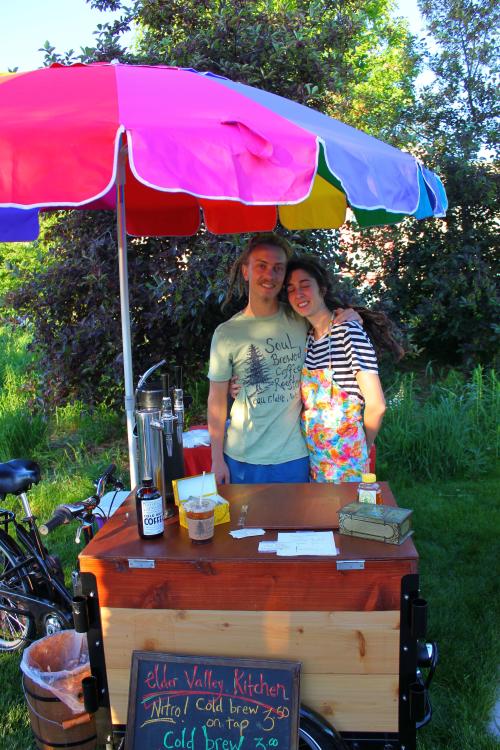 Elder Valley Farm: Soul Brewed Coffee Roasters: If you haven't tried nitro coffee, then you owe it to yourself to stop by the Elder Valley Farm stand! Run by two positively lovely individuals, Elder Valley Farm offers unforgettable nitro coffee. This bubbly coffee has a fluffy, sweet flavor to it… and it's stored in a keg and served out of a tap! If coffee isn't your cup of tea (please laugh and make me feel like I'm funny), you can also buy some homemade lemonade and salad dressings at this stand. In addition to Sounds Like Summer, you can find Elder Valley Farm each week at the Farmer's Market. (PS: I heard a rumor that they're opening up a coffee shop downtown!)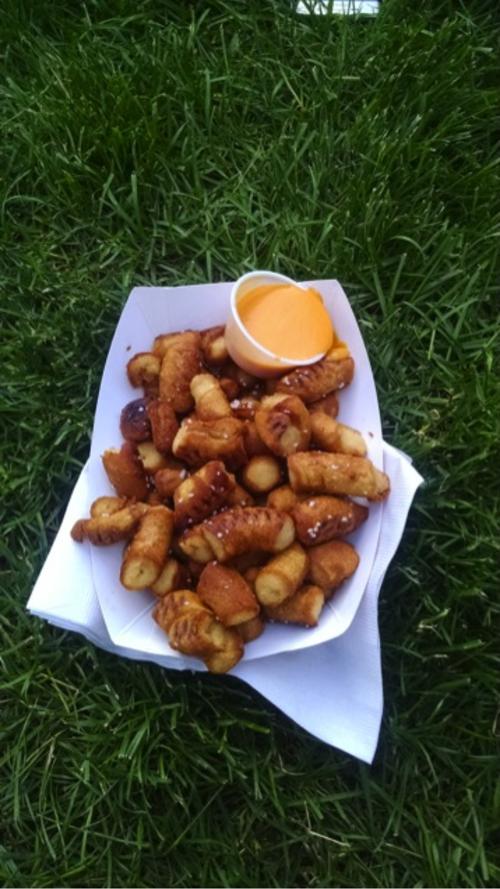 Playmaker's Bar & Grill: Dem pretzel bites, doe! Playmaker's Bar & Grill on Graham Ave never fails to please, and this stands true of the stand they have at Sounds Like Summer. With bite-sized options such as cheese curds, cheesy bacon bites, and loaded fries, Playmaker's offers food that is both warming and appetizing.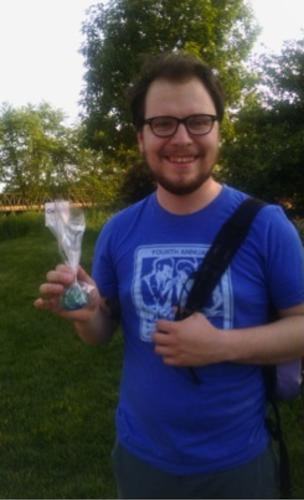 Goodies Sweets, Treats & More: Okay, so if you're like me and you have a MAJOR sweet tooth, then you need to stop by Goodies! Based out of Chippewa Falls, the stand for this bakery is EVERYTHING. (Like... I'm really sad for you if you haven't been here yet.) From mini cupcakes to cake pops, there are all kinds of treats available at the Goodies stand. They even have a cotton candy machine—what more could you ask for, really?
Did we miss one of your favorite places to eat during the Sounds Like Summer festivities? What was your favorite act that performed this summer? Let us know in the comments section below!