I've always been a fan of wine and thought the process of making it was so cool, but there aren't many wineries around Appleton for me to visit, which is why I jumped at the chance to write a blog about the local wineries in the Chippewa Valley. I thought, alright we'll get to see some beautiful countryside, taste some delicious wine, and get a chance to tell everyone how cool our wineries are, I had no idea how much fun I would have or how much I would learn during all of this. I visited O'Neil Creek Winery, Autumn Harvest Winery, River Bend Vineyard & Winery, Sandstone Ridge Vineyard & Winery, Cottage Winery and Vineyard, and Infinity Beverages Winery and Distillery and learned about each of them.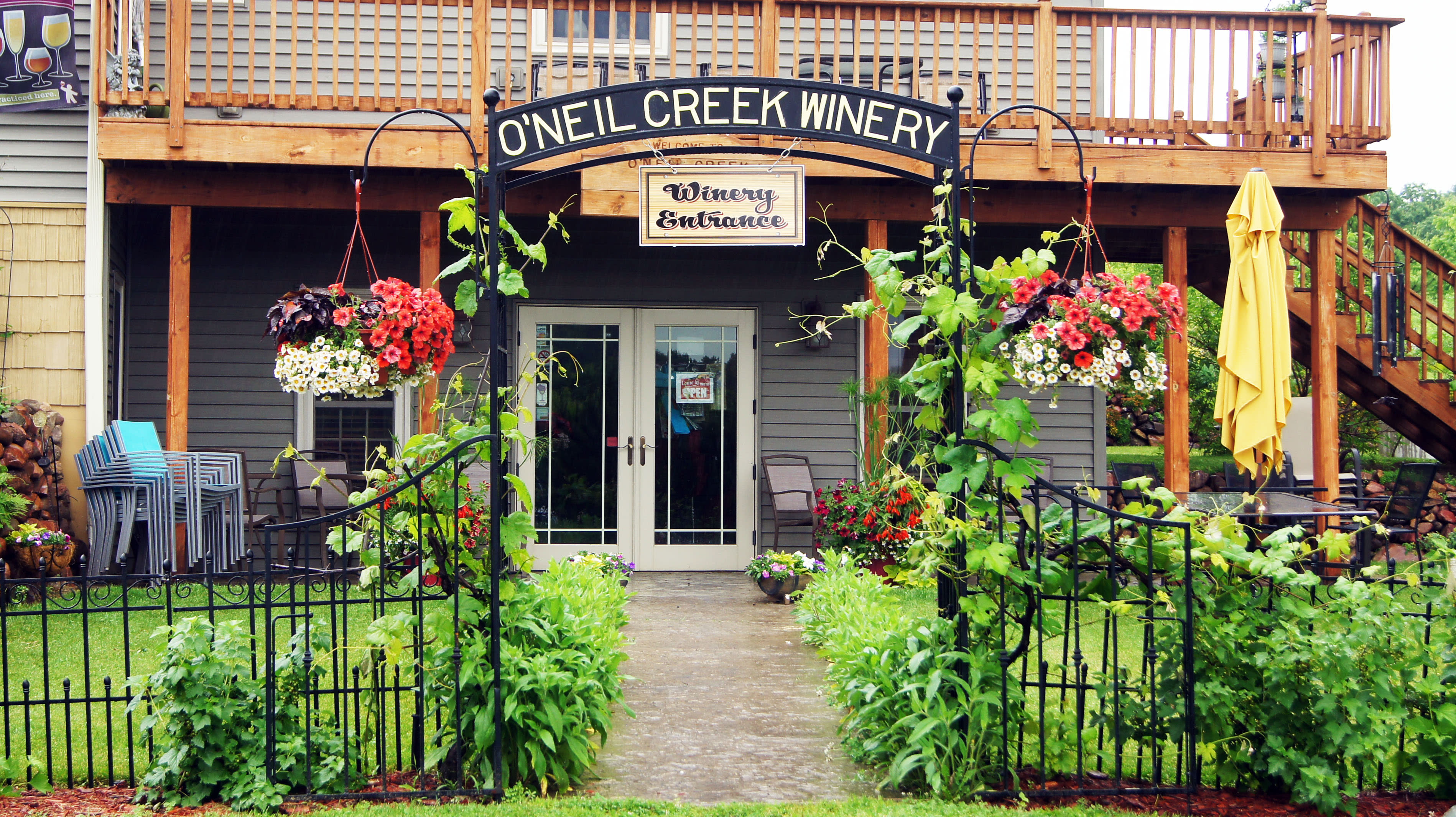 O'Neil Creek Winery: If you're coming from downtown Eau Claire like I am, O'Neil Creek winery might seem like a bit of a hike to get out to, but it's worth it. Run by Joe and Dorinda, this winery was built in 2007 and opened in 2009 after Joe retired from the police department in Bloomer. At opening, O'Neil Creek was producing about 800 bottles a year in a few varieties. Just a few short years later they make over 7,000 bottles of wine in 16 different varieties and are always growing. As Joe likes to say, "a winery can go as far as your imagination can take you," which he and Dorinda put to practice by continually trying to make new flavors and combinations. On the topic of Joe's imagination, one of the most interesting things about O'Neil Creek is that they don't make a single wine from grapes, only local grown fruit and almost entirely grown on the property by Joe himself. Joe didn't want to make the same grape wine anyone can make from grapes shipped up from California, but instead wanted to make something special that he could do himself. Another thing Joe likes to say is that each winery has it's own atmosphere and that atmosphere is what you make it and if I had to put O'Neil Creek's atmosphere into words I would say homey. When I went to visit O'Neil Creek Joe answered all of the questions I could think of and then gave me a tour of their beautiful grounds, which by the way is also their home because they live right above where you take tasting. While Joe was giving me a tour, another couple pulled up and Joe told them to shout up the steps for Dorinda and even though I told Joe he could cut the tour and go take care of them he told me this wasn't an unusual thing which is when I realized why it felt so much like home. Joe and Dorinda invite you into their actual home to taste the creations they're putting their life into and while you're there you're not just treated like family, you are family. This is why O'Neil Creek has one of the best atmospheres on the wine tour. If you want to experience this for yourself, and lets be honest you do, stop out by O'Neil Creek for a tasting or if you've got more time I would recommend their Wine Women Wednesday which doesn't just have wine, but also handmade firewood pizza, professional massages, live music, and great company. Check out their website and plan your trip out there. It's like going home again.

Autumn Harvest Winery: Do you want to sit out on a beautiful day and enjoy a delicious wine while surrounded by a gorgeous apple orchard? Of course you do! Autumn Harvest winery is run by Jean and Chad McIlquham who recently bought it from John and Marykay McIlquham or as Chad says "we bought an orchard that came with a winery, or the other way around!" The orchard itself has been in the family since 1961 and for the last 11 years it's included the winery. Autumn Harvest grows their own apples, blueberries, and raspberries on site and brings in the rest of their grapes from other Wisconsin growers to keep it all local. As well as the growing, all of the actual winemaking and bottling is done on site in small batches. Jean and Chad's daughter is the secret weapon of the family who keeps her dad in line while they're bottling. Right now Autumn Harvest makes 13 wines and a hard cider, which I can vouch for as excellent, but they're expanding all the time. They've recently brought live music to the grounds and they're working on having more music as well as a corn maze and wagon rides around the orchard later in the year. One thing's for certain, there's always something to be done at Autumn Harvest, even if that something is enjoying a glass of wine and admiring the scenery.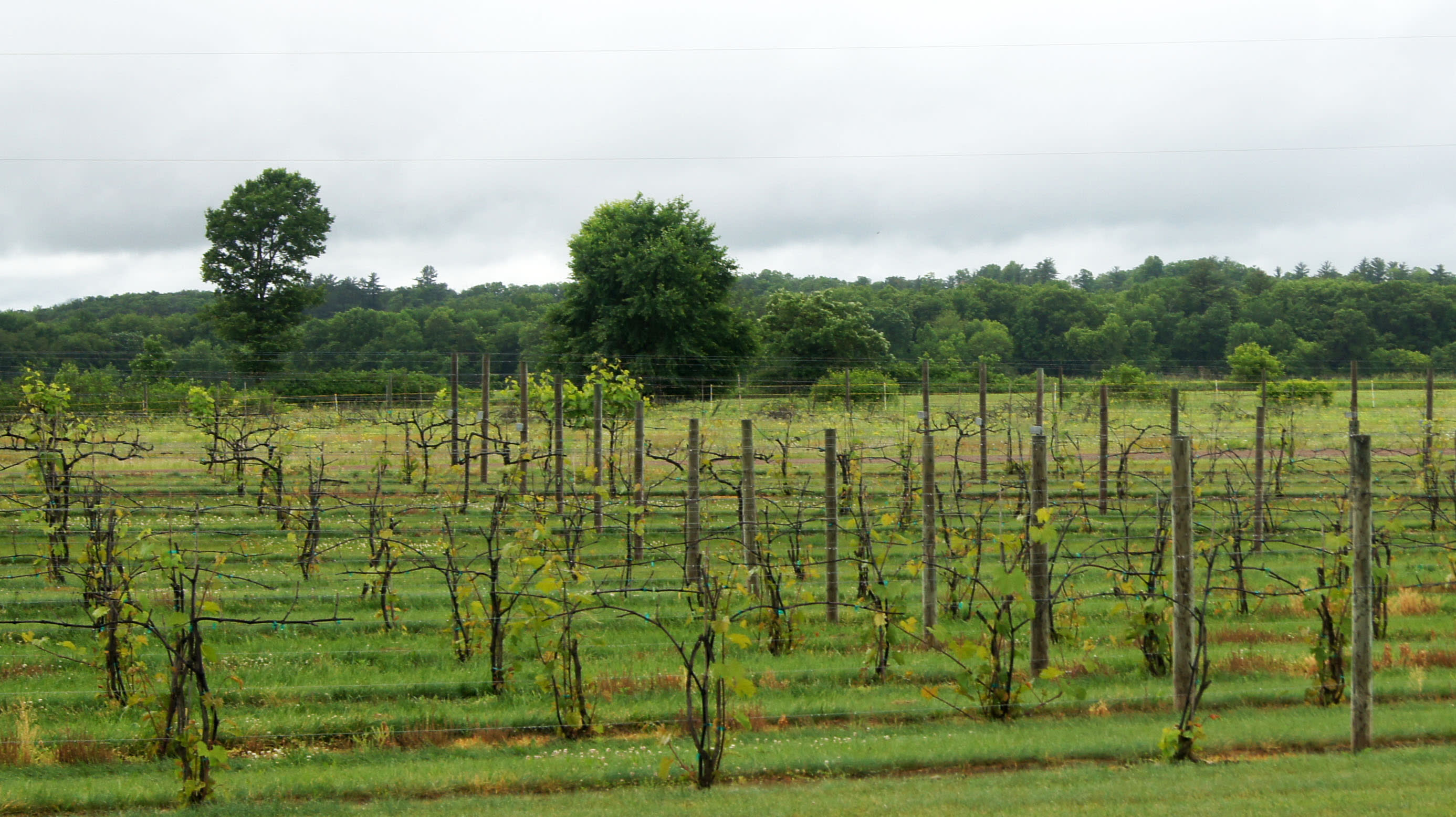 River Bend Vineyard & Winery: River Bend is a bit of a change of pace from the other wineries on this tour. Where O'Neil Creek feels like home and most of the others still feel very homey, River Bend doesn't have that same atmosphere, but that's not actually a bad thing. River Bend looks like what you'd expect a dream about wine tasting to look like. Surrounded by massive fields of vines you'll find an elegant gate and banners along the driveway leading to a building that doesn't look that special on the outside, but on the inside is gorgeous interior. Here you'll see part of the winemaking process as well as a bar where your bartender will know so much about wine and winemaking that you'll run out of questions long before they run out of answers. Try a tasting of their reds, whites, or special wines, or all three. Then pick a favorite to have a full glass of to take out onto their patio which has an amazing view of the fields. Sitting out on the patio and drinking a glass of wine gives you a real appreciation for what all goes into making wine and the knowledge you can get from their staff about the types of wine and what makes each special. Leaving River Bend you will have spent time in one of the best spots I've found on this tour, more knowledge about wine than you had prepared yourself for, and a true appreciation for such an excellent drink.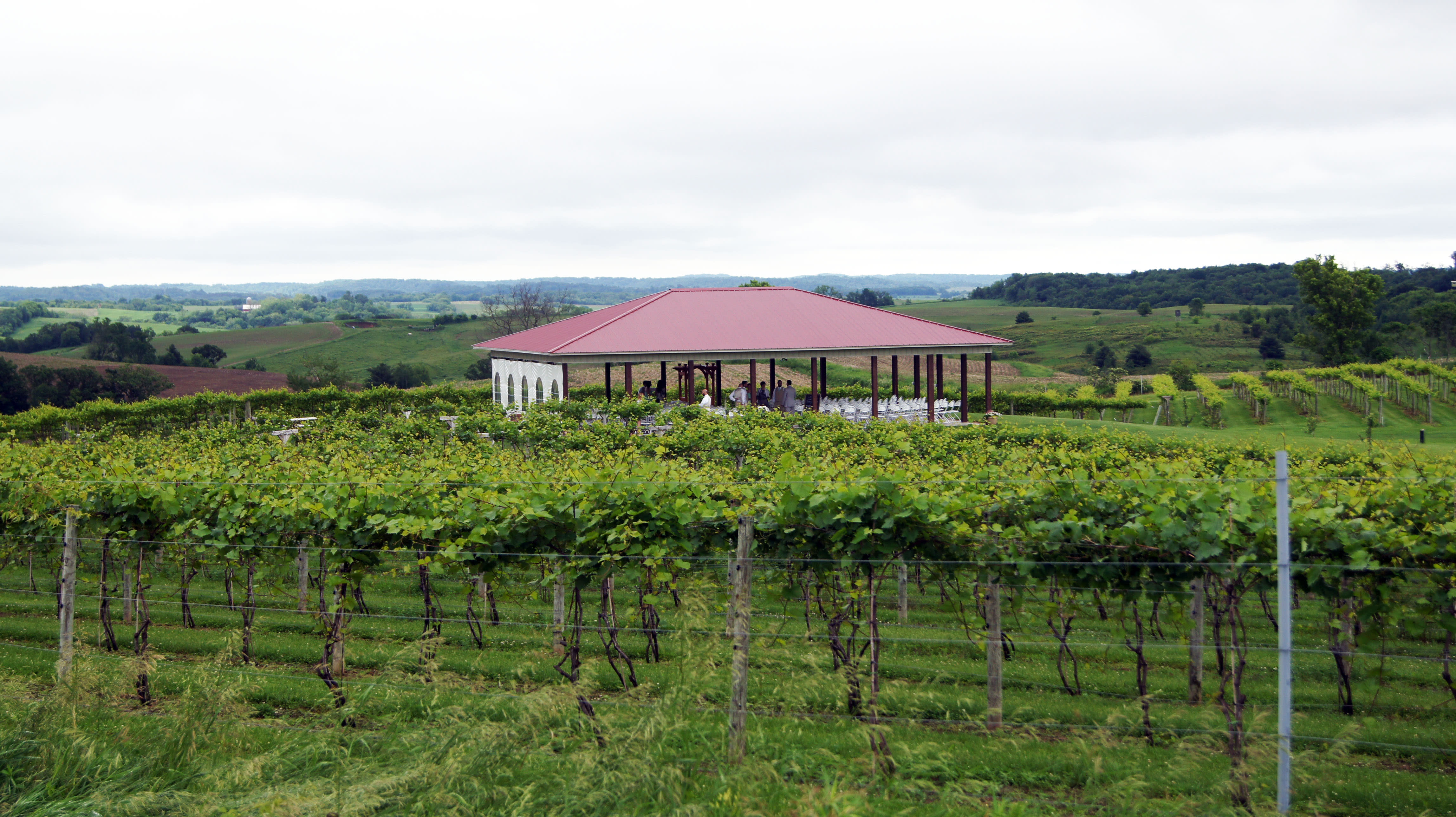 Sandstone Ridge Vineyard & Winery: Sandstone Ridge is a hidden gem tucked away in Osseo and it hides what I can easily consider to be the best view of the tour. While I had an amazing time touring all of the wineries, I think Sandstone Ridge was the most memorable experience. Sandstone Ridge is loosely based on River Bend and you can feel that same sort of atmosphere in it. This is a little more business and a little less retirement project/family, however that doesn't detract from the beauty that is Sandstone Ridge, in fact it might even add to it. Sandstone Ridge makes 13 different wines from grapes grown on their own endless fields and the rest of the winemaking is done on-site as well. Whether you've got beautiful sun to sit out on the porch or a rainy day to sit inside, Sandstone Ridge is great to sit down and enjoy some exquisite Wisconsin wines. If you're lucky like my fellow fun finder Tyler and I, you'll bump into some locals enjoying a glass as well and make some new friends. The locals will recommend La Crescent but I'd say Brianna is the best, take a tasting and decide for yourself.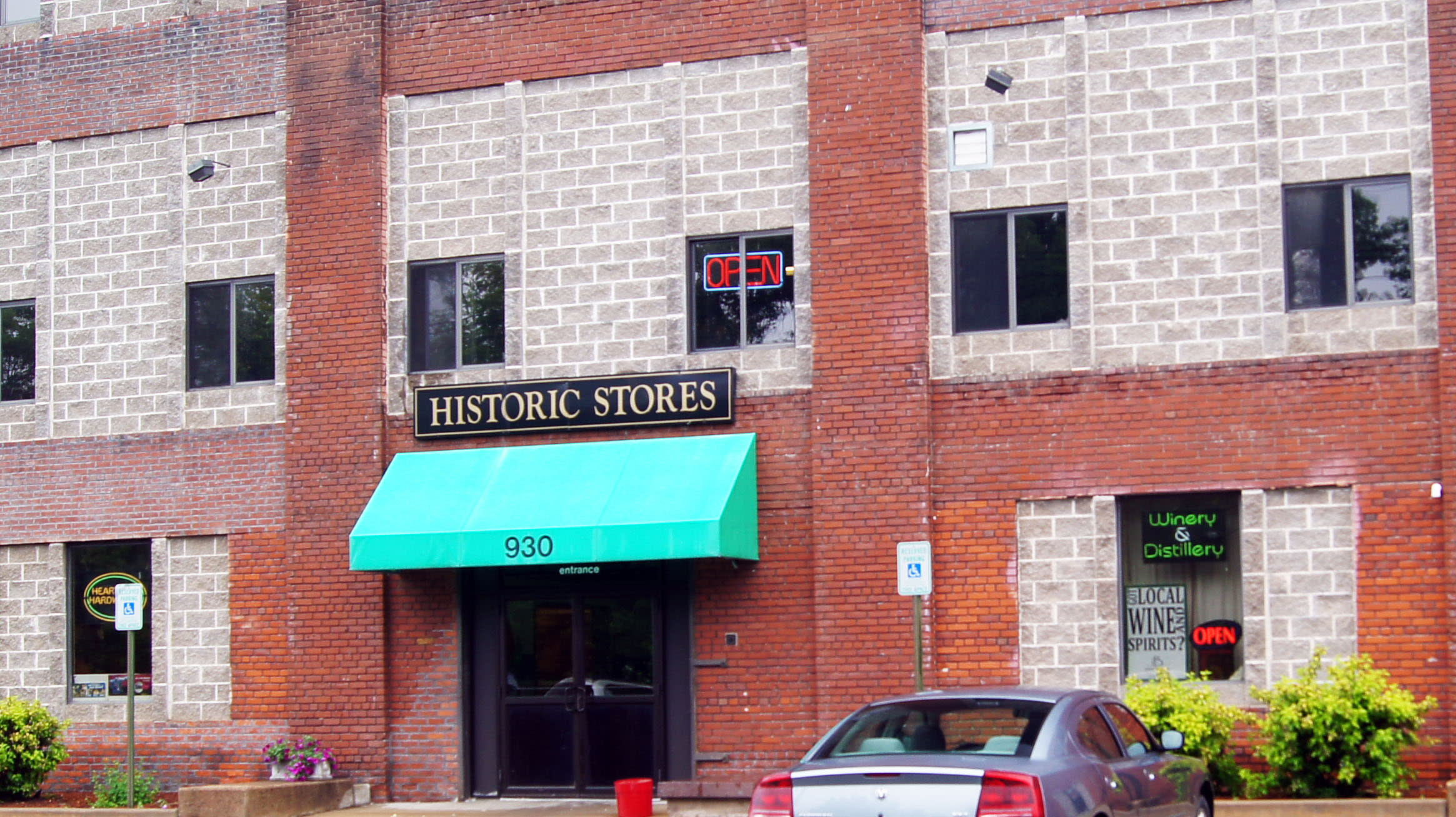 Infinity Beverages Winery and Distillery: Last on the wine tour is Infinity Beverages which is unique from the others for a few reasons. One being that while they make wine they also make their own spirits and the other being their location. While the other wineries are secluded in the countryside surrounded by their fields Infinity Beverages is hidden in downtown Eau Claire and while the scenery isn't the same, it does have a nice touch to it. Infinity Beverages has 7 different wines made from grapes from all across America as well as a vodka made from midwest apples and two whiskeys made from locally brewed beers. Because Infinity Beverages isn't just a winery, they also make spirits. You can stop in for a glass of wine or a cocktail if that's more your thing. Whether you're visiting Eau Claire and downtown for one of the many other events and attractions or you're a local looking to experience what your own city has to offer, stopping into Infinity Beverages won't take you long to get to. There's still great access to everything downtown has to offer. Make a trip to Infinity Beverages as part of a weekend getaway or just on the way home, it's easy and convenient and I can promise you it's well worth your time.
Wine Tours: The Epilogue Before writing this blog for Visit Eau Claire I had never done a wine tasting, never been to a winery, and honestly wasn't sure what to expect, but it turns out that whether you're a wine aficionado or just someone who enjoys the occasional glass, touring wineries is a ton of fun and a really great way to spend part of your day. Every winery on this list has something special and unique to offer and I could write individual blog entries about each of them. That still would not do them full justice because they're all so excellent. Whether you're looking for something to do on your day off or planning a weekend trip I promise that adding a winery to your day is time well spent. Not to mention that when you're finished with your day at the winery you get to bring home a delicious souvenir for later.