If you're not among native Wisconsinites you may show a puzzled face when "Friday Night 
Fish Fry
" is mentioned.  However, if you grew up in small-town Wisconsin, served at a local Mom & Pop on the weekends, and frequent local 
restaurants
 like myself, fish frys are a way of life and distinctly define my Midwestern roots.  But what exactly is a fish fry?  Why Fridays?
Friday night fish frys originated in the upper Midwest because of the plethora of German settlers who predominately came from Catholic roots.  Catholic tradition recognizes Fridays as symbolic of Good Friday in the Lent season and many respect that all year round with meatless Fridays.  Fish were also popular in Wisconsin because of a large number of native tribes who influenced a fishing culture.  In addition, Prohibition put a damper on the local taverns and folks still wanted social interaction and fun.  Together with all of the necessary puzzle pieces, the Friday Night Fish Fry was born!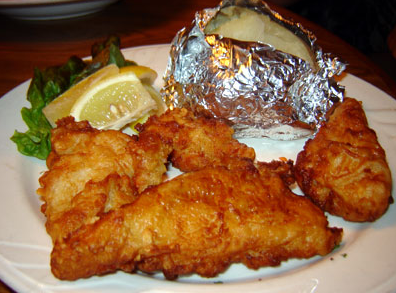 If you stop into any Mom & Pop or local restaurant on a Friday evening your menu will consist of a fish fry option that includes lightly battered and deep-fried cod, walleye, perch or even bluegill.  This will be served with coleslaw, tartar sauce, lemon wedge and your choice of potato.  Sweet and simple and oh so good, the best way to end a busy week.
No matter where, why, or how Friday Night Fish Frys came about in Wisconsin history, they are unique and cherished in the upper Midwest.  Although life has brought me out of the small town and I rarely experience these traditions, one thing remains true: I know I'm home when it's deep fried fish on a Friday night.  Welcome to Wisconsin!