Winter can be long if you don't get outside. Learn a new outdoor activity so you don't spend five months of the year vegging out in front of Netflix.
Here are some great ways to stay active in Eau Claire this winter. 
Layer Up
There's a saying "there is no such thing as poor weather, just poor clothing and layering." It may seem like common sense but make sure you have plenty of layers on when going outdoors and avoid cotton. Since you lose most heat through your head, a good hat can make the difference between an enjoyable time or a miserable one.
Snowshoeing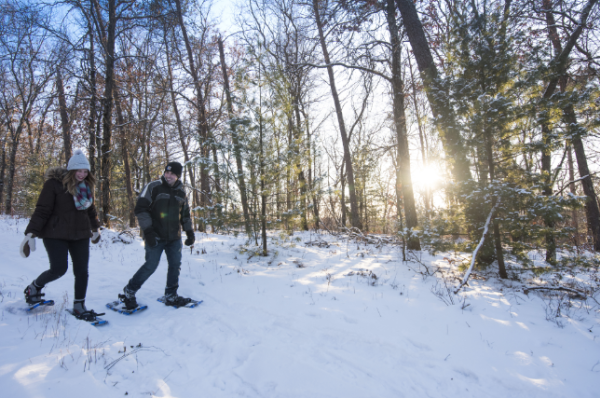 Snowshoeing is one of the easier outdoor activities to get into. It is just hiking with giant feet. Snowshoes range in price, but you can find a basic pair at around $50 (or even better, find them used). Other than footwear, the only additional requirement is a deep snow to walk through. A great place to try snowshoeing for the first time is at Beaver Creek Reserve in Fall Creek where you can even rent snowshoes. There are also snowshoeing trails available at Tower Ridge County Park and Lowes Creek County Park. 
Cross-Country Skiing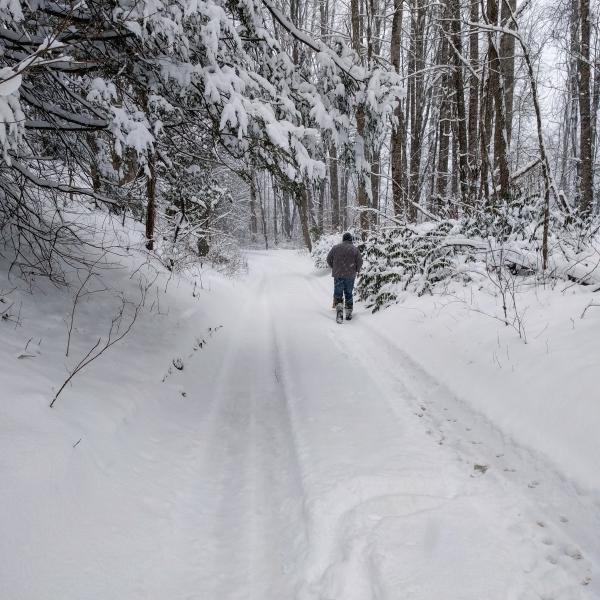 Cross-country skiing first seemed like a weird, mysterious new language to me. Classic? Skate-ski? What does it all mean? Here's how I keep it all straight. Skate-skiing is the same motion as ice skating but you are on skis. You also need to be on "groomed trails" which are trails with packed down snow. Classic cross-country skiing is a gliding motion where you continually slide forward without picking your feet up. You can classic-ski in many places because you don't have to be on groomed trails. 
Beaver Creek Reserve is again a great place to try out a new winter sport as you can also rent cross-country skis. The best place for cross-country skiing of any type is easily Tower Ridge County Park. Lowes Creek County Park transforms mountain biking trails to ski trails for the winter. Coon Fork and Evergreen County Parks also have ski trails through the winter. 
EC Insider Tip: I find that a fresh snow is the best classic- ski experience. 
Ice-Skating
Speaking of 'ice-skating' like motions, how about actually ice skating? There are many places in Eau Claire to skate. Skate indoors at Hobbs Ice Arena or outdoors at area parks and schools. Eau Claire Parks & Rec and Volume One magazine even hosts "Winter After Hours" starting in the new year at Boyd Park in the Eastside Hill neighborhood where you can try your ice skating skills out or just warm up by the fire.
Get Yourself to a Gym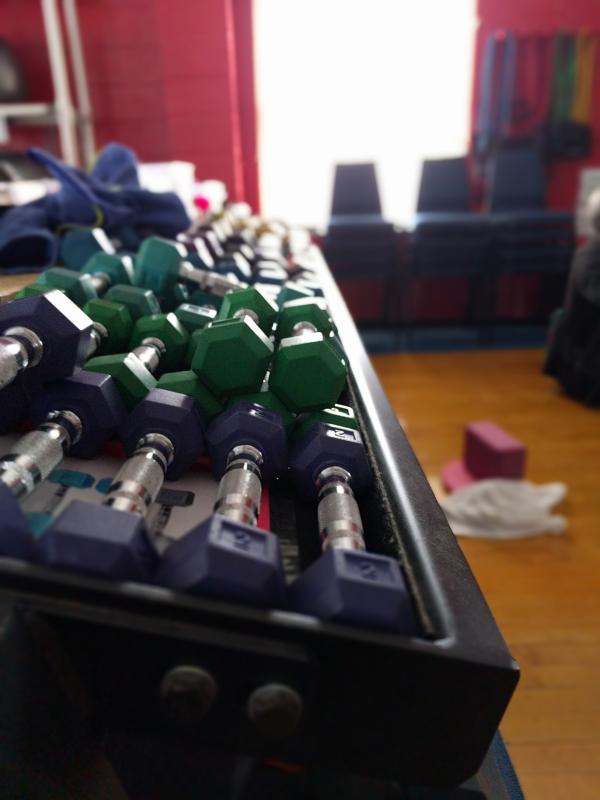 If all else fails or you just get tired of the cold it can be worth it to join a gym. Many gyms offer discounts or short-term memberships for the winter. The Eau Claire YMCA offers free fitness classes for members and a wide variety of fitness equipment. You'll find various class styles at Dragon Dance and Fitness like high-intensity workouts, kettle ball workouts, even pole and belly dancing. If you miss the heat try one of the several hot yoga classes at Latitude 44 Yoga Studio. You might not be getting any Vitamin-D, but if it helps you stay healthy, you'll get through the winter much easier.
While you're out staying active this winter, make sure to take a lot of fun photos and share them with us using #CaptureEC.