For many of us, our formal experiences with Art – note the capital "A" – are limited to visits to galleries and studios, where we are compelled to look at Art hung on bare white walls and think appropriately deep thoughts. Even in a place as creatively vibrant as the Chippewa Valley, once we step outside the rarified confines of galleries, we don't often recognize we're surrounded by artwork. And I don't just mean "oh-look-at-that-lovely–tree-isn't-nature-artistic" art. I mean "oh-that's-an-amazing-painting-on-a-wall-where-I-didn't-expect-it" art. 
Poke around the Chippewa Valley a little bit, and you'll find that in addition to our great fine-art galleries, there are numerous other public places where you can find art – if you know where to look. Here are a few of them: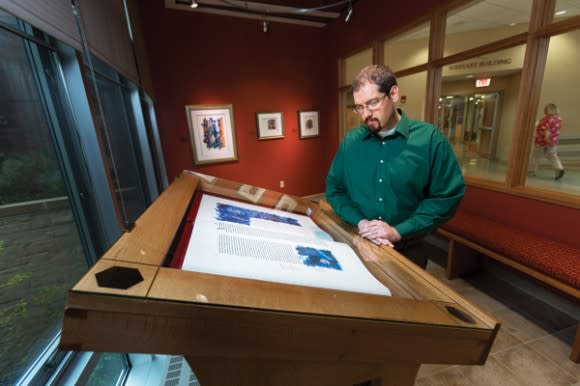 Sacred Heart Hospital & Mayo Clinic Health System Hospital
900 W. Clairemont Ave. // 1221 Whipple St., Eau Claire
In 2011, several local philanthropists pooled their money to buy a limited-edition fine-art reproduction of the St. John's Bible, one of the first fully hand-illuminated Bibles to be completed since the Middle Ages. Portions of the multi-volume, two-foot-by-three-foot Bible are displayed prominently at both the Sacred Heart and Mayo hospitals in Eau Claire, where visitors can enjoy the world-class artwork and calligraphy. Both hospitals have plenty of other work by local and international artists as well.
Chippewa Valley Regional Airport
3800 Starr Ave., Eau Claire
Few people visit airport terminals unless they're coming or going by air, but that's not necessarily the case at the Chippewa Valley Regional Airport. For several years, travelers and art lovers alike have been able to admire a frequently changing display of regional art on the terminal's walls. Whether or not you've booked a trip, it's worth the time to drop by, enjoy the art, and let your imagination take flight.
Micheels Hall, UW-Stout
410 10th Ave. E, Menomonie
Just around the corner from UW-Stout's Furlong Gallery is an almost-hidden piece of the university's (and Wisconsin's) past. As part of the Works Progress Administration, painter Cal Peters worked at what was then the Stout Institute in the mid-1930s. One of his murals, French Trappers on the Red Cedar, is a massive (7' by 18') painting portraying buckskin-clad voyageurs and Native Americans paddling the river. If you want to find this canvas, you'll have to do some exploring too: From the atrium at the entrance to the Furlong Gallery in Micheels Hall, walk northeast toward the hallway that connects to the Jarvis Hall Technology Wing. Immediately before entering the other building, turn right down a brick hallway and you'll see the impressive mural.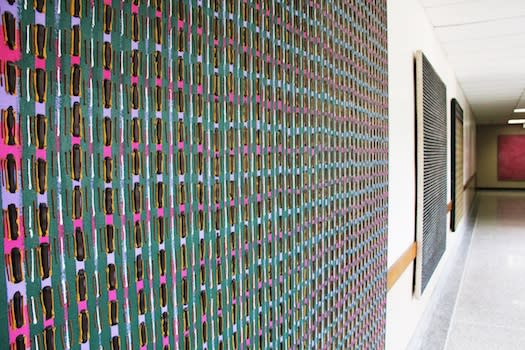 Schofield Hall, UW-Eau Claire
105 Garfield Ave., Eau Claire
There's art scattered across UW-Eau Claire's campus: sculptures on the mall, photography in the Davies Center, even chalk art on the footbridge. Some of the most impressive works can be found on the top floor of Schofield Hall. There you'll find four paintings by Tiit Raid, a local artist and UWEC professor emeritus. Raid's works are giant, abstract pieces using small geometric patterns exploded across the canvas.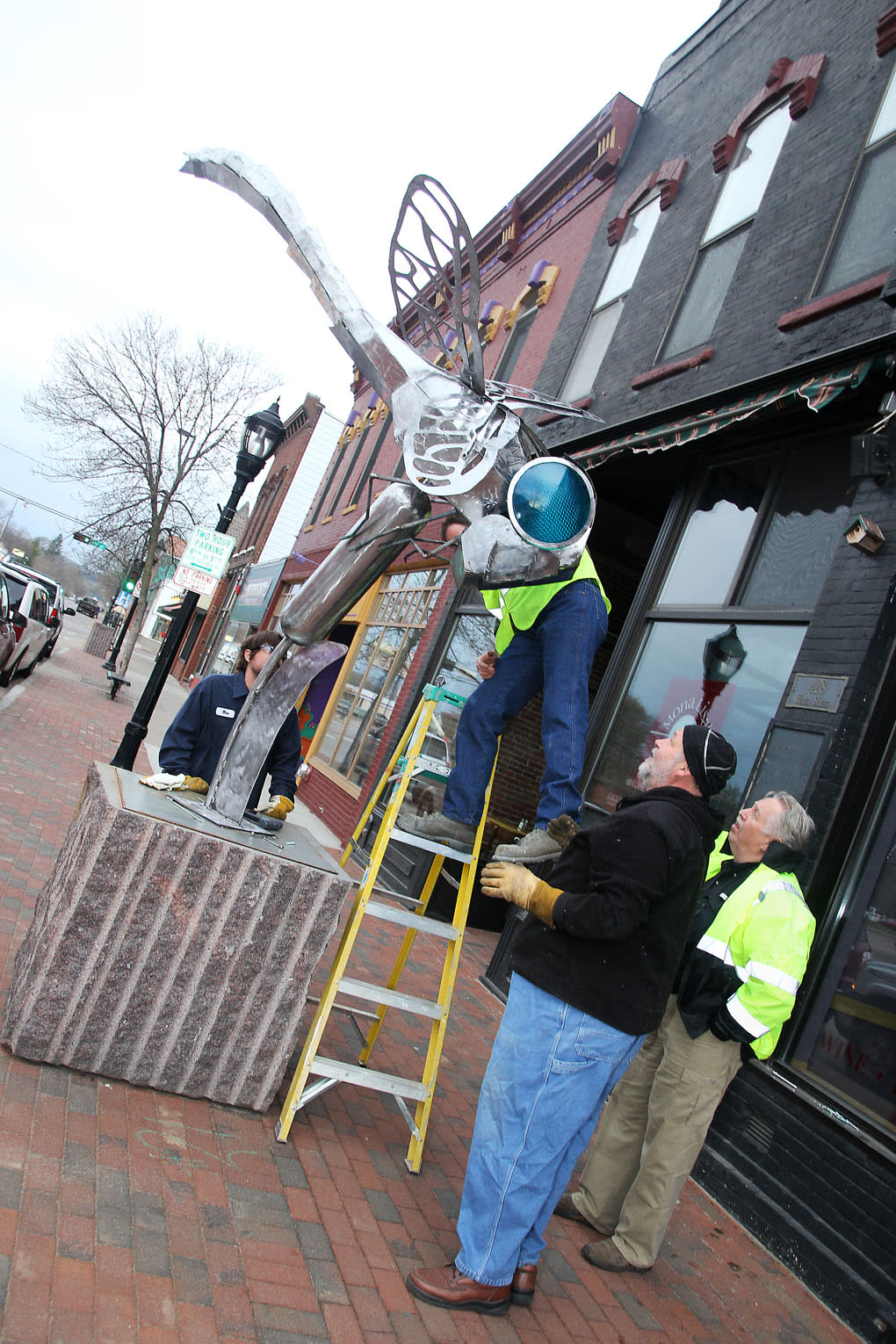 Sculpture Tour Eau Claire
Barstow Street, Water Street, and the Mayo Clinic Health System campus, Eau Claire
The tour, which entered its fourth year in the spring of 2014, annually brings dozens of original sculptures by artists from around the nation (and even the world) to the sidewalks and street corners of Eau Claire. Visit the website (www.sculpturetour.org), get a map, and take a stroll to enjoy a rambling outdoor gallery of work that encompasses the realistic and the abstract, the classical and the contemporary, the whimsical and the profound.