Officially, it's called the Sounds Like Summer Concert Series, but to many locals, it's simply "the Thursday night concert," "the concert in the park," or – to be more specific – "where I'll be hanging out every Thursday night all summer unless there's a torrential downpour." It's also the best place around to freely sample from the smorgasbord that is the Chippewa Valley's much-heralded musical scene. For well over 1,000 people each Thursday, the series – held in a grassy amphitheater overlooking the Chippewa River in downtown Eau Claire – is truly what summer sounds like. Whether it's a steady rock drumbeat, the blast of big-band jazz horns or the syncopated groove of a reggae band, as the music rises and the sun sinks lower, the labyrinth at Phoenix Park fills with children and adults joyfully dancing to the music.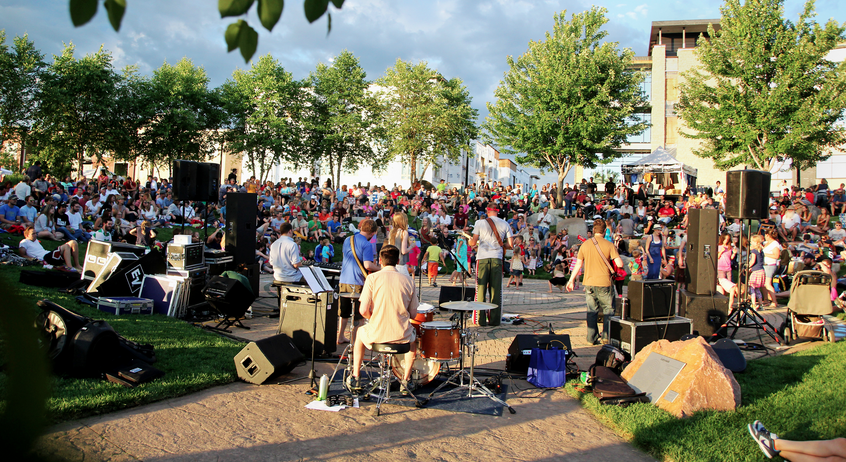 Since its inaugural season in 2006, Sounds Like Summer has turned Phoenix Park into a musical oasis in the midst of the city. The park itself was created in the mid-2000s on a reclaimed industrial site on the north side of the confluence of the Chippewa and Eau Claire rivers, and its amphitheater – which gently slopes down to a brick-covered plaza decorated with a mazelike labyrinth – is an ideal spot for live music. Only about 100 people gathered on a chilly spring evening for the very first concert, hosted by Volume One Magazine, but by the end of that season, the concerts were drawing crowds of 700. Over the years attendance has roughly doubled, and with the help of the city and a host of community sponsors, Volume One now books about 39 musical acts – ranging from solo singer-songwriters to large jazz orchestras – to play in Phoenix Park each summer.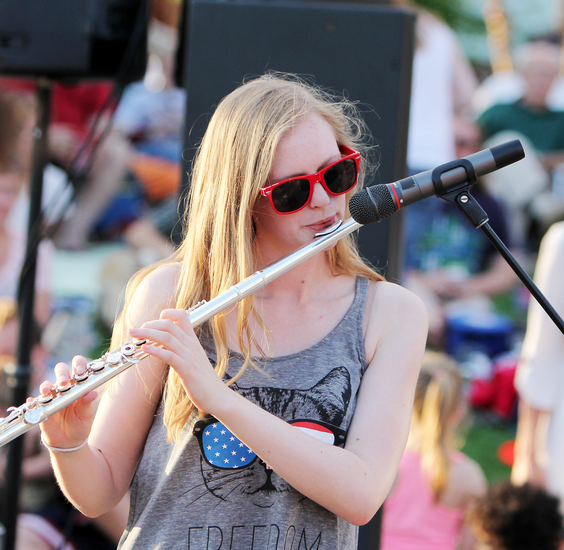 Each evening begins with an acoustic set, followed by two plugged-in performances by Chippewa Valley musicians – yes, all the bands are local – representing almost every genre imaginable, from folk to funk, from indie rock to big-band jazz. Over the years, performers have included beloved local Grammy winner Justin Vernon of Bon Iver; nationally touring indie rockers Daredevil Christopher Wright, Laarks and Conrad Plymouth; author/musician Michael Perry and his band, the Long Beds; celebrated bluesman Howard "Guitar" Luedtke; and scores of others.
But music is only part of the attraction. On Thursday nights, the park is filled with folding chairs and picnic blankets and transforms into a riverside festival grounds, complete with food stands (look for the wood-fired pizzas topped with locally raised ingredients as well as hand-dipped cones), a do-it-yourself art tent and demonstrations of kubb, a Nordic lawn game and local favorite. 
Of course, Eau Claire's burgeoning music scene can't be contained to one night in one park. The Tuesday Night Blues series lays down a deep 12-bar groove at the band shell in Owen Park each Tuesday from late May to the end of August. If John Philip Sousa is more your style, the Eau Claire Municipal Band (founded in 1902) plays rousing classical and contemporary concert band fare on Wednesday evenings in June and July in the same band shell. And that's just the beginning: While the Chippewa Valley is a musical hotbed year round, in the summer its musicians truly come out to play.
Photo credit to Andrea Paulseth, Volume One.