If you're into discovering new music and supporting local artists, then you need to stop what you're doing and check out Chamber Noise. 
This new psychedelic R & B group consists of three members—Austin Derks, Justin Green and Luke Nyhus— and they're bound to become one of your favorite local bands! While Chamber Noise is still new to the Chippewa Valley, they're making their mark with every show they play.  Over the past few months, Chamber Noise has played at The Root Note in Lacrosse and Happy Hour Barin in Rice Lake. They also went on a mini-tour with Nick Anderson & The Skinny Lovers, and held a single release show at Toy Car Studios on September 9.  As if that's not crazy enough, they already had fans at their second show that already knew some of the lyrics to their songs.  (I'll admit it: I was one of the crazies at that show screeching out lyrics.)  So, who are the guys in this band? Here's a short Q & A with Chamber Noise: 
Q: Can you describe your show visually?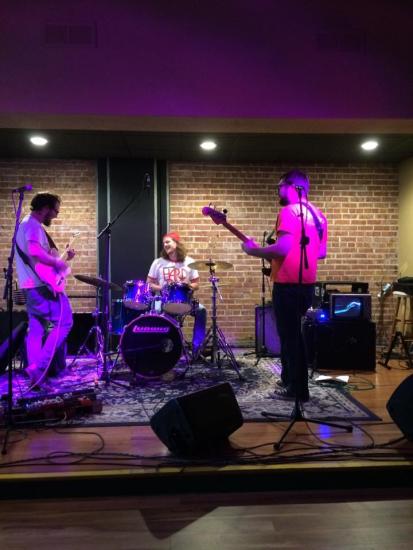 Derks: We try to give a psychedelic vibe to our show.  We have oscillating TVs and sometimes a projector screen to spice it up.  
Q: Who are your influences? 
Derks: My biggest influences would probably be Devendra Banhart and Blake Mills.
Nyhus: I'd say, Led Zeppelin. A lot of my influences are hip-hop, though; DJ Shadow is a big one for me, as well as Pink Floyd.
Green: Greenwood Brothers, John Paul Jones, and Roger Waters. 
Q: How long have you all known each other?  
Derks: Luke and I have known each other since middle school, and we have known Justin since winter of 2016.  
Fun fact: While Green is from Texas, Nyhus and Derks went to Chippewa Falls High School!
Q: When did you 'officially' form your band?
 
Derks: Oh gosh, that's hard.  Technically, I feel like this project has been going on for a long time, but it officially started around in winter 2016.   
Q: Where do you gather songwriting inspiration?  
Derks: From a lyrical perspective, I pull from everything around me—some ideas are projections of my emotions.  I treat many of the songs like puzzles when writing them.
Q: What are your short-term goals?
Green: Sell out The Oxbow. Derks: Play quality shows in different areas and states!
Nyhus: Right now, I'd say to get a Chamber Noise EP out to the people.  
Q: Do you have any advice for people who want to get into the music scene?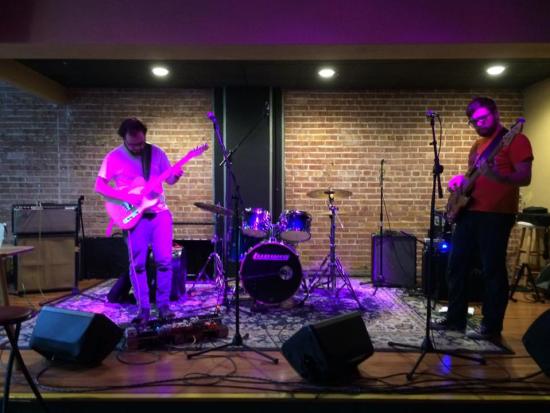 Green: Become amazing at what you do.  It's all that really matters.
Derks: It's never too late—Luke and I never played live until this band came along.  You will never know unless you take action! 
Q: Do you have any upcoming shows? 
Derks: November 10 at The Oxbow is going to be the big one. Other ones coming up include Moe's Tavern in Chicago on November 25 and The Root Note in Lacrosse on December 9.  
Q: How can fans gain access to your music?  
Derks: We have a Facebook, an Instagram, and a Bandcamp.  We're on Spotify and SoundCloud as well. 
AND THERE YA HAVE IT!
If you're interested in catching a Chamber Noise show, tickets for The Oxbow are available now; you can buy them by clicking on the link provided in the band's Facebook event.  (Psst: don't sleep on buying your tickets—they're selling fast!)
Additionally, if you'd like to book a Chamber Noise show at your venue, shoot an email over to chambernoise@gmail.com. Have you gone to a Chamber Noise show?  If so, what did you think?  
Let us know in the comments section, and share your pictures with us via the Instagram hashtag #CaptureEC.