Just because summer is ending doesn't mean the fun has to stop!
Getting involved in school events is the perfect way to keep the "summer" fun rolling. So this fall, feel free to try one or all of the following:
Attend a game or school event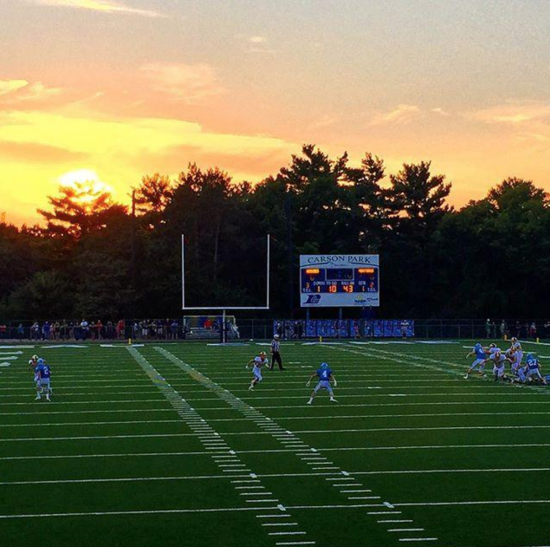 Attending games and events is a fantastic way to exhibit school spirit, while also being involved. You'll get to see an entertaining game or participate in an enjoyable event while hanging out with your peers, what more could you ask for?
Get involved in clubs 
Spending time with people who have the same interests as you is always fun? So....Join a club! Clubs are a great way to meet new people, while also doing something that you enjoy. Interested in Harry Potter? See if your school has a Harry Potter club! Your school doesn't have a Harry Potter club? Create one! There's bound to be other people with the same interest as you, so why not bond over that shared interest (especially if it's Harry Potter)!? 
Rep your school colors
Nothing says "school spirit" like repping your school colors! Maybe you want to wear something bold like a morph suit. Alright, that might just be for a specific audience of people...  maybe just something subtle like a hat is the place you need to start. Whatever it is: wearing your school colors is an enjoyable way to get back into the school spirit! 
Support the local businesses
Supporting local businesses? How does that relate to school spirit? Well, a lot of local businesses sell school-spirit themed items, which helps support the business, and helps you get back into the "school spirit" spirit. Need a cool T-Shirt that supports your school? Try Fleet Feet on Water Street, or if you go to UW-Eau Claire, try the Bookstore in Davies Center. 
Experience the Bridge
For UW-Eau Claire students, the bridge (and the hill for that matter) is a love/hate relationship. On one hand, it offers some of the most scenic views of the Chippewa Valley, especially in the fall and winter. On the other hand, it's not the warmest place in the world, #bridgeface. Regardless, the footbridge is a staple for UW- Eau Claire students, and what better way to bond with your fellow students then experience the bridge. 
So overall, there are many different places to express your school spirit and bond with new and old peers. This year is the perfect year to amplify your school spirit game, so get out and celebrate a festive start of the school year!