The city of Eau Claire comes alive for Eau Claire Marathon weekend.
This May 4-5, there will be races for people of all ability levels: a 5K, kid's races, a half marathon, marathon and a marathon relay. If you're running, here are a few things to help prepare you for race day:
Training: Work on Those Hills
Trust me, I've done the Eau Claire half marathon multiple times, and this is advice you'll want to take. One of my focuses in training, along with building up to the 13.1-mile distance, has been working on hills. The course not only has a lot of bridges but it also has some pretty challenging hills. The last one is at the very end when you turn by Menomonie St. to the area where the baseball stadium is right before the finish line. This comes after you've been out running nearly 13.1 or 26.2 miles. The good news is that it means you're almost done. 
Be Ready For A Power Boost On The Blugold Mile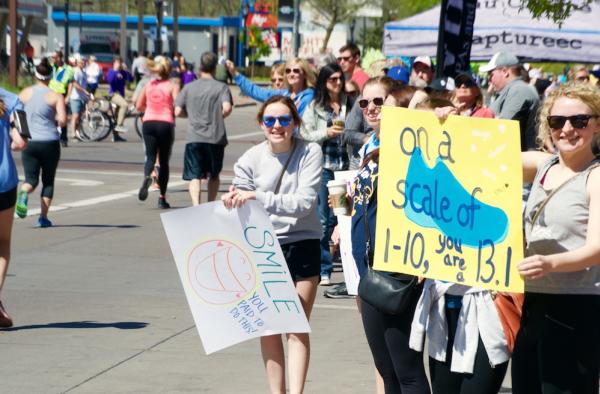 And speaking of prepping for the course, if you hit the mile with a few miles left, do not fret! At mile 10.5 for the half marathon and mile 23.5 for the marathon is the Blugold Mile. You'll be treated to some of the rowdiest, loudest cheering squad on the whole route as you run through the UW-Eau Claire campus and multiple student organizations cheering for you. It was added a few years ago and is now my favorite part of the race. Soak up every moment of it. 
Hotels To Stay At During Marathon Weekend
If you're coming from out of town, there are multiple hotels to stay at during Marathon Weekend. Staybridge Suites, Holiday Inn (Eau Claire South), The Lismore Hotel and the Best Western Plus all have special rates for race weekend.
Places To Visit While You're In Eau Claire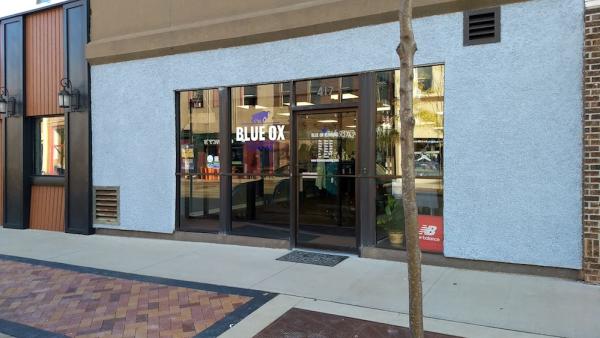 While you're in Eau Claire for your race, you might as well see what Eau Claire has to offer. Do some window-shopping in downtown Eau Claire. If you have last minute running needs, be sure to hit up Blue Ox Running. There are also great places to get Eau Claire mementos to remember race weekend, including The Local Store and Tangled Up In Hue. 
If pre-race carbo-loading is a need, there are plenty of places to do that too. Get pizza at The Plus, a good bowl of pasta at Mona Lisa's or get some good pub fare at Dooley's or Mogie's. 
After the race, have a celebratory drink on Water St. If sweets are more your thing, enjoy refreshing ice cream at Ramone's Ice Cream. 
If you need some family-friendly activities while you visit, you can check out the Children's Museum, Chippewa Valley Museum or Action City. 
Race Expo and Race Day
You've trained for months and now the weekend is finally here. But before you line up to start, you'll want to get your race bib. You can pick up your packet at UW-Eau Claire's McPhee Center between 10 a.m. and 7:00 p.m. the day before the race. There will also be multiple vendors at the expo. If you can't make it Saturday, your packet pickup will also be available at Carson Park on race day between 6 and 9:30 a.m. 
What Should You Pack? 
What to pack varies from runner to runner but here are a few of my essentials.
Number one on my list is sunscreen. I don't care what the forecast is. Bring some. The weather has varied from rainy to blistering hot. One time we even had snow a few days before the race. Fortunately, it melted before the big day. 
A hat/visor. This will protect you from those rays along with the sunscreen.
Pack a rain poncho just in case.
If you're like me and can't run without music, make sure to pack earbuds and your MP3 player.
I also like having my Garmin running watch to let me know how my race is going. 
Pack whatever fuel you need. But remember this: nothing new on race day! Work with what got you here. Whether you mix some Tailwind with one of the bottles on your hydration belt for electrolytes, take Gu energy gels every few miles or carry gummy bears with you, make sure that's what is with you on race day. Race day of is not the time to experiment.
EC Insider Tip: Whatever you don't need can be left in your bag that you turn it at gear check. 
Race Time
Finally, make sure to get to the race start area with time to spare. My rule of thumb is to be near the start line at least an hour ahead of time. There is no parking in Carson Park. I recommend taking the race day shuttles. Locations for pickup are 198 Water St. (UWEC lot) and 620 W. Clairemont Ave. (CVTC Parking Lot #3). The shuttles will run continuously from 6:15 a.m. - 3 p.m. 
Whether this is your first or 50th running event, enjoy every second of it. The hard part is putting in the training. When it's -20, and there's snow on the ground, even the hardcore runners among us can struggle. But you'll be so glad you put in the work on race day. The city comes out in droves to support you and there's a party-like atmosphere along the route. I'm a Marathon Weekend veteran and I still find a new thing to enjoy each year. This is your moment. Enjoy every mile.