If you aren't familiar with Nick Anderson & the Skinny Lovers, you will be soon.  This local alt-rock band just signed a contract with MTV, so you can expect to hear a lot more about them!  
Nick Anderson & The Skinny Lovers consists of three local musicians: Nick Anderson on guitar, vocals, and harmonica; Ian McAlister on drums; and Jeffrey Durow Jr. on bass and backing vocals.  All three guys are extremely talented—there's no doubting that—but beyond that, they're sweethearts down to the core who have a clear passion for what they're doing.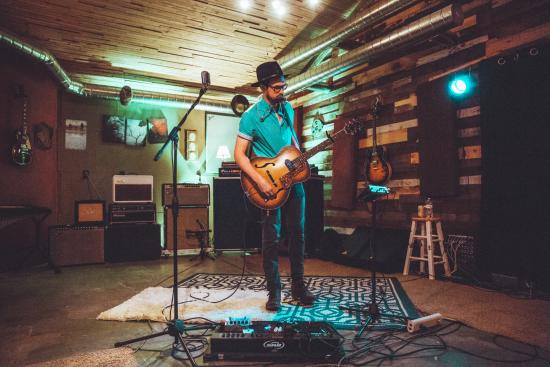 Lucky for me, Nick Anderson suggested—in true Wisconsin spirit—that we conduct our interview at The Joynt.  In other words, if you see any typos, remember: this is a no-judgment zone.  
Let's get to it!  
VEC: Who are your influences?  
•    Ian: The Red Hot Chili Peppers and the Foo Fighters.
•    Jeff: I'd have to say alcohol, punk rock, and Elton John.
•    Nick: Dead Sweaters, Robert Plant, Led Zeppelin, Dave Grohl, and Hendrix.
VEC: How did you meet each other?
•    Nick: I met Ian through a friend of a friend, and I met Jeff about 3-4 years ago at The Plus's open mic.  We actually all used to be a part of the local band Granite Rose at some point or another, too.  
Fun fact: Ian went to Chippewa Falls High School [AND] played in the UWEC Jazz Band! 
VEC: What kind of themes do your songs explore?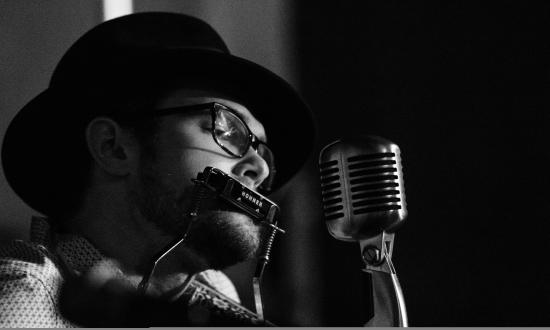 •    Nick: Mental illness, the millennial dreamer, youth, kindness, sadness, fun… some of our songs are darker, but there's always a positive message behind it.  
VEC: What are your rehearsals like? 
•    Nick: We practice 2-3 times a week, and our rehearsals always involve a jam session.  
•    Ian: Yeah, they're pretty laid back.  Our practices usually involve us hearing each other's ideas, and if we're in a slow patch, we like to jam out.  
•    Nick: They're fun, which is important because that keeps up going musically; it allows us to experiment and creates riffs and parts of songs.  The most important part of our rehearsals, though, is that we practice hard and work hard.  
VEC: Where are some of the venues you've performed?  
•    Nick: We most recently played at The Grand Theater in Wausau, The Gibson Hall in Appleton, and Toy Car Studios (owned by Justin Green, of Chamber Noise) in Seymour. 
VEC: What's this we're hearing about MTV?  
•    Nick: Well, we started working with this agent in Minnesota; he's a music curator, and he spends half of his time in Minnesota and the other half of his time in Nashville.  He liked our music and wanted to work with us, so he sent our EP out to his contacts.  It's actually kind of funny… I guess MTV contacted him and asked, "Who's the guy with the bird on his hat?  We like him."  And our agent was like, "Is the bird real?" Haha.  So, we signed contracts with MTV, and if they choose to do so, they have permission to use our music on some TV shows.  In addition, we signed contracts with other TV networks—again, we can't say which ones, but they're very exciting partnerships.  
VEC: What are your short-term goals as a band?  
•    Ian: We want to break out into Madison and Minnesota and write good music.  
•    Nick: We want to sell out venues and connect with fans—we want to get to know the people that like us.  
VEC: And your long-term goals?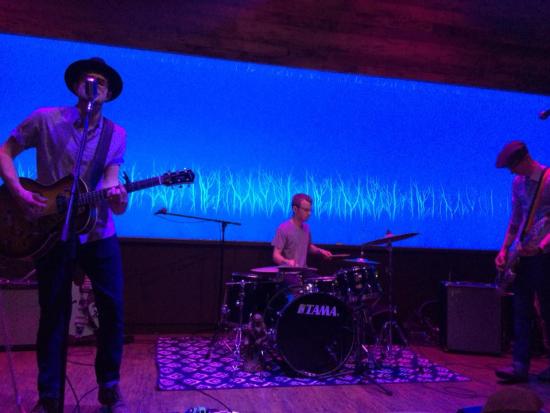 •    Nick: Our long-term goals are to tour the east coast—our songs have hit #1 and #18 on radio stations on the east coast—and to sell out 100-cap venues.  Ultimately, we'd like to make a living from our music.  
VEC: Do you have any advice for people who want to get into the music scene?  
•    Nick: Practice your butt off—just be good.  
VEC: Do you have any upcoming shows?  
•    Nick: We have a few—Marlarkys in Wausau on November 2nd, The Root Note in LaCrosse on November 10th, and another show at The Gibson Hall in Appleton on December 2nd.  
Fun fact: if you go to one of their shows, look for a stormtrooper with John Cena's face on it.  This is Stormcena, and he appears at every Nick Anderson & The Skinny Lovers Show.  
VEC: How can fans listen to your music?  
•    Nick: Google us—but don't just type in 'Skinny Lovers.'  Otherwise, we're on Spotify, Facebook, Twitter, Instagram, and Band Camp.  
•    Jeff: We're also on Tinder and Hot Or Not.  
•    Nick: In addition, we bring a few CDs to each show, and we're hoping to release a new CD in the spring or early summer.  
VEC: Is there anything else you'd like to say?  
•    Jeff: Go Packers!
And there ya have it!  
With all of this out there, I don't think I need to convince y'all to see these guys perform.  In the event that any of you are on the fence, though: go see them.  Not only will you be mesmerized by Nick's voice, but also, you'll be able to say that you saw Nick Anderson & The Skinny Lovers before they were famous.  
Have you seen Nick Anderson & The Skinny Lovers perform? What did you think of them?  Let us know in the comments section, and be sure to share your photos with us using the Insta hashtag #CaptureEC