Here are some of the best places to enjoy holiday cheer (and a little booze) this winter season.
Making cookies, driving around twinkling lights and having snowball fights are all great ways to celebrate the holidays, but there is no better way to "make spirits bright" than to sip on some of the best holiday cocktails that Eau Claire has to offer.
1. The Dive - Cranny Smith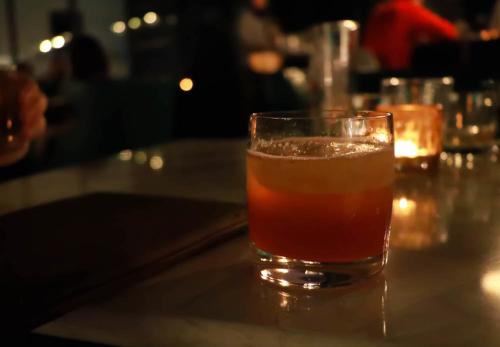 A blend of Raynal brandy, Tattersail Cranberry liqueur, lemon, simple syrup, and frozen hard cider all shaken up into a wonderfully light drink. 
This drink was a perfect amount of cranberry without being overly bitter. It is still a light drink with a touch of sweetness that is great for those who don't want a heavy cocktail. Overall, it's light cranberry taste and hints of lemon make it perfectly crisp and refreshing for this season. 
Insider tip: The Dive is one of the most photogenic spots, with twinkling lights and the city view, so be sure to snap a photo of your favorite drink this season. 
2. The Lakely – Koldt Vinter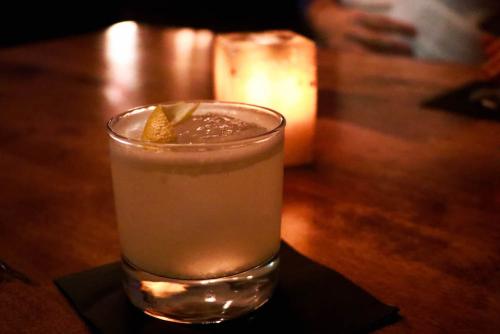 Gamle Ode dill aquavit, lemon, simple syrup, and horseradish served over a large ice rock.
I'll admit, after seeing what was in this drink I was a little hesitant to try it. But after the incredibly kind bartender assured me it wasn't too heavy, I gave it a shot. The horseradish is more of an after-taste than a prominent flavor, which leaves a fair balance of flavors. It isn't a sweet drink, but the simple syrup does lighten it up. It almost reminds me of lemonade while the horseradish keeps it savory.
Insider tip: The entire drink menu frequently changes, if not daily. Be sure to try any of their many specialty drinks while enjoying some live music. 
3. The Livery- Russian Pumpkin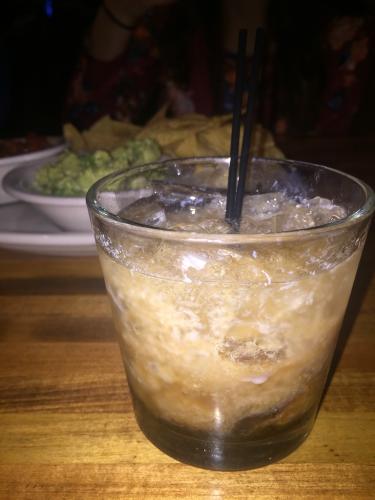 Vodka, Kahlua, pumpkin spice Bailey's Irish cream and come together for this sweet drink. 
This drink tastes like fall. Its rich, creamy flavor is heavier than others on the menu. The Kahlua certainly makes this cocktail taste like coffee while the pumpkin spice makes it feel festive for the holidays. I recommend this to anyone who prefers a thicker drink to sit back and enjoy during the cold winter. 
4. Chippewa River Distillery & Brewery – Peppermint Dream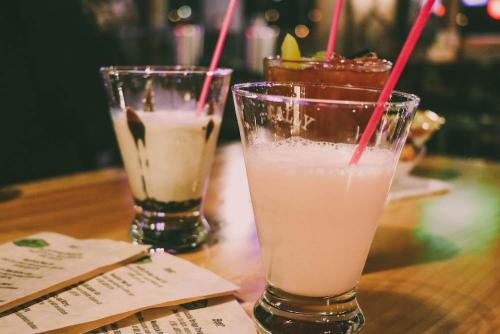 Peppermint Vodka, vodka, cream, cherry juice combined perfectly for a superb drink.  
Although not technically in Eau Claire, this place is worth the drive. Our very kind server recommended the Peppermint Dream, and I'm sure glad she did. As a 21-year-old with a preference for sweet drinks, this hit the spot. It almost reminded me of a mint-chocolate shake. I would highly recommend this to anyone who is looking for a creamy, minty and sweet drink without an overwhelming taste of alcohol. 
5. Infinity Beverages – Butter Beerskey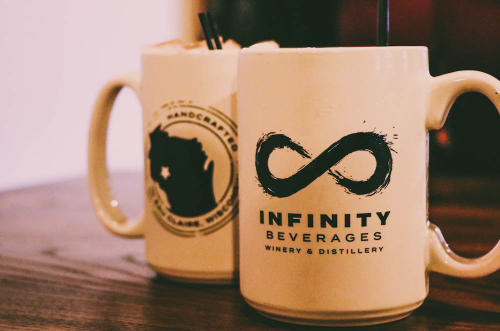 A house-favorite made of chocolate oatmeal stout whiskey, caramel, apple cider, winter spice simple syrup and ginger simple syrup- all made in-house. 
Here is all there is to know about this place; live music on Fridays, lots of wine, and a cozy atmosphere. I would recommend this place for the relaxed type who are looking for a more intimate evening sipping on new wines or signature cocktails. The Butter Beerskey is a cold beverage with intense hues of ginger and cinnamon. This drink is best for someone who is planning to kick back and relax because the flavors are potent. You better sip this one slowly.  
I hope that this gives you some help in finding the best holiday drinks this season. If you do enjoy one of these classics, be sure to share with the #captureec to be shared with our team and have the chance to be featured on our site. Cheers!