Despite what you might suspect based on the calendar, the April Fools' Day Pillow Fight in downtown Eau Claire is not a prank. It's not a hoax, a trick, or a joke, either – although it is a whole lot of fun.
Billed as "Five Minutes of Feathered Fury," the huge community pillow fight will come out swinging this April 1 to mark its triumphant return after five years of retirement. The unique holiday celebration was born back in 2006, a year after an April Fools' day prank published in Volume One magazine was taken a little too seriously. (Long story short, some people really believed that a pair of Hollywood stars was making an impromptu appearance at an Eau Claire movie theater.)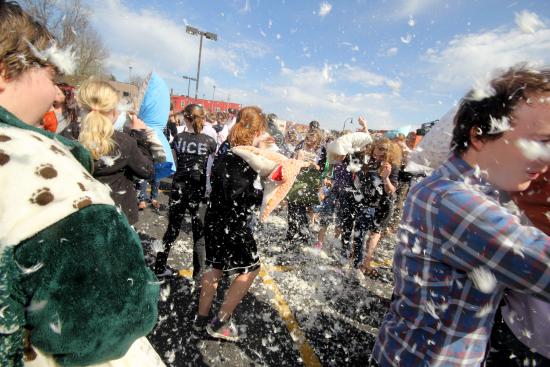 To borrow a phrase from another holiday, the April Fools' Day Pillow Fight was designed to be a treat instead of a trick for the people of the Chippewa Valley – in the words of the sponsors, it's "a short but lively celebration of foolishness." What better way to commemorate this silliest of all holidays by doing something as childishly joyous as pounding your friends and neighbors over the heads with pillows?
Originally held in a parking lot on Madison Street, in its heyday the fight drew literally hundreds of participants of all ages and pillow preferences. Some swung seriously – the blacktop was typically sprinkled with feathers by the end of the event – while others playfully smacked each other. In the middle of it all a mosh pit-style mass of adults battled each other while youngsters stayed to the sides picking on people their own size. Whole families came, some dressed in elaborate costumes; other people fashioned "armor" out of cushions and pillows. Whatever they wore, no one left without a smile.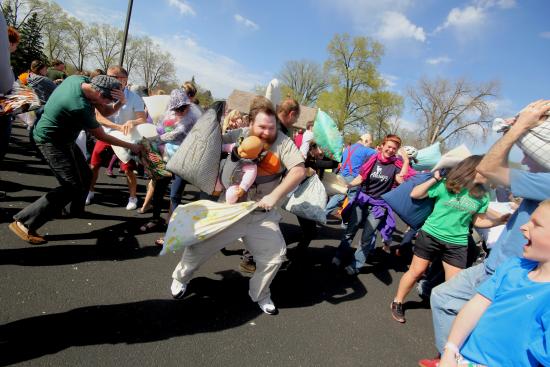 After a five-year hiatus, the pillow fight has been reborn this spring in a new location: the courtyard of the Oxbow Hotel at the corner of Farwell and Galloway streets in downtown Eau Claire. The new battlefield comes with new vantage points (if you'd like to observe the melee, make your way to the hotel's second-story walkway) and prizes for best individual costume, best team costume, and (naturally) best pillowcase.
Hard-hatted Volume One staffers will be on hand as "pillow inspectors" to make sure things don't get out of hand, and some common-sense rules and disclaimers will be announced before the swinging starts. (Pro tip: Remember, this is supposed to be fun, so don't actually try to hurt anyone with your pillow.)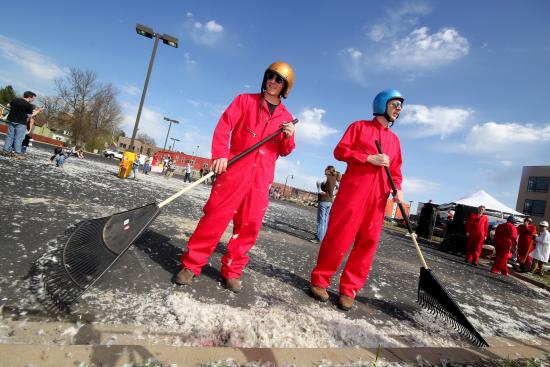 The fight will begin at 4 p.m. sharp on Saturday, April 1, at The Oxbow, so grab a pillow, some buddies, and make your way downtown for the most foolish thing you'll do on a day devoted to foolishness.
A bit more literature on the topic can be found here.