Do you ever wish you could bottle up a little bit of your summer to whip out in the middle of winter when the cabin fever sets in?
Well, here's just how to do that – pickle some veggies! I've always thought that if I ever tried canning, I would surely cause an explosion and/or end up with third degree burns. I am happy to report that neither happened, and much to my surprise, canning is actually a super simple process and you don't even need special equipment to get the job done. First things first, go shopping!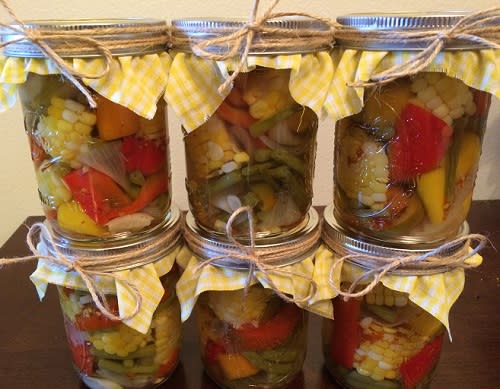 You can get almost everything you need at the Farmer's Market and you better hurry because it's about to be done for the winter. The beauty of this recipe is you can buy whatever is pretty and colorful and you don't need to stick to plan if you see a beautiful veggie that moves you. From the farmers market I purchased garlic, carrots, peppers (they were red and green at the same time!), onions, corn on the cob and green beans
.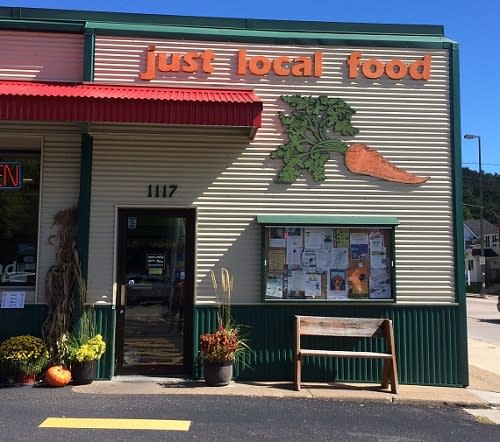 If you don't make it before the end of the farmer's market or want to shop on an off day, I recommend hitting up Just Local Food. They have excellent local produce as well. I actually saw a guy carrying in a single crate of produce the other day. Their fruits and veggies aren't being hauled in by the truckload, these are local goods produced with love. Check it out! Besides all the veggies, you'll also need 3 cups of white vinegar, kosher salt and some alum or cream of tartar.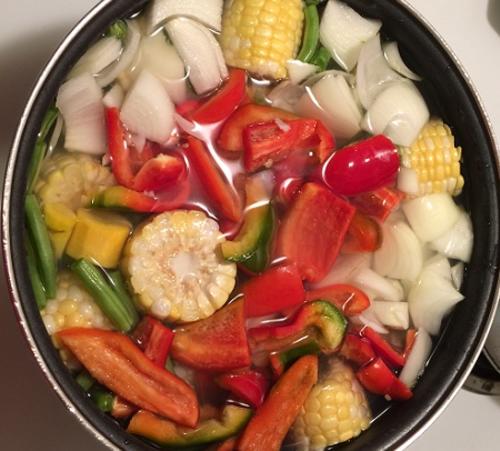 Now for your prep:
Clean your corn on the cob (better than ever) and cut cobs to 1" – 1 ½" pieces
Clean about 12 oz. of green beans and cut into 1" pieces
Peel 3 carrots and cut into ½" pieces Peel 2 onion and cut into wedges
Peel and smash 18 cloves of garlic
When you're all done, take all your veggies minus the garlic and throw them in a big pot to boil.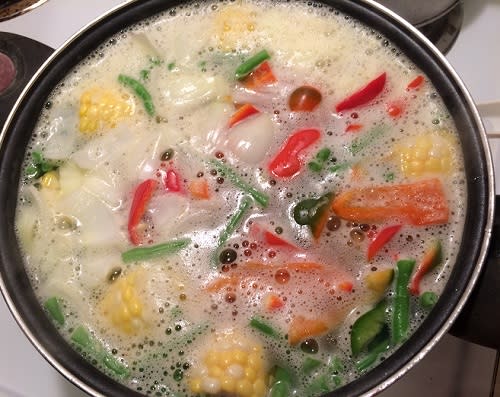 After you've let it boil for about 10 minutes, drain all your water off and it's time to start packing some jars. While you're packing your jars, it's a good idea if you take your jar lids and soak them in a bowl of water. This will help your jars to seal properly. The first thing in each jar should be a smashed clove of garlic. Next, fill your jars about half way, packing your veggies down as you go. As much as this recipe is about creating great flavor, it's also about creating beautiful jars! With that said, take your time, be creative, and make sure the pretty parts of the veggies are facing the outside of the jar. I took my 1"-1 ½" pieces of corn on the cob and quartered them. This made it easier to keep the kernels facing out.
When you're jars are half filled, add another clove of smashed garlic, then fill the rest of the way up. As you're working on your jars, start on the brine. I don't have a lot of large pots so I used the same one I boiled my veggies in. Add 3 cups water, 3 cups vinegar, 1 cup sugar, 1 tablespoon kosher salt and a teaspoon of alum or cream of tartar. Bring it to a boil and stir it up to make sure the sugar dissolves. When your jars are all packed and beautiful, add one more clove of smashed garlic on the top and then a ¼ teaspoon of crushed red pepper sprinkled right over the top in each jar.
At this point, your full jars should look something like the picture above. Make sure you leave that little bit of extra room in the top of each one for the brine. Before you add your brine, take a paper towel and wipe off the rim of each of your jars. You might a nice clean rim to make sure you get a good seal. Then slowly and carefully pour the brine into each jar. Add a lid and tighten. Next it's time for the "canning" or "processing" part. I do not have a canner. I'm sure they are nice to have and make things easier but you totally don't need one. Again, I used the same pot that I boiled the veggies and made the brine in. I put a metal trivet in the bottom of the pot so the jars wouldn't have to sit directly on the bottom. With water added, I could fit 3-4 jars at a time in my pot. The jars need to sit in boiling water for about 10 minutes, and then remove to cool. Once cooled, add a square of fabric under the outer lid or a piece of twine tied around the jar to make them truly gift worthy! Just remember – don't crack them open for at least two weeks. Good luck preserving your Eau Claire summer in flavor form! Let's see some of your finished jars in the comments!