Northern Nationals is almost here! Which means there is a lot of softball in very little time, so if you're looking for a way to take a breather from the heat of the fields and the comfort of your lawn chair, we have 7 local ways you can get out enjoy the quirky culture of Eau Claire! 
1. Catch a Game
Take a break from running the base's and hit the ball park to take in a Eau Claire Express home game. It's always a great night with Traxx and the Eau Claire Express! 

2. Bounce the Day Away
Action City is the place to be after a day full of candy and excitement! Boasting batting cages, an arcade, a water park with 3 slides, a trampoline park, etc. (New this year... A ZIP LINE)

3. Munch on some tasty food
Eau Claire has a plethora of awesome downtown restaurants for team meals. Check out a local act at Acoustic Cafe or maybe a fun show at The Plus.

4. Cool down in pool 
Fairfax outdoor pool  is a great place for some team bonding and a nice way to cool down after a day full of activity. Take a look at the open swim schedule!

5. A Breath of Fresh Air
Eau Claire hosts many amazing parks to have a fun team cook-out or just take a relaxing stroll to enjoy the beauty of the Eau Claire river or our hilly terrain. May we suggest Phoenix, Carson or Owen Park?!

6. Enjoy a one of a kind movie experience
Downtown Micon theater is simply amazing! If the smell of the fresh popcorn doesn't draw you in the awesome food and beverage menu will (need we mention the price). The Downtown Cinema is second to none! (Check out the shows here)

7. Paul Bunyan
Did you really go to Northern Nationals if you didn't get a picture with Paul and Babe?!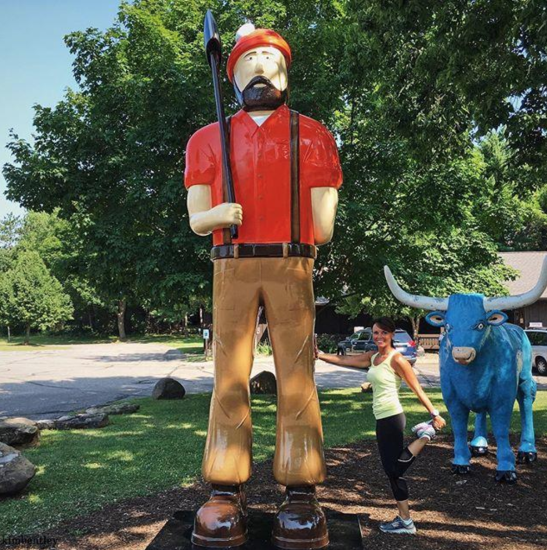 So now that you have a list from a local, it's time to plan a great itinerary that involves some softball and just a pinch of our great EC culture! Batter up!