Happy National Video Game Day!
Video games have been a part of my life since I was five years old and was introduced to Super Mario Brothers in my cousin's basement. Mario Brothers soon led to Captain Bucky O'Hare, an underappreciated SNES game in which you play a super rabbit whose goal is to rescue his crew members from nefarious space toads. My favorite movie growing up was always The Wizard. A young Fred Savage runs away with his video game prodigy cousin in order to enter Video Armageddon, a tournament with a $50,000 prize. The climax is the tournament itself which features a preview of the then not yet released Super Mario Brothers 3, now one of the best-selling video games of all time. Fast forward 15 years, the first Christmas gift I ever bought my now husband was an Xbox. Probably the reason he decided to marry me. Combined, we've owned every system, played most of the major games, and repeatedly have almost killed each other over comments made during Mario Kart and SSX races. Nowadays, he's rocking Civilization V (the greatest game ever made) on his custom PC with a Nvidia GeForce GTX 1070 video card (his pride and joy) and as jealous as I am, I simply have much less room in my life for video games than I once did. I still get those cravings to conquer however, so these days I whip out my phone to feed my inner vid loving beast.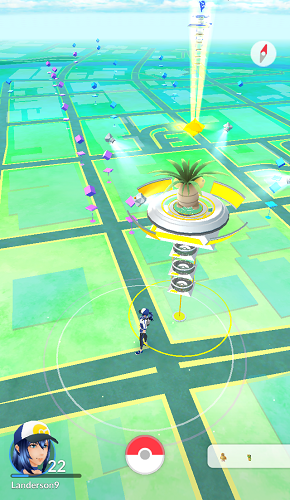 If you haven't noticed, Paul Bunyan has never been more popular. His home in Carson Park is now surrounded by several pokestops and he is often encompassed by a small crowd of new friends. Gamers and non-gamers from all walks of life have emerged into the light of day to actually walk around outside in search of elusive Pokes. Myself included. I have two boys, ages four and two, we spend tons of time at playgrounds and going for walks. I'm not about to plop down in front of a big screen for a shoot 'em up game with those innocent little eyes right next to me. Hence, Pokémon Go is the perfect game for a Pokemom on the go. If you haven't discovered the plethora of stops on Barstow Ave, it's a great place to go for a walk and since the stops are all pieces of art you can really kill several birds with one stone and make it an educational journey for the young ones.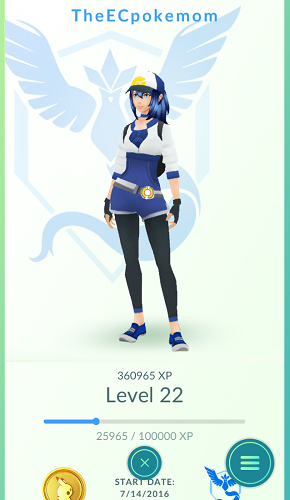 Since mid-July, I've visited over 1,000 pokestops and have clawed my way up to a level 22. I was in about second grade when Pokémon blew up but I was never really into it. I didn't have the channel the cartoon was on and didn't see much worth in the cards. The great thing is, you don't need any background knowledge or video game skill to play Pokémon Go. When you see a Pokémon, you throw a ball at it to capture it. You collect balls and other items at pokestops. Pokestops are located at real world landmarks like parks, churches, monuments and sculptures. You also collect eggs at pokestops and hatch them by walking. Simple as that. The simplicity and the inherent gamer need to collect are among the reasons why this game has exploded. It's easy, you don't need to glue yourself to it for long hours and its motivation to get off your butt and walk around. If you make frequent trips to downtown and or Carson Park, you can easily hit up a lot of pokestops in a short time. The other day, my 9 year old nephew asked me if I had found a Machop yet. Not only was it amazing that I actually knew what he was talking about, I was able to answer with a "Yes!" which made the exchange even more fulfilling.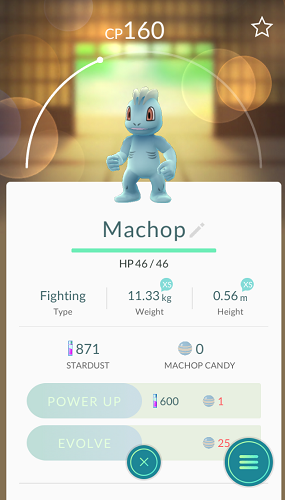 Now if you notice, I have no Machop candy. Each Pokémon you find comes with three candies and considerably more candy if you hatch them from an egg. I found this Machop as a newb, I didn't know at the time he was of anymore value or rarity than a Weedle or a Pidgey. I used my three Machop candies to power him up for no other reason than that I thought he was my cutest guy at the time. Since then, I have learned – save those candies to use for evolving your lower level Pokes or for powering up your fully evolved Pokes. I haven't caught a Pikachu yet and neither has my nephew. They are around these parts though, so there is hope.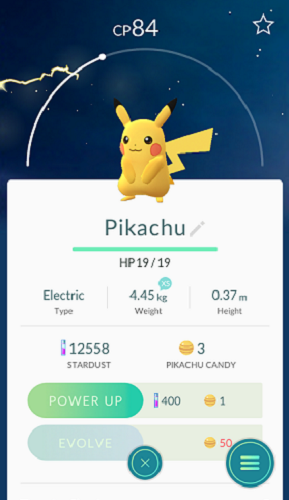 Photo credit and awesome Pikachu catching credit goes to Caleb Hunt although, unfortunately, he does not remember where he was when he caught the slippery little creature. Check out all that stardust he has though. This one's only an 84, virtually worthless compared to my prized Vaporeon, but as he's the most recognizable of the Pokes, still an admirable accomplishment. In the first few weeks after release, a news story broke about hordes of people chasing down a Vaporeon in New York's Central Park. Those involved were running away from the also present Justin Bieber, to seek out the little varmint. I probably would have run from Justin Bieber as well but not for the same reasons, as I already had myself a nice powerful Vaporeon at that point.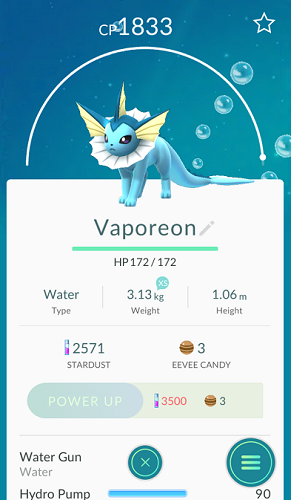 My strategy is to keep one of each type and to transfer the lower CP (combat power) fellow back to the Professor. I break that rule if the CP is 700 or above, I figure if the trading feature is ever implemented as rumored, I want to have expendable extras. I have only been to the gym a couple of times but I love that I can now say, "Honey, I'm going to the gym," and not be lying. Gyms, real world locations like Pokestops, are where you can train your Pokémon and enter them into battle. It basically just involves incessantly tapping which I'm all for, but as a Pokemom, I'm not able to give it 100% of my focus as my kids are usually in tow. On walks, I set my phone on top of my stroller or in my pocket and wait to hear or feel the vibration. You don't need to be staring at your phone to be successful. Having said that, watch where you are going.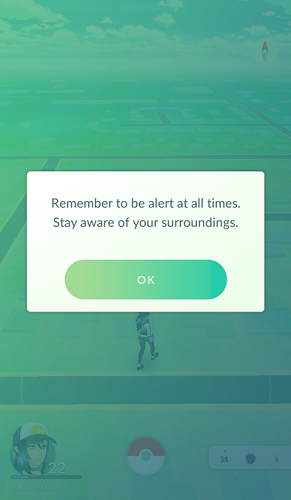 Additionally, just because you see that there is Snorlax in a stranger's backyard, this is not a good reason to knock on the door and ask them if you can explore their land. Simply, do not go on other people's property.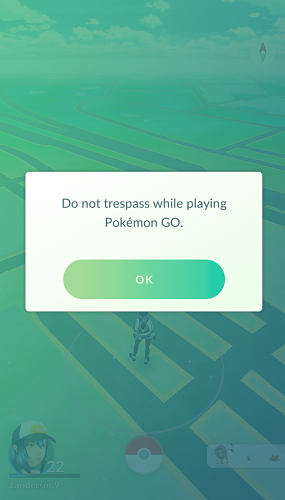 Driving while playing is an absolute no-go. Although, an update has made it more difficult to accomplish due to an unforgiving pop-up when you're traveling at a certain speed, it's easy enough to select that you're a passenger and continue on your naughty way. Don't make us all look bad. Be safe.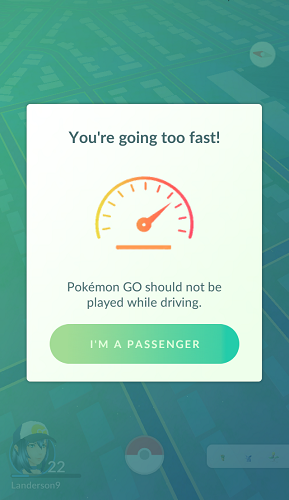 There are enough Poke-haters out there; we don't need to be giving people basis for their grumblings. Anything that motivates people to get up, go outside, and walk is a good thing in my book. For those who think we have nothing to show for this "wasted time"? See below.