'Light the Night' and Celebrate Bolton's 40 Years of Service
If you ask me, probably the best thing about the Chippewa Valley is the undeniable support everyone in our community has for one another.
We're filled with nonprofits that are doing their best to make Eau Claire the safest and most comfortable place to live, and there's always someone you can count on to lend a helping hand. Of course, Bolton Refuge House is no exception to this. If you're unfamiliar with Bolton Refuge House, allow me to provide you with just a brief summary of all of the amazing things they do: Bolton Refuge House provides services to survivors of domestic violence, sexual assault, stalking, and/or dating violence. These services range from providing survivors with emergency shelter, support groups, individual advocacy, legal advocacy, transitional housing, children's services, and more.
As if that isn't admirable by itself, 2016 marks 40 years of service for Bolton. (Yes, you read that correctly: 40 years!) Because of this, Bolton hopes to raise more awareness of domestic and sexual violence than they ever have before. This, my friends, is where the Bolton Refuge House Light the Night Gala comes in.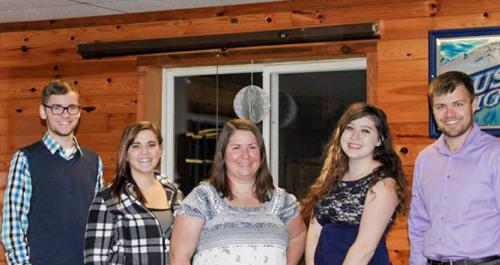 This year's Light the Night Gala will take place on Saturday, November 5th from 5:00pm-9:30pm at Westgate Sportsman's Club and Banquet. Andrew Martin is the emcee for the night and the presenting sponsor for the event is Group Health Cooperative of Eau Claire. In addition, Sacred Heart and Spectrum Insurance are sponsoring the event.
The night will consist of a cocktail hour with a cash bar and music; a gourmet meal with an option of pork, roasted chicken, or vegetarian lasagna cooked by Big Stack Meats and Catering LLC (as well as cupcakes provided by Westgate); comedy by Mackenzie Bublitz during dinner hour; a silent auction; and speeches from Fran Jarvar and Tom Hanrath. You can use the silent auction to get all of your holiday shopping done, to treat yo' self, or just to support a beautiful organization. A few of the items up for grabs in the silent auction are autographed Bon Iver merchandise; vacation packages within the US and abroad; a signed Packer football; artwork by artists Ted Semling, Mark Lone, and Mitchell Corbin; hotel vouchers from the GrandStay and Best Western; and so much more! 100% of the proceeds from the Light the Night Gala will go towards Bolton Refuge House. Tickets are $45/person or $80/couple, and they're on sale until November 2. (You can buy tickets online right here!)
If you're interested in sponsoring the event or donating an item for the silent auction, please contact Tanya at Bolton Refuge House by calling 715.834.9578 or sending her an email at volunteerbrh@yahoo.com.
How are you celebrating Bolton's 40 years of service? Let us know in the comments section below!