With spring in the air, I've been thinking about digging out my bike and taking it for a ride. What better time than now, as Bike to Work Day is coming up on May 20th. There are plenty of reasons why you should participate in this annual event. According to the League of American Bicyclists, more than half of Americans live less than five miles away from their work. So why not park your car for the day and saddle up for a bike ride?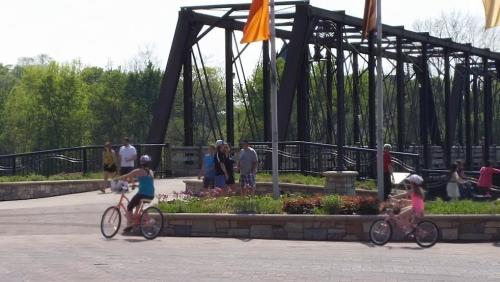 Biking requires no gas tank so you'll definitely save on money, and you can improve your health since your bike is practically a free gym on wheels. Biking also helps Mother Nature out, and who doesn't want to do that?
For those who don't own a bike, there a lots of great local bike shops to help get you started. University students and community members can take advantage of services through UW-Eau Claire's Environmental Adventure Center. Downtown on Water Street is also home to Riverside Bike & Skate and Eau Claire Bike & Sport.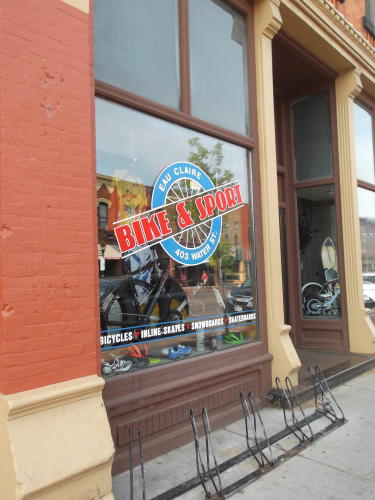 Further out by the Oakwood Mall area is Erik's Bike Shop and Scheels All Sports. While you're checking out the selection of bikes, remember to look for a rack that you can attach to the front or rear for all your cargo. If you're still testing the water, some of these shops do offer bike rentals so you don't have to commit to anything just yet. With so many local shops, you really are guaranteed to find something old, something new, something borrowed, and something blue.
Believe it or not, getting around on a bike can actually be easier than driving in your car. Lucky for us, we live in a city that has a great trail system (almost 30 miles of recreational trails!). Wisconsin is the #9 bicycle friendly state in the country, and Eau Claire is one of the state's top bicycle friendly communities.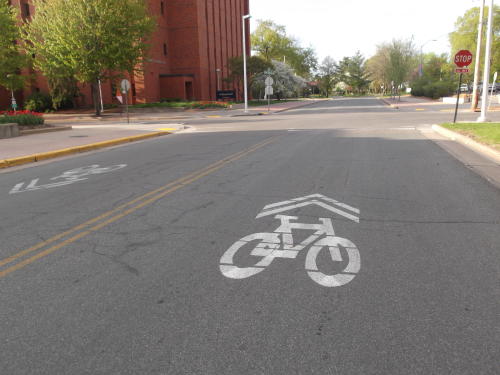 Whether you're a new or seasoned bike commuter, we've got you covered with trails connecting almost every part of the city. If you need a refresher on the city trails, you can check out the maps here.
You can also pick up a free map of the Chippewa Valley bike trails! This map is a great resource, especially if you plan to ride on the streets. The map highlights the safest routes, where you'll find an overpass or underpass, streets to avoid, and those darn hills.
You can grab a free copy from Visit Eau Claire, or places like UW-Eau Claire, the L.E. Phillip's Memorial Public Library, and the Chippewa Valley State Trail trailhead at Phoenix Park.
Speaking of Phoenix Park, check out the bright blue fix-it station while you're there and head across the street to the JAMF Software building for free air for your tires.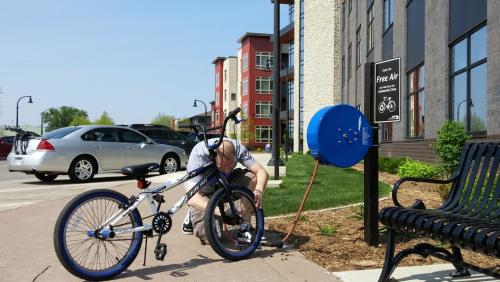 If you're not able to pedal the whole way to work, you could still participate by driving halfway and riding the rest. Many trails connect local parks with neighborhood communities.
If possible, drop off your car at one of the city's many parks or a public parking lot and hop on your bike. Mother Nature will still thank you, and you'll be able to avoid half of the morning's traffic jams!
If you're like me and have to travel around town throughout the day for work, biking might not be the best option. You can still celebrate Bike to Work Day by getting outside on your lunch break or after work and hitting the trails or streets. So dust off your bike, schedule a tune up, and get ready for a healthy commute!