There is so much to do in Eau Claire this New Year's Eve. We've got the perfect itinerary for you. 
Whether you are hanging out with family, friends, or your significant other, here is a breakdown of what is going on during this year's Royal Credit Union's Light Up Eau Claire event. 
10:00 a.m.
Families: Watch the ball drop at the Children's Museum of Eau Claire's NOON Year's Eve Party! 
Adults: Treat your sweetie or your best pal to brunch at The Lakely. Food service begins at 7:00 a.m. and live music by Shane Leonard starts at 10:00 a.m.
12:00 p.m.
Everyone: This is the last chance for all you procrastinators to make a lantern to show off at Xcel Energy's Lismore Lantern Parade at 11:00 p.m. This is the last in our series of lantern workshops.
1:00 p.m. 
Families: Enjoy a free movie at Micon Downtown Cinema. Grab some popcorn and indulge in the downtown theater experience while watching a family-friendly short film (45 mins). Lego Star Wars: The Yoda Chronicles will be shown at 1:00, 2:00, 3:00 and 4:00 p.m. Seats are limited so be sure to reserve yours here.
5:00 p.m. 

Families: March in the Xcel Energy's Little Lantern Parade. On New Year's Eve 2017, this parade had over 300 participants. We've optimized the route this year to ensure everyone has a chance to show off their creations. This parade is recommended for families with children twelve and younger, but anyone is welcome to participate - or watch!  
Adults: Warm up in the coolest spot: Leinenkugel's Ice Lounge. With ice firepits, an ice bar and even ice drinking glasses available for purchase, this is where you'll want to start your evening. And who can pass up an ice-cold Leinie's anyway?
6:00 p.m.
BMO Harris Bank's New Year's Eve Gala Attendees: Picture this. The Lismore Hotel, a strolling dinner buffet, exclusive live entertainment and an opportunity to wear your swankiest clothes; all that and more for these VIPs. (One could be you, grab your tickets here.)
Families: Your party isn't done yet! At the Children's Museum of Eau Claire, Amanda Grace and Trill Will bring the party to life post-Little Lantern Parade with indie rock tunes for the whole family, as well as a kids DJ to make your spirits bright!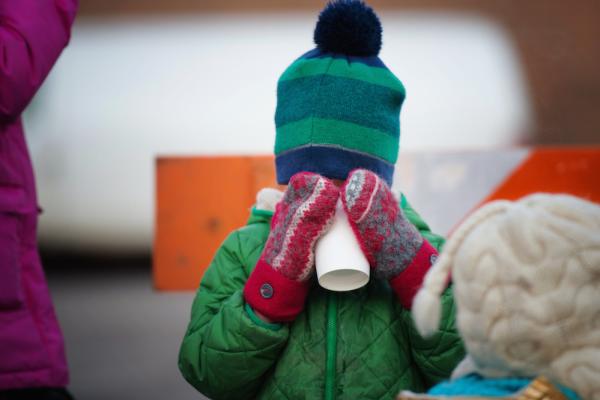 Everyone else: You can betcha the Leinenkugel's Ice Lounge will be open from 4:00 p.m. - 1:00 a.m. in the Barstow Street Parking Lot (at the corner of Barstow St. and Grand Ave.). In the same lot, you'll find the Eau Claire-Stream, where you can grab free popcorn and hot chocolate, get your picture taken in the photo booth and warm up your mittens with some complimentary hand-warmers. 
If you didn't have a chance to make a lantern for the parade, buy one at the Eau Claire-Stream, starting at only $5! Of course, you'll want to use this time to purchase your Light Up Eau Claire wristbands in The Lismore Hotel. This wristband will give you access to music venues, some of which are all-ages!
8:00 p.m. 
Everyone: Let the live tunes carry you to the diverse music venues throughout downtown. Live music begins at 8:00 p.m. and will be playing until 1:00 a.m. Why? Because music is kind of our thing.
9:00 p.m.
Light Up Late Night Attendees: A Light Up Late Night wristband gets you into all of the fun being had at BMO Harris Bank's New Year's Eve Gala - only a few hours later. At Light Up Late Night, you'll be able to indulge in desserts, hit the dance floor and - of course - sway to the sweet tunes of Belladiva.
10:30 p.m.
All of the best lantern-makers: To participate in the lantern contest, simply show up with your creation at 10:30 p.m.  Judging will take place on Grand Avenue near the Eau Claire-Stream beginning at 10:30 p.m. Cash awards will be announced from the Eau Claire-Stream stage at 11:30 p.m., immediately following Xcel Energy's Lismore Lantern Parade. 
11:00 p.m.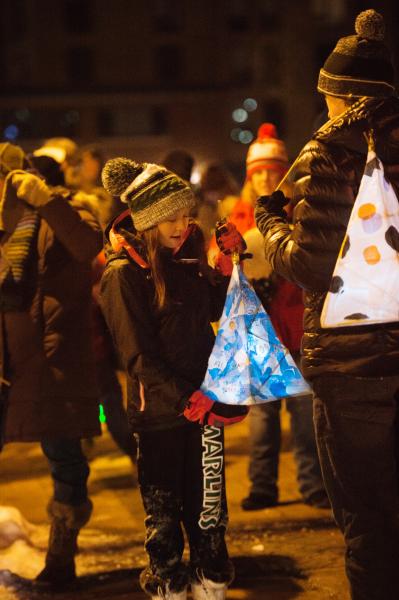 Everyone: Carry your lantern or watch as they pass by, lighting up the streets of downtown Eau Claire. Xcel Energy's Lismore Lantern Parade was inspired by the winter solstice tradition held in Eau Claire's Australian sister city, Lismore. 
During the parade, Lumière Claire, the commissioned lantern made by Pam Rindo and presented by American Phoenix, Inc., will make her debut. Live without regrets and don't miss this larger-than-life lantern as it parades throughout downtown. 
11:30 p.m. 
Everyone: All wristbands get you exclusive access to Rockin' the Rooftop, the fireworks viewing party with a heated tent, live entertainment by Irie Sol and Brewing Projekt products available for purchase. All of this will be taking place on top of the North Barstow Parking Ramp on Riverfront Terrace.
12:00 a.m. 
Everyone: That's right, we said fireworks. Festival Foods Fireworks puts on a great show. For the first eight minutes of 2018, enjoy an extravagant display of fireworks over the confluence of the Eau Claire and Chippewa Rivers.
We have so many sponsors we would like to thank. They make Royal Credit Union's Light Up Eau Claire successful.