What an excellent Saturday with my daughter, Katherine, attending the Fiber Arts Festival at the Chippewa Valley Museum! She knows me so well. At every turn in the museum, we encountered people demonstrating a different fiber craft. There were spinners, weavers, Native American bead artists, knitters, needle felting, fabric painters, quilters, embroidery work, rug makers, and more!-such a wide variety of artists. For me, who dabbles in knitting, quilting, sewing and embroidery, the experience was inspirational.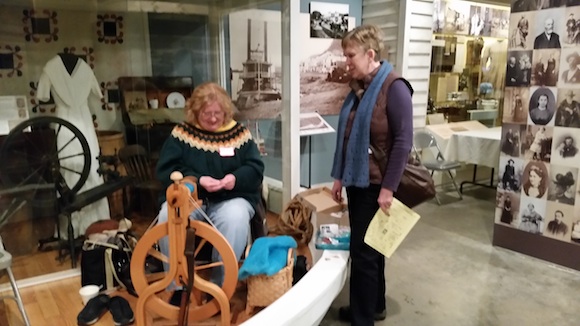 The most memorable part of Fiber Fest was the enthusiasm, dedication, and passion of the artisans for each of their respective crafts. From the shepherdess to the spinner to the weavers, knitters, and needlework artists, each and every one was eager to share the story of their craft, demonstrate techniques, and answer questions. In particular, I was fascinated by the processes involved with working flax. We learned about growing flax, harvesting and drying it, and then all of the physical processes that lead to spinning the fiber and then weaving beautiful cloth.
At another area, samples of various sheep's (and goat) wool, and stacks of yarn provided an amazing tactile experience. I loved all of the variety of natural wool colors and textures. The women conveyed their love of the animals and working with the wool from shearing to knitting a sweater. I have a newfound appreciation for the skeins of wool yarn that I purchase for my knitting projects. (I could have spent A LOT of money on the yarn- if only I could have decided on which lovely color to buy.)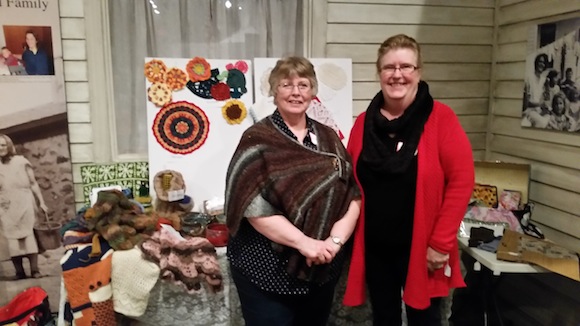 One area had a display of beautiful knitted and crocheted items and some colorful pottery yarn bowls. Several crafters were there to help people try knitting and crocheting. They were patient, encouraging teachers. I'm sure many more people were "hooked" on this addictive, satisfying craft. Personally, I find knitting to be very relaxing and rewarding (I knit most days :) ).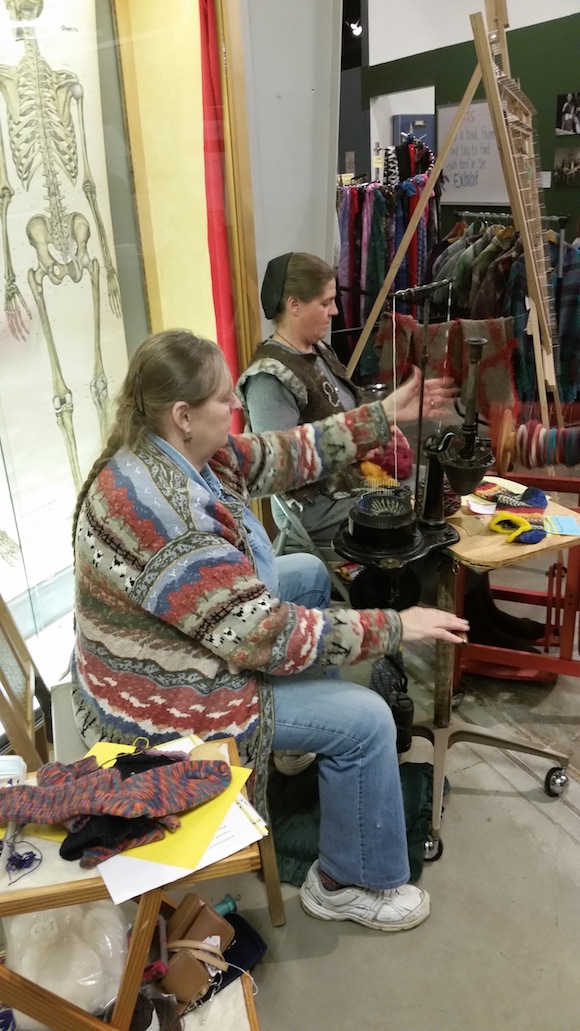 Silk fabric, embellished and fashioned into scarves and woven shawl wraps caught my daughter's attention. Down from that area was a gorgeous colorful display of wool roving, yarns and knit items. One woman was spinning a rainbow while a second was making socks on an antique knitting machine. I could have watched that process for hours, but the lure of more displays drew me, (reluctantly) away.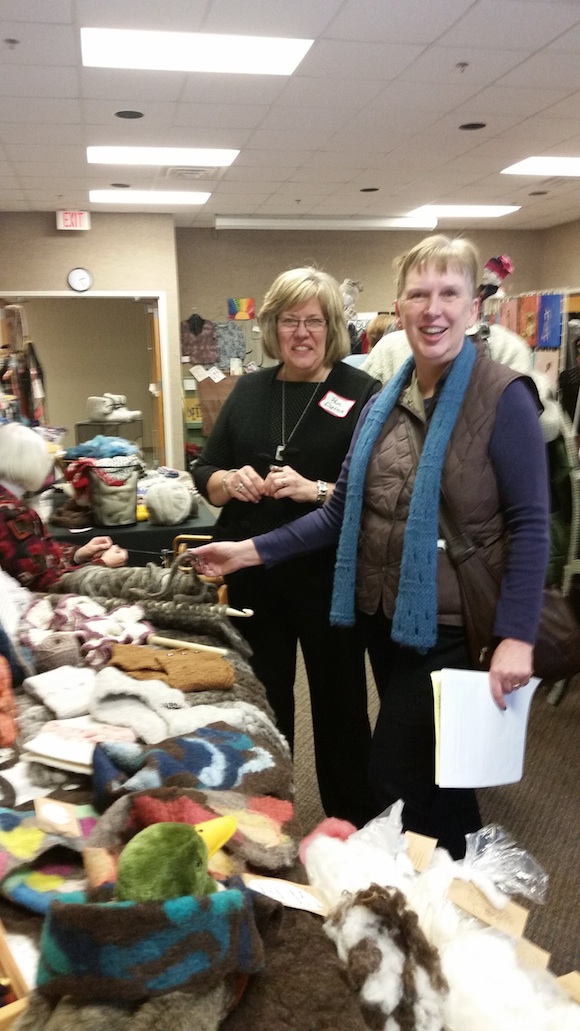 In another room, we found felting, sewing, quilting, mixed media cards, embroidery, pin loom weaving, and so much more! Again, knowledgeable skilled artists enthusiastically shared their craft.

I learned so much from the Fiber Fest and would attend again tomorrow. Next time, I'll stay longer...and buy more yarn. The BEST part of the day, though, was spending time with my daughter.
Knitting in the cold, snowy woods of Northern Wisconsin,
Mary Stodola Rapacz