Pine-shaded Carson Park in the center of Eau Claire is an ideal place for all kinds of recreation, from baseball games to miniature train rides to chainsaw carving extravaganzas. Each year in late August, however, hundreds of vendor tents are unfolded and thousands of eager visitors arrive to transform the park into the Super Bowl of Chippewa Valley arts and crafts fairs: Festival in the Pines.
Looking for high-quality goods and gifts, from dolls to dream catchers? Got 'em. From handbags to handmade quilts? Got those, too – plus all the rustic Packer paraphernalia you can shake a lawn ornament at. More than 200 vendors at Festival and the Pines have all these and thousands of other items crafted from wood, metal, glass, fiber, and more. Whether you're seeking fine art for your home or something cute and crafty for the cottage, chances are Festival in the Pines has got you covered. Each year, it draws 15,000-plus visitors to Carson Park on the weekend before Labor Day weekend. (In 2014, that's Aug. 23-24; in 2015, it will be Aug. 29-30.)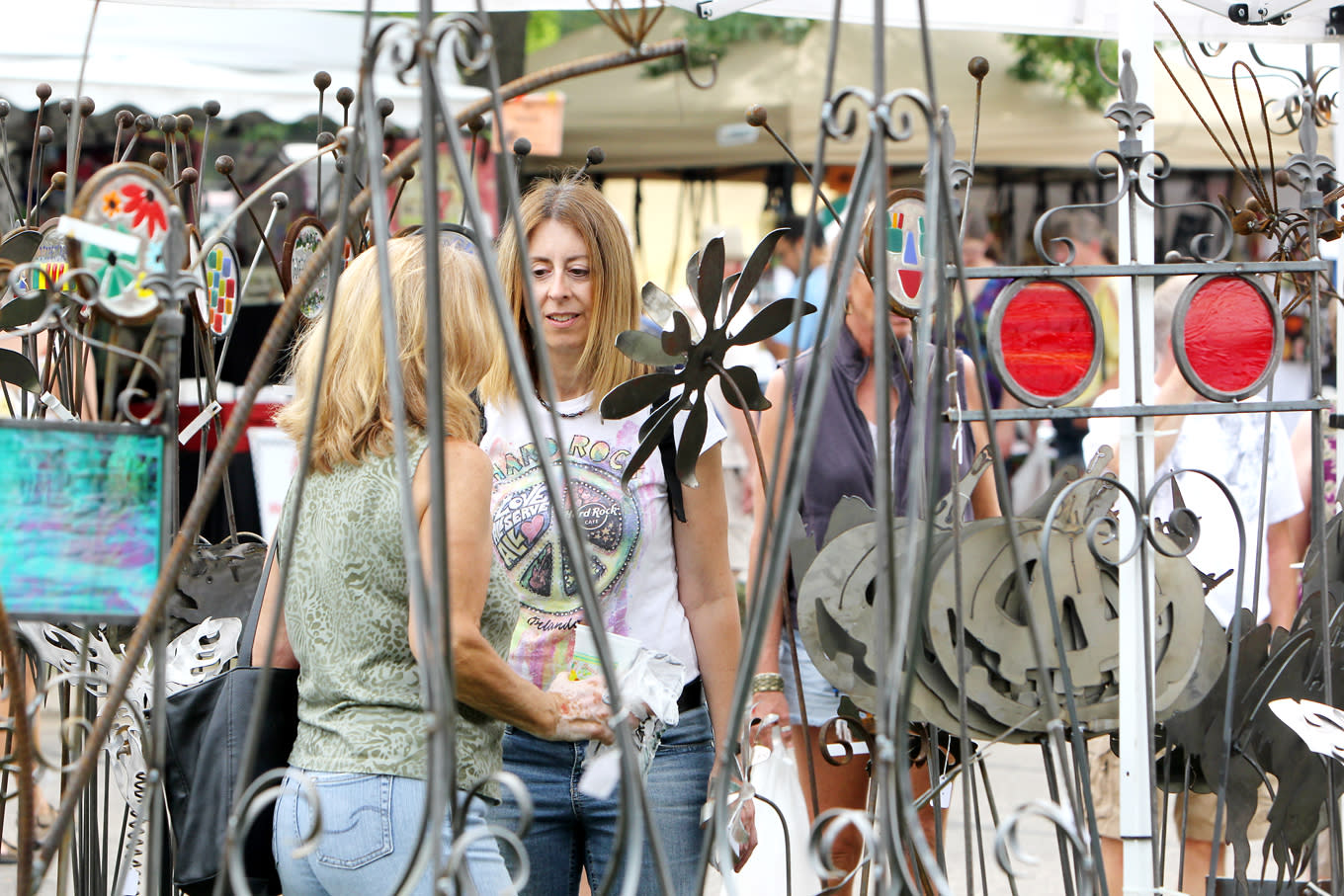 Owner and organizer Dan Ropa said the event is designed to offer a good time for every member of the family. In fact, for 32 years many folks from all over Wisconsin, the Twin Cities, and beyond have turned Festival in the Pines into a de facto family reunion. "It's the perfect time of the year. It's the end of summer," Ropa explains. "It's a good opportunity to have one big bash." 
Ropa knows that "craft fair" can be synonymous with "Mom's day out," and it's true that women comprise a big share of the crowd. But there's plenty to do for Dad and the kids, too. This year, a classic car show will be held Sunday, a sure draw for the guys (many of whom – admit it, dudes! – like to shop almost as much as their wives). And the festival offers a lot more than shopping until you drop: There are a dozen food vendors (hey, you've gotta keep your energy up), a beer tent, two stages of entertainment (one with music, the other with family fare, including magicians and ventriloquists), plus kids games and a petting zoo.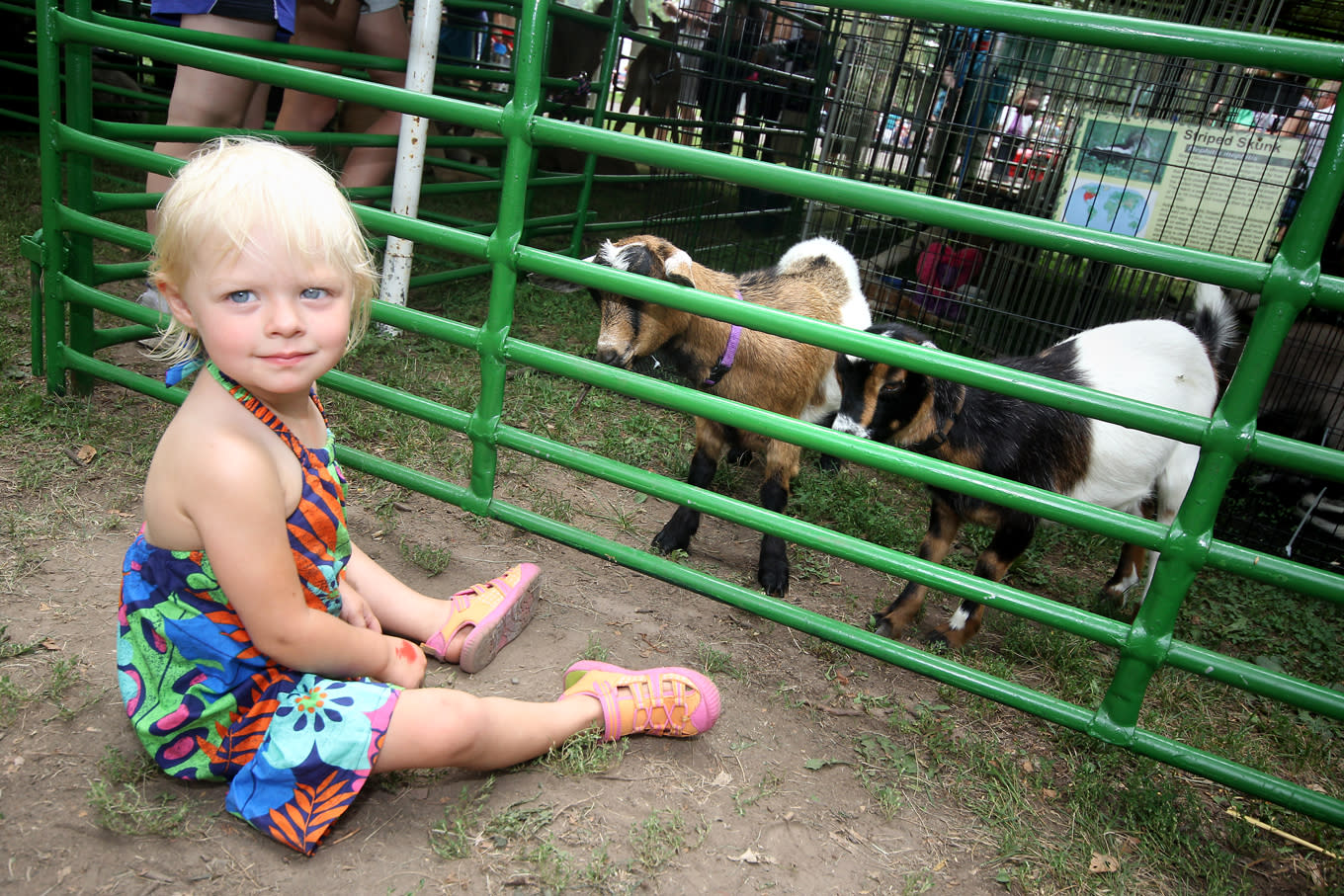 And you couldn't ask for a more beautiful setting for an end-of-summer festival than Carson Park, the 134-acre gem in the middle of the city. Festival in the Pines offers the ideal opportunity to relax amid the namesake conifers, enjoy the view of Half Moon Lake, and to take a family portrait with Paul Bunyan and Babe the Blue Ox outside the Paul Bunyan Logging Camp Museum (which, incidentally, offers free admission during the festival). "It's probably one of the most laid-back and welcoming environments for a large event that I've ever been involved with," Ropa says.
As summer vacation nears its conclusion, Festival in the Pines can help you complete your summer checklist: Hunting for bargains? Munching kettle corn? Petting a llama? Spending quality time with your family? Check, check, check – and check.
Photo credit to Andrea Paulseth, Volume One.