Whether you look at the calendar or glance at the weather forecast, there's no denying it: Fall is here – and with it shorter days and nippy weather. And rather than bemoan the passing of summer, that means we should embrace everything a beautiful northwoods autumn has to offer – in particular, the chance to fill our lungs with crisp fall air as we gaze upon millions of leaves that seem to change colors before our very eyes. (Pro tip: For the latest leaf color conditions, visit Travel Wisconsin.) Here are a few of the hiking and/or biking trails in the Chippewa Valley that are suited for your autumnal enjoyment.
PUTNAM TRAIL
Near UW-Eau Claire and Eau Claire's Third Ward neighborhood
Amidst the busy city and university campus, there's a winding natural oasis officially known as the Putnam Park State Natural Area. The trail is a peaceful passageway flanked by mighty white and red pines, as well as river birch, red and silver maple, paper birch, and other trees whose leaves will soon be putting on a show. UW-Eau Claire warns hikers to stay on the wide dirt path because the rest of the natural area is devoted to scientific study. (More than 400 species of plants, 100 species of birds, and 23 kinds of mammals have been identified!) The roughly two-mile trail is accessible from Putnam Drive, a residential street, or from on-campus parking lots. Follow it west through campus to see where the Little Niagara Creek flows into the Chippewa River, marked with a gorgeous arched stone bridge. A steep climb up the nearby steps will give you a beautiful view of the river. (Check out the official Department of Natural Resources website here.)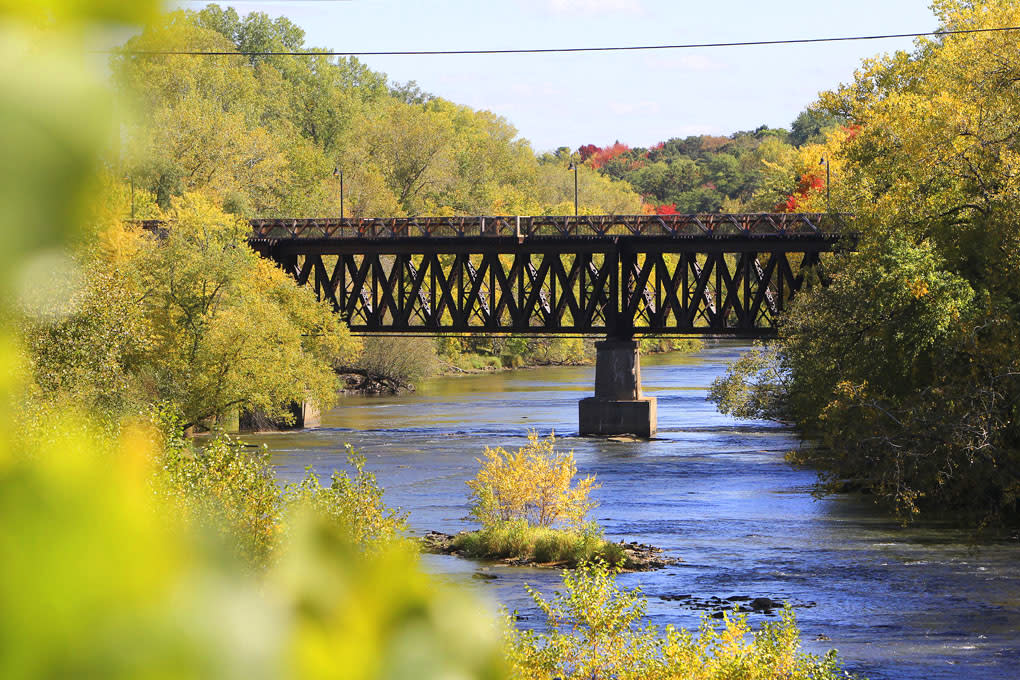 EAU CLAIRE RIVER ROUTE
Downtown Eau Claire to East Side Hill
The City of Eau Claire is officially a Tree City USA, and you'll see why when you gaze at all the urban forest along this route. Start at the paved trailhead hidden across from L.E. Phillips Memorial Library's underground parking entrance on South Dewey Street. The trail brings you across to the north side of the river on an old railroad trestle S bridge, then across the footbridge into Boyd Park. Take an immediate left after the Boyd Park Bridge and go along a wood-chipped hiking path. Before the trail ends you have to catch a left turnoff into the woods near the end of the clearing, onto a trail that eventually reaches Archery Park, an often-ignored gem.
TOWER RIDGE RECREATION AREA
From Eau Claire, go east on Highway Q and take a right on Highway L, then go south about a mile to the ski area parking lot
Eau Claire County's Tower Ridge Recreation Area, just east of Eau Claire and Altoona, offers wide trails that wind through oak forests, around and over a number of steep hills. If the exercise gets you winded, several spots offer wooden benches where you can stop and admire the scenery. Although the trails at Tower Ridge can be a bit maze-like, just follow the signs and you'll get back to your car. And if you're a cross-country skier or snowshoer, be sure to come back during the winter to traverse miles of trails. (Note: Biking isn't allowed on the ski trails.)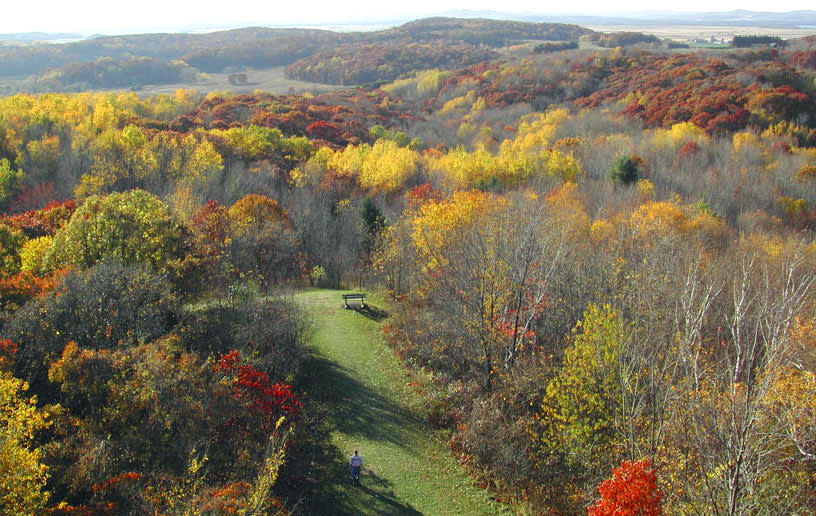 HOFFMAN HILLS STATE RECREATION AREA
10 miles northeast of Menomonie, near Highway E
The more than 700 acres of woods, wetlands, and prairies at Hoffman Hills are crowned by a 60-food observation tower that provides a spectacular view of the changing colors of the rural Dunn County countryside. Hoffman Hills offers nine miles of hiking trails, which are labeled based on length and difficulty (lengths vary from 1.7 to 4.4 miles). Don't forget your binoculars– the rec area is noted as a good spot for bird watching – and be sure to pack a lunch to eat at one of the three picnic areas. In the winter, the hiking trails double as cross-country ski trails, and there's also a separate off-trail area for snowshoe enthusiasts. (Check out the official website here.)
… AND MORE!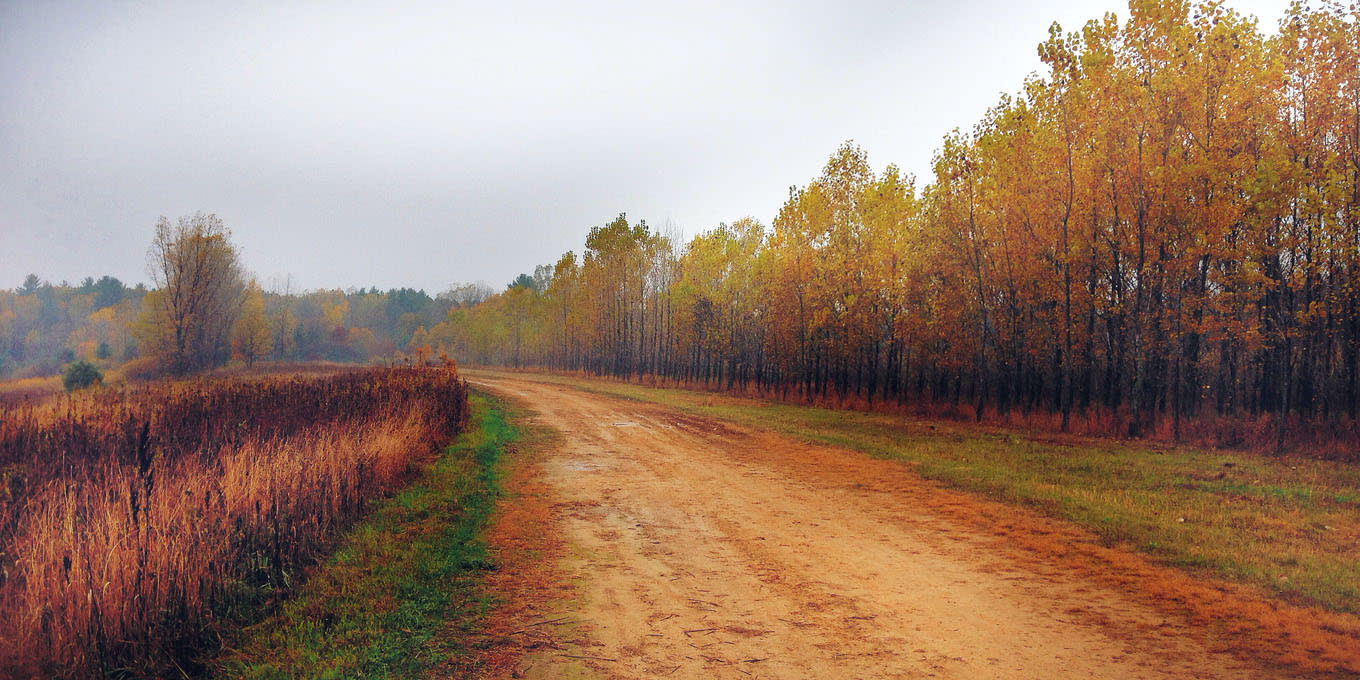 Bikers and hikers should also be sure to check out the full Old Abe and Chippewa River state trails, which both weave through Eau Claire, officially connecting downtown at Phoenix Park. The 30-mile Chippewa River State Trail links Eau Claire to Durand; the Old Abe State Trail connects Eau Claire to Cornell (through there's a small gap). To the west of Eau Claire, the Red Cedar State Trail runs south from Menomonie for 14.5 miles along the Red Cedar River. And if off-road biking is your thing, Lowes Creek County Park (west entrance at 5238 S. Lowes Creek Road, east entrance at 5530 Fairview Drive) has 13 miles of challenging single-track that twists through wooded hills. Hikers are welcome, too – just remember to keep an eye out for other trail users while you're gawking at all the fall colors.