Fall is definitely here! Before winter sets in, get out and enjoy some Fall Family Adventure.
I worked with Visit Eau Claire on this fun Fall Family Adventure. We toured some great destinations in and around Eau Claire. Take a look at what we did:
Fall Family Adventure Tour:
Sculpture Tour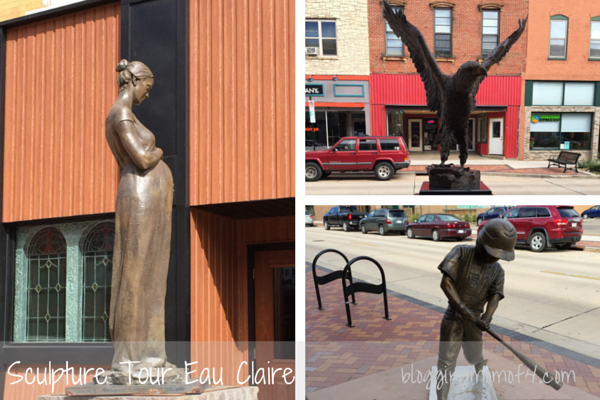 There are some incredible sculptures located on Barstow Street, Water Street, and the Mayo Health System Campus. We were headed down for lunch at The Plus on Barstow so we walked up and down looking at all of the Sculptures. Truly amazing. Here's a bit more info on the Sculpture Tour: "Enjoy this outdoor, interactive, free exhibit of sculptures displayed nearly year-round, twenty-four hours a day. The sculptures are owned by the artists who created them and are loaned to Eau Claire's exhibit for 48-50 weeks. The artists are from North America and abroad featuring a variety of styles, materials and sizes. Each May a new set of sculptures arrives in the Eau Claire community for display and enjoyment."
The Plus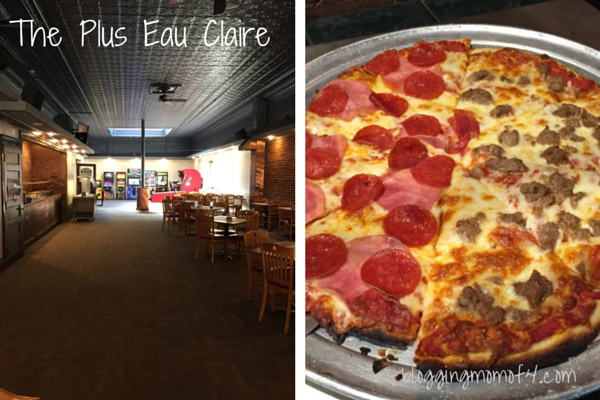 We arrived at The Plus a little after the lunch hour rush. We all had the pizza buffet and could actually put in our own pizza requests to be added to the buffet. That's always a great option. The Plus has a time-tested family recipe with hand rolled authentically local pizza. Dine in for lunch, dinner or meet a few friends at the bar.
Wagner's Lanes
Have you taken your kids bowling lately? My kids joined the summer bowling program that Wagner's participated in and really enjoyed it. They were able to go a few times with Grandma over the summer. Bowling is not only a great way to beat the heat in the summer but is a great option when you're 'stuck' in the house over winter. Wagner's features 26 lanes, bumpers, shoe rentals, game room, food and drinks.
Plaza Hotel & Suites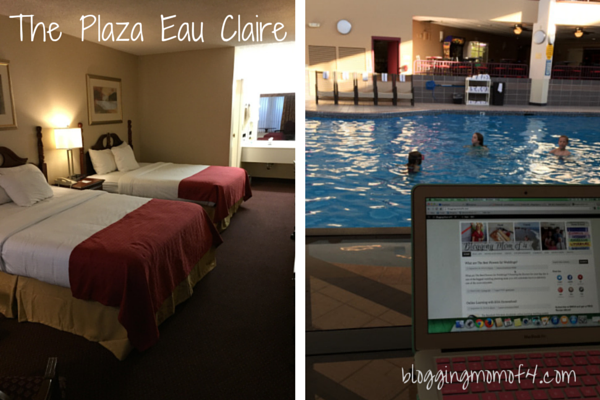 The Plaza was so generous to give us 2 rooms for a 2 night stay. With 2 rooms, we all could sleep comfortably. With the 6 of us, it can be hard to sleep comfortably in just one room. The Plaza Hotel & Suites has 233 guest rooms and suites, offering a variety of room types. We also love a hotel that offers complimentary breakfast. It gives us a good start to our morning and saves us from having to eat out.
For those that like to stay connected (like me), The Plaza also offers complimentary wifi. I caught up on some work while the kids swam in the pool. The Plaza has an indoor pool, children's pool, whirlpool as well as a fitness center and game room.
You can find the rest of our Fall Family Adventure over on Blogging is a Trip.