Our local food scene here in Eau Claire is amazing!
Chefs and food entrepreneurs are partnering with local producers to serve creative and delicious dishes. Chef Amy Huo has been at the forefront of the movement, first at The Informalist, and now as owner and operator of Locavore Mobile Kitchen. 
Launched in the spring of 2018, Locavore Mobile Kitchen is now one of the most sought out food trucks in the area. Locavore offers a menu made from locally sourced meat and produce based on what is seasonal and fresh. 
Eau Claire Insider Tip: You cannot go wrong with a Locaburger or the cheese curds!  
I had the opportunity to ask Chef Amy a few questions about her experiences in the food industry, her inspirations, and plans for the future. Here's what she said: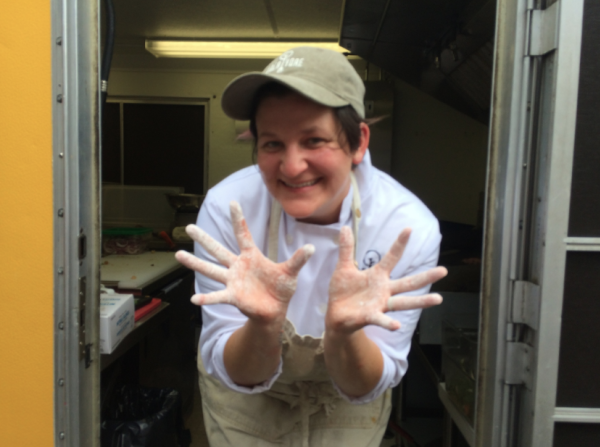 When did you know that you wanted to become a chef?
I have always been interested in food, but I went to school for English. It took a few years, but I finally ended up in a kitchen, and it was all over after that. Culinary school and an externship at Blue Hill at Stone Barns in New York cemented my commitment to locally-raised and farmed food. Working with food when you know the growers changes what it means to be a chef. When you realize how deep the roots are of every plate that you serve, it makes your job that more important. It means zero waste, it means respect of the ingredients and farmers, it changes the priorities of running a business. The farmers are paid before everyone else because that's what I care about the most.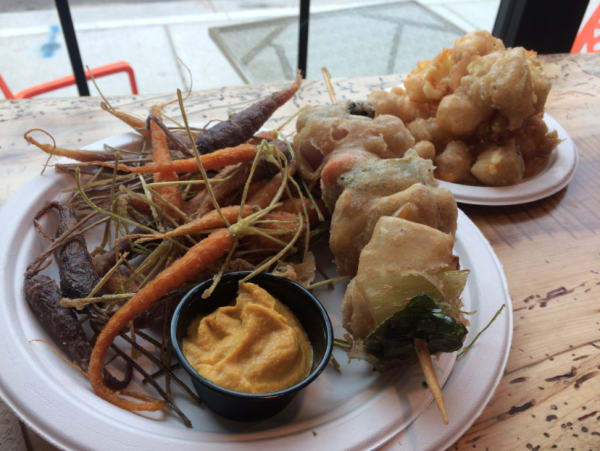 Was having your own place always a goal for you?
I will not pretend that owning my own business and being my own boss hasn't always been attractive to me, but, I had no idea how to even start down such a path. Opening a restaurant is incredibly overwhelming if you are also the chef and I knew I couldn't do it alone. I knew all the basic skills I gained over the past 4 years would help me get started, but I had no idea whether it would be enough to run a business successfully. They only teach you some of that in culinary school - the rest we tend to figure out on our own!
What started the wheels turning (no pun intended) to open Locavore Mobile Kitchen?
Over a year ago, I met Lisa Carlson and Carrie Summer at the Women Chefs and Restaurateurs Conference in Seattle. They own a fleet of food trucks and two restaurants in Minneapolis and Bay City, WI (Chef Shack and Chef Shack Ranch). Around December and January, Lisa told me she had her first truck for sale. When I say I did not envision myself owning a food truck, I am not exaggerating. It took Lisa a couple months to talk me into it! We decided around March that my husband and I could work to bring local food to Eau Claire in a way that is delicious and approachable. If I waited too long, the season would begin without me, so we took the plunge and bought the truck. We put it together in about 6 weeks - new paint job, licensing, etc. When we showed up to the first Eau Claire Downtown Farmers market with a truck full of local produce and meat, and we had a line of guests 30-some long, I knew we had made the right choice.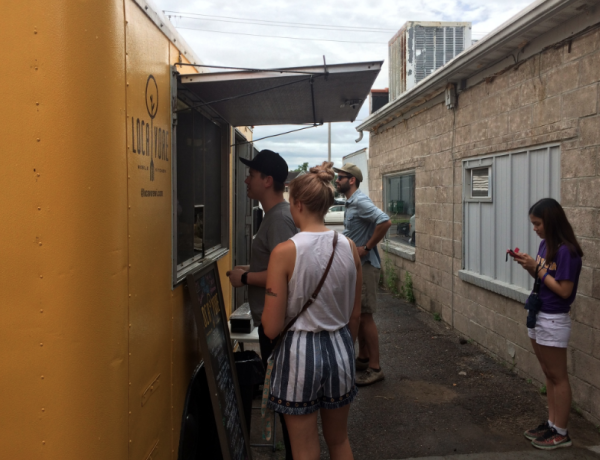 How do you plan your menus?
The honest truth is that I never know what I am going to prepare for a menu until I have a kitchen full of produce and meat. There's an idea in the back of my head somewhere, but until the pressure starts to mount, I don't usually have a plan. My favorite part of the week is when I see everything and become inspired to create. The stressful part is pressing against the clock to finish on time and to the standard that I feel is worthy of the ingredients.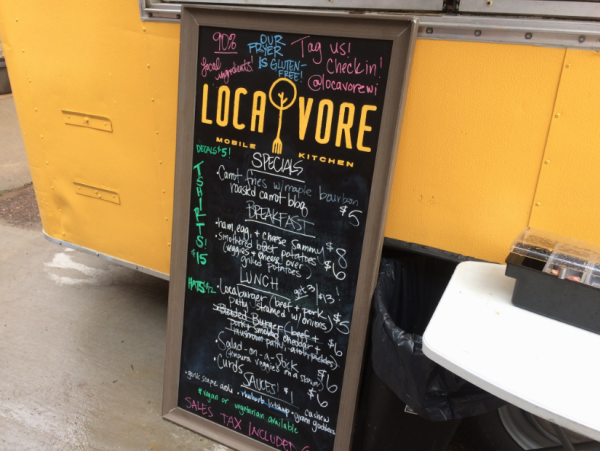 Will you expand in the future, with more trucks, and/or a brick and mortar location?
There is definitely demand to have more than one truck. But for right now I enjoy doing all the prep myself so I would prefer to keep it that way. We could possibly expand in the future. 
What have been some of the most rewarding aspects of launching your business?
I am able to choose every single item I serve, prep it exactly the way I want, and source all of my ingredients as close to Eau Claire as possible. Working directly with farmers in the Chippewa Valley is all I have ever dreamed of, and more.
What have been some of the most difficult aspects of launching your business?
4am wake up calls for the Farmer's Market aren't the greatest, and sometimes the logistics are difficult - transport of food and set up for every event can get dramatic. But for the most part, I can only complain about the heat and humidity. Everything else is manageable! 
If someone visiting Eau Claire asked about our food scene, how would you describe it?
I think Eau Claire is in the midst of a culinary renaissance. It's truly a remarkable thing to witness and to be a part of. The food scene is changing so rapidly and constantly improving thanks to the innovative and collaborative efforts of chefs and restaurateurs in the city. CVTC is set to open their new culinary school and I'm excited and invigorated by what the next 12-18 months hold. I believe the current culinary scene will only continue to improve as new creativity finds support in such a supportive community.
As a chef and as a community member, is there anything that you think is missing from the food scene in Eau Claire, and where do you think we could improve with what we already have?
As in any community, there is always room for growth and improvement. And with culinary scenes anywhere, improving the diversity of the cuisine will always be to the benefit of the community. Supporting Hmong food, Somali, authentic Mexican, Puerto Rican and other ethnic foods would greatly improve the offerings in the Chippewa Valley. We have much to learn, culinarily speaking, from any ethnicity which is not our own. 
What are some of your favorite items on the Locavore Mobile Kitchen menu?
I have loved everything that we have served, or I wouldn't have served it. All of the food I serve is everything that I would cook and eat myself. I love it because it is deep and has roots and ties to the land and to our area. 
What are your favorite things to eat when you're off duty?
Everyone's going to think I'm crazy, but I eat raw ramen noodles dipped in the soup! Scrambled eggs with kimchi, seaweed, and rice... hot dog grilled cheese sandwiches... and any leftovers at the end of the weekend. Sometimes there aren't any!
You can find Locavore Mobile Kitchen at the Eau Claire Downtown Farmer's Market on Saturdays through the end of the season. 
Check out their Facebook page for more opportunities to enjoy what Chef Amy is cooking up, and be sure to share all your posts with us by tagging them #CaptureEC!