Wine-lovers, this one is for you.
Where are my wineos at? There's a new hot spot right in downtown Eau Claire made just for you. The Rev is a brand new wine bar that you're sure to love. So if you enjoy all things wine, get on over there.
The atmosphere is perfect for drinking wine after a long day, a girls night out, a date night or even just a glass by yourself. If you're feeling a flight, you can get either a standard or premium one. Otherwise, you can enjoy just a glass or split a bottle with your loved ones.
The Rev has a fridge filled with wines from all over the world. But don't worry, if you're not a huge wine person, there is craft beer available too. Another perk is that the same people that own The Plus own The Rev, so you can enjoy drinks at both spots! The Rev and The Plus share a wall and create the perfect hangout spot.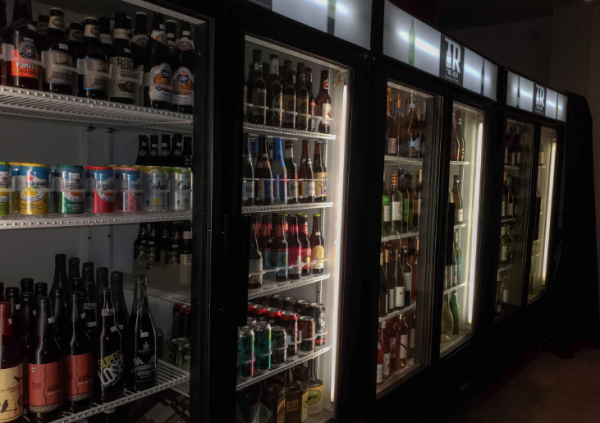 The Rev is the perfect combination of a tasting room and market. You can go in and try any of the wines at the bar, or you can purchase them to go if you're feeling more of a drinking-wine-in-pajamas-on-the-couch kind of night. 
The Rev, short for revolutionary, was something the owners, Kate and Benny, had wanted to do for a while. Kate visits her mom in Monterey, CA often and they frequent a lot of wineries, so they dreamed of giving downtown Eau Claire a taste of these amazing vineyards. Kate and Benny plan on creating their own original wine that they can sell too, making The Rev even more unique.
The kinds of wine at The Rev change almost weekly. So if you have a favorite, don't forget to grab a bottle to go! If you decide to indulge in a glass (or two), they have a wine keep which allows wine to stay fresh for up to 20 days. Wine typically goes flat within two days after opening, so that fancy device allows you to sip on your favorites for longer.
With all the different wine in the world, they need someone to help them learn about the wines they are selling so they can answer any questions consumers may have. The owners have about eight different vendors that come in and teach the employees about the wine being sold. That's great for us consumers because we can go in, drink wine and learn more about our favorites. Maybe our palette likes one ingredient to another, who knows!
The Rev is the only true wine bar Eau Claire has to offer, and the owners have big plans. Kate and Benny would like to start selling plates, grow their wine club and have this be the "it" place of downtown Eau Claire. The wine club would have different tiers and be a mailbox-like transaction. Participants would get a locker with their name on it, a key and then specialty wines will appear in a mailbox for you to pick up!
The Rev has everything you need: drinks, music, outdoor space, a cute grass wall for fun photo ops, a social room that's great for any party and a fantastic atmosphere.
Go check out The Rev and enjoy their rustic chic, chill and relaxing vibe they have going on. The Rev is open for business, and they want to see you and your friends. Right now they are closed Sunday and Monday, but if all the wine-lovers get on over there and show them we need more wine and more of The Rev, they might open up another day for us in the future. 
While you're sipping on your wine at The Rev, make sure to take advantage of the photo ops and share them with us using #CaptureEC.