Did you know Eau Claire has a newly dedicated winter route? Our Midwest Indie city is fully embracing winter! Eau Claire was one of three destinations that received a Wintermission grant in 2019, with the initiative to make it easier for people of all ages and backgrounds to connect with each other and visit public spaces. With the goal to stay active and beat those seasonal blues, Eau Claire has a dedicated priority recreational path. The priority status means that once the city streets have been removed with snow, this route will be immediately cleared of any accumulated snow/ice. How do you know where the route goes? The four miles will be marked with special signs as shown below! Don't let these exciting times overwhelm you! Read on to see tips on how you can best utilize this winter path.

#EauWinter
We recommend starting your photography journey on the winter route at Phoenix Park Bridge. After crossing over to the west side of the Chippewa River, make your way towards Carson Park to take in the winterized sights of Half-Moon Lake. Keep following the route to find yourself at the beautiful Clairemont Avenue Footbridge. Next, find a picture-perfect spot across the river from the University of Wisconsin-Eau Claire campus! On the last leg of your journey, snap some final photos around Owen Park to take in the views of the colorful lights of Pablo Center at the Confluence. With this scenic journey, you will be bound to have some insta-worthy pics. Post those pictures with #EauWinter and, of course, #CaptureEC to show us all the adventures you go on!

Stay active this winter
With the snow being removed pretty quick from the trail, you can stay active and run the same summer trails you know and love. Not only that, you can show your friends the outdoorsy side of Eau Claire by taking them on a nice stroll through the winter route. Looking for a workout other than walking or running? Rent a fat-tire bike for the day and take those wheels out for a 4-mile spin! With all of the ways to use the winter route, you will be sure to keep outdoor activity a priority in the cold months. For more tips and information about how to adjust your body to the cold, check out the Wintermission article by the University of Wisconsin - Eau Claire. 

Suggested pit-stops along the way
Looking for a place to warm up or hang out for a while? The winter route passes along a lot of great stops! Stop in at Roadside Diner for a warm dish. Next, keep the winter vibe alive by stopping in at Hobbs Ice Arena for an open skate! Once you're done there, stop in at Mogie's for some steaming deep-fried cheese curds. Still feeling a little chilled? Stop in Racy's for a cup of hot chocolate or, for those with bean fever, coffee! An afternoon of physical activity and great food never hurt anyone!
Getting excited about the new winter route? You can use it today! Just look for the custom winter route signs and check out the map below! Don't forget to post your amazing wintery pics when you get the chance! Nothing can truly beat a #EauWinter.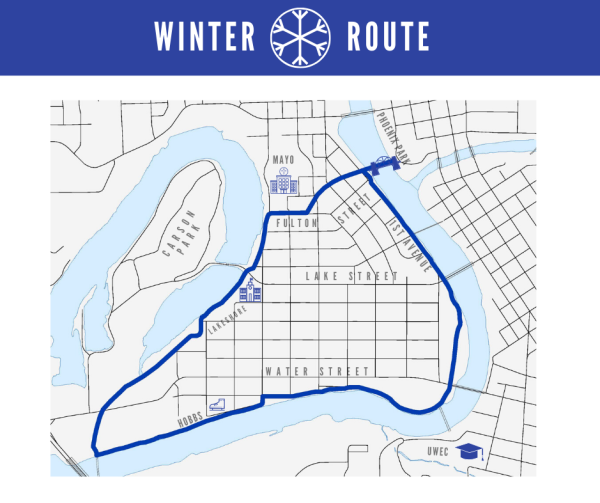 Wintermission Eau Claire is a groundbreaking program to reduce social isolation and support outdoor physical activity in winter. Eau Claire is one of three Wintermission cities and will help set new standards for winter friendly cities in the United States by developing a unique winter city strategy. Wintermission is led by 8 80 Cities, a non-profit organization based in Toronto, Canada and is supported by the Robert Wood Johnson Foundation Global Ideas Fund at CAF America. The Eau Claire Wintermission core team involves participation from the Cities of Eau Claire and Altoona, the Eau Claire City County Health Department, UW-Eau Claire, Visit Eau Claire, and the Wisconsin Economic Development Corporation.