It's that time of year again. The days are getting longer, some of the days are getting warmer, and the itch to get out of the house is getting real. In other words, spring fever is upon us. And nothing helps to cure spring fever more than getting out for a day trip adventure. 
If you need inspiration on where to go and what to do, read on. We recently found ourselves on a day outing to the St. Croix Valley area. It was a blast. It was refreshing. It was a mental boost. Just what we could all use while we finish out the final days of winter. 
Who
Grab your significant other or a friend or two. This outing is perfectly suited for a date or a fun group of friends.
What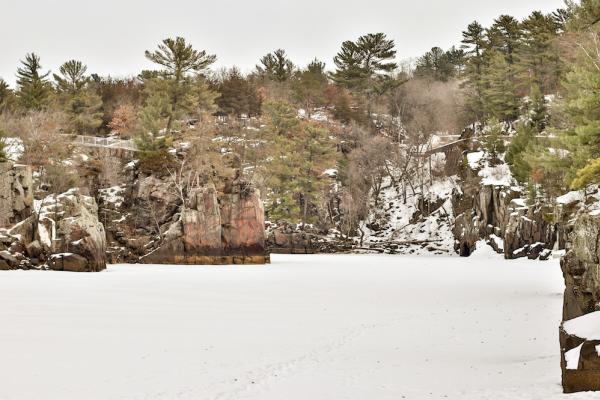 A fun day adventure that offers a variety of activity ensuring fun for everyone. While in the St. Croix Valley, you will get to hike among beautiful glacial rock formations, see the St. Croix National Scenic Riverway, peruse fun local and antique shops, take a walking tour of a unique sculpture park, experience infusions of Swedish culture, and indulge in Norwegian waffles.
Where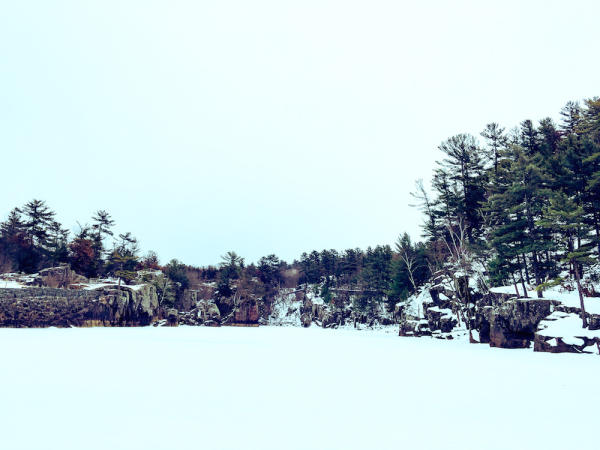 A little under a two-hour drive northwest from Eau Claire, you will briefly be on I94 before traversing country roads dotted with farm scenery. These roads will direct you into St. Croix Falls for your first destination. Follow the tour we took below, or alter to what works best for you!
Stop 1 – St. Croix Falls, WI
Nestled on the St. Croix River, it's time to move around and stretch your legs after the car ride.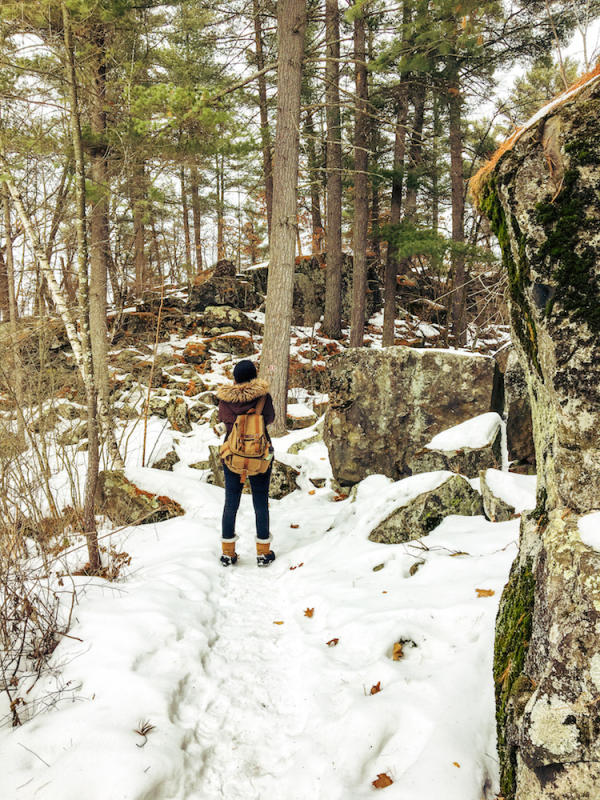 Interstate Park – This is Wisconsin's oldest state park, and it offers beautiful hiking opportunities. Experience the steep gorge river views while you hike, known as The Dalles of the St. Croix. This park is also home to the western terminus of the Ice Age Trail. While a hike here is beautiful any season, the advantage of a winter excursion is walking on the frozen river to get different vantage points of the gorges.
Downtown shops – Next head into the heart of St. Croix Falls to check out some shops. You never know what treasures await. 
Stop 2 – Taylors Falls, MN
Just across the river, take a drive through Taylors Falls offering more quaint businesses to check out. And if you didn't get enough of Wisconsin's Interstate Park, you can check out Minnesota's counterpart here.
Stop 3 – Lindstrom, MN, "America's Little Sweden"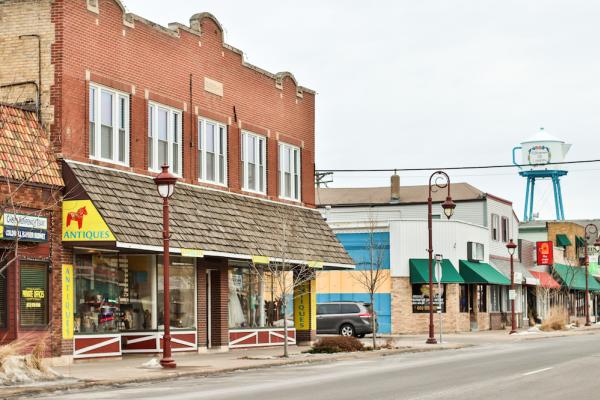 I don't usually think of water towers as cute, but my perspective changed upon arriving into Lindstrom and spotting a big coffee pot in the sky. Lindstrom is a quaint little town but full of culture and character. Hints of Swedish heritage are dotted all over the town for you to search out.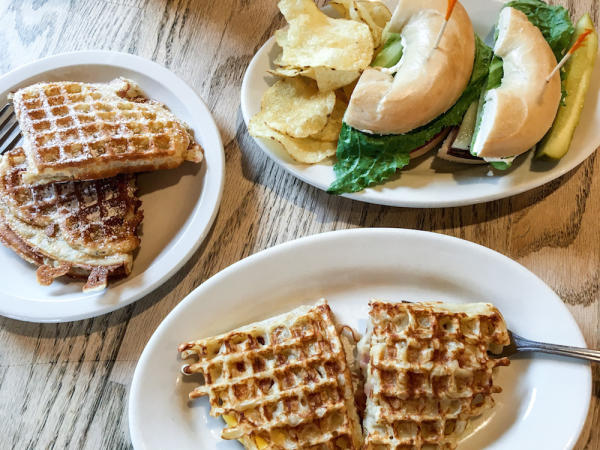 Lunch and coffee at Northwoods Roasterie – This is one of those cozy places where you'll find people catching up, reading a book, or playing a game of Checkers together.  Stop here for a bite to eat and try one of their sandwiches featuring Norwegian waffles. Quite tasty.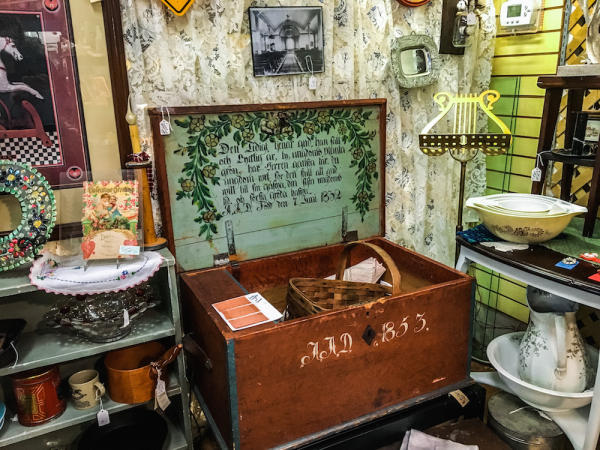 Downtown shops and antiques – We found one of our favorite antique shops here, Lindstrom Antique Mall. Full of fun treasures and prices you can afford! Also stop at the Lindstrom Bakery, home of the Scandinavian Donut.
Stop 4 – Shafer, MN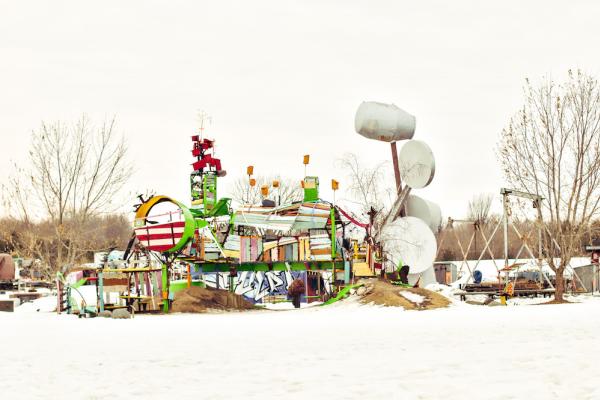 Franconia Sculpture Park – If you like our Sculpture Tour here in Eau Claire, then you'll enjoy this stop. A 43-acre park to explore, trails wind through a variety of over 100 sculptures on exhibit. Even more fun, some of the sculptures are interactive and climbable! Self-guided tours are free, and even your doggie is welcomed on a leash.
When
Now! This day trip adventure is suited for any time of year, but if you're looking to help those feelings of spring fever, get a date planned on your calendar now!
Why
To sum it up, this is a perfect outing to get out of the house for a day adventure. It combines fun outdoor time to take in the transitioning spring temps, local shopping, and fun cultural infusions to explore. Enjoying these activities with your loved one(s) will help refresh you all and give you a boost while we wait for spring's arrival. 
When you're out exploring, share your photos with us by using #CaptureEC. Happy trails my friends!