Hello lovers!  
Whether you're planning a surprise date for your significant other or you're celebrating your anniversary, the Chippewa Valley is a great place to plan a romantic getaway.  From Mona Lisas to Westgate Sportsman's Club, there is an endless amount of restaurants, venues, and stores that are perfect for spending time with your companion.  

When you only have 48 hours in the Chippewa Valley, though, how do you narrow all of your options down?  Worry not, friend—below is an itinerary for your romantic getaway to the valley! 

Day 1

Breakfast: The French Press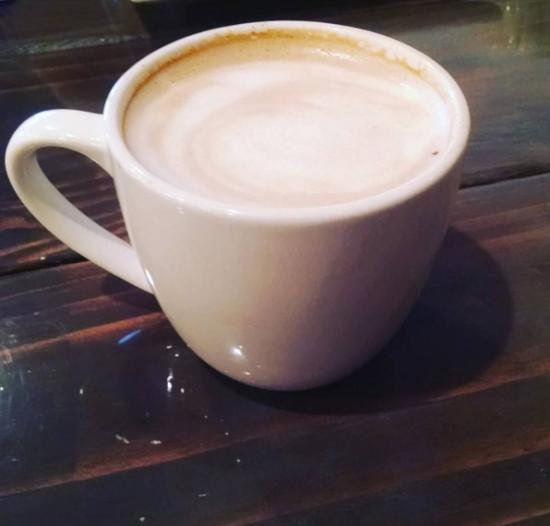 When you make it into Eau Claire, stop by The French Press for breakfast.  This sweet coffee shop is located at 2823 London Road, and it offers a massive array of sweets, sandwiches, and salads.  In order to make your experience extra special, be sure to order The French Press (it serves two) and a slice of cake to split.  

Shop (Summer): Antique Emporium 


After you finish up breakfast at The French Press, head over to the Antique Emporium in downtown Eau Claire for some shopping.  This three-story antique store is well known to Eau Claire natives, and it's perfect for the sentimental soul searching for an antique treasure.  Treat your honey to an antique necklace or something else that catches their eye.   

Shop (Winter): Curvue Hideaway & Trees


If you're visiting Eau Claire in the wintertime, go to Curvue Hideaway & Trees.  This gorgeous 12-acre farm is filled with beautiful evergreen trees, and there's a gift shop with an assortment of locally made gifts.  The best part about Curvue, though?  After you forage through the lovely wreaths, trees, and pots, you can warm up with hot cocoa and s'mores (or you can just snuggle)!  

Lunch: Johnny's Italian Steakhouse


Whether you're coming from the antique store or the tree farm, Johnny's Italian Steakhouse is worth the journey.  This delicious Italian restaurant has a menu that'll leave your mouth watering; with that said, if you have a hard time deciding what to get, make a deal with your S.O. to share your meals with each other!  

Activity (Summer): Enjoy a long walk through Phoenix Park


When you finish eating, head down to downtown Eau Claire for a walk through Phoenix Park.  This scenic park is well known to the locals, and it's home to a lot of big events (e.g. the Sounds Like Summer concert series).  Make sure to take tons of pictures—this is the perfect spot to ask someone to take a photo of you and your sweetie.  


BONUS ACTIVITY: if you visit Eau Claire later in the summer, stop by Babette's Seeds of Hope!  You can read about Babette's story here.  

Activity (Winter): Take a stroll through Irvine Park to see the Christmas lights


Although Irvine Park is back in Chippewa Falls, it's 110% worth the drive—especially during the wintertime.  Starting Thanksgiving night through January 1st, Irvine Park is turned into a Christmas Village.  The lights are breathtaking, and it's something that you and your honey won't regret seeing.  

Dinner: The Lakely


Once you're ready to eat again, head over to The Lakely for what will likely be an unforgettable meal.  This trendy restaurant is located in The Oxbow Hotel, and it features a menu made up of locally sourced ingredients.  Even better, though, is that it's truly an intimate setting, so it's easy to make conversation with your S.O.

Dessert: Ramone's Ice Cream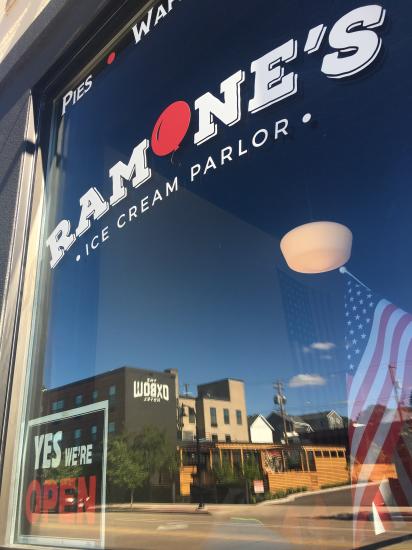 When you're all done eating at The Lakely, head across the street to Ramone's for some ice cream.  This retro ice cream shop opened just this past summer, and it's always busy—Eau Claireians just can't get enough of it!  If it's nice outside, consider sitting outside so you and your love can have some alone time.  

Activity (Summer): Watch the sunset at Putnam Rock


After you finish up your ice cream, drive down to the UWEC campus and look for Putnam Rock.  This romantic spot—located near the bottom of the campus hill—overlooks the river, and it's an amazing view that you and your sweetheart won't forget.  Try to make it there before sunset so you can watch the sun go down.  

Activity (Winter): Listen to live jazz music at The Oxbow Hotel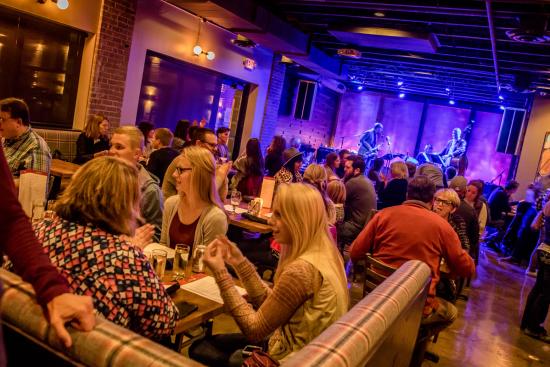 While it may be cold outside, that doesn't stop Eau Claireians from having a good time!  After you finish your ice cream treat, head back to The Oxbow Hotel for some live music.  There tends to be a jazz band playing between dinner hour and 11 p.m.—ask the bartender what the entertainment is for the night!   

Stay: Otter Creek Inn Bed & Breakfast


When you and your beau are ready to turn in for the night, check into Otter Creek Inn Bed & Breakfast.  This gorgeous three-story English Tudor is adorned with Victorian décor, and it's located right in the heart of the Chippewa Valley.   

Day 2

Breakfast: The Informalist


If you decide to skip breakfast at the Otter Creek Inn, head down to The Informalist in downtown Eau Claire.  This elegant restaurant is part of The Lismore Hotel, and like The Lakely, it features a farm-to-table menu.  Split a meal with your darling to start the day off on the right foot.  

Shop (Summer): The Farmers Market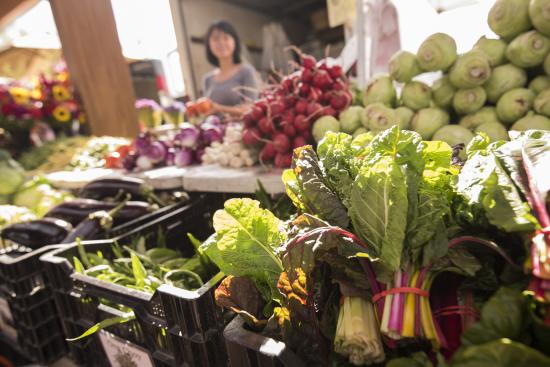 After you finish breakfast, take a stroll down to Phoenix Park for the Eau Claire Downtown Farmers Market.  The market is typically open from late May through October, and you can expect everything from fresh veggies to hot coffee there.  
Bonus Point: try to schedule your getaway so that you can hit up the Eau Claire Artist Market, too!  

Shop (Winter): Willow


Once you're satisfied with the deliciousness that is The Informalist (or the Otter Creek Inn), head down to Water Street to check out Willow.  This quaint shop is a great place to find candles, clothing items, and more—take this opportunity to pick out some home decor to take back with you to your love bungalow.  

Lunch: Manny's Cocina


After you get some shopping in, drive out to the Oakwood Mall area and grab a bite to eat at Manny's Cocina.  This upscale Mexican restaurant is sure to make you and your honey feel like you're on a honeymoon in Mexico, as the authentic Mexican food is incredible.  Plus, they have one of the best margaritas in Eau Claire.
Activity (Summer): Visit Big Falls


Continue your romantic getaway with a trip out to Big Falls County Park.  This stunning park is home to multiple waterfalls, and the view is something you wouldn't believe.  

Activity (Winter): Go on a sleigh ride at Cabin Ridge Rides


Once you're full of tasty Mexican food, head on out to Cabin Ridge Rides in Cadott.  This eco-friendly recreation facility is a must-see—you can expect to go on horse-drawn sleigh rides, toast marshmallows, and even explore the woods if you'd like! 

Dinner: Houligans Steak & Seafood Pub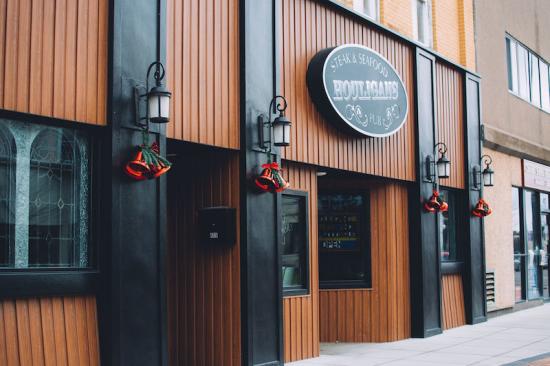 When it's time to eat again, travel back to downtown Eau Claire for a high-quality meal at Houligans Steak & Seafood Pub.  This fancy restaurant has a top-notch menu, and it's the perfect spot to enjoy a candlelight dinner with your honey.

Dessert:  Olson's Ice Cream Parlor


If you're feeling up to it, consider heading back down to Chippewa Falls so you can experience the awesomeness that is Olson's Ice Cream Parlor.  This charming ice cream shop is a local favorite, and it's well worth the drive.  

Activity (Summer): Go roller-skating at High Roller Skating Center of EC


After you finish dessert, drive over to High Rollers for some skating.  This roller skating rink is located on Melby Street, and it's the perfect way to end the evening; after all, what's better than roller-skating while holding hands with the person you love?    

Activity (Winter): Stop by Infinity Beverages Winery & Distillery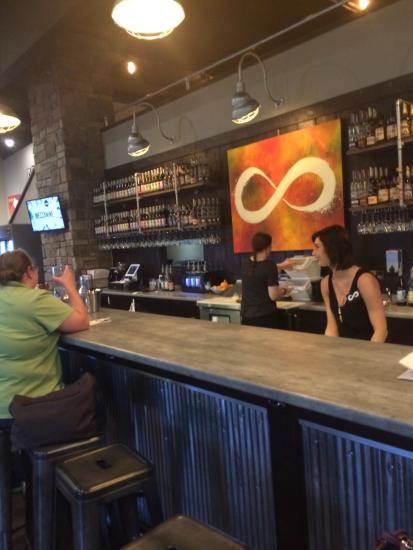 Who says you can't have a second dessert?  Once you're all done at Olson's, finish up the evening with a cocktail at Infinity Beverages Winery & Distillery.  This classy spot is spacious and fun; if you go on the right night, there might even be a musician playing!  Opt to sit by the fireplace so you can cozy up with your loved one.  

Pro-Tip: buy a bottle of wine to drink there.  If you don't finish it, you can ask the bartender to put wax on it to seal it up!  

The Chippewa Valley is filled with romantic getaway spots; in all reality, this is just the beginning of all the heart-stirring places you could go with your date!  With that said, make sure you book a second trip on your way out of town – you know it'll be worth visiting again!  
What do you think is the most romantic thing to do in Eau Claire?  Let us know in the comments section, and be sure to share all of your lovey-dovey photos with us using the Insta hashtag #CaptureEC