Enjoy the last days of our fleeting summer! The Festival in the Pines is coming right up and it smells like Christmas!
Wait, what? Yes, over the waft of cheese curds and funnel cakes is the scent of those beautiful pines that make Carson Park so beautiful and memorable. Let it inspire you to get ahead of the game and start your Christmas shopping early this year! Come on down to Carson August 27th from 9AM-6PM and August 28th from 9AM-4PM and enjoy tons of food, music, family entertainment and shopping galore!
Shopping
There is nothing better than a handmade, handcrafted, homegrown gift made with love and there is no better place to find it than at the Festival of the Pines. Like me, the Festival of the Pines was created in 1982 and has grown significantly through the years. Now with over 200 vendors, you will be sure to find something special for everyone on your list while also supporting our regional crafters, makers, bakers and growers as well as some great local charities. Are there carts? No, but there's not at the mall either, and there's actually something even better! Gordy's Market has a booth operated by the Girl Scouts where you can drop in and see their cute little faces and also drop off your haul to store it coat-check style, while you do even more shopping or move on to enjoy the many other festivities. The old "I don't want to carry that around all day" problem is solved!
Getting There
Although there is some parking (including handicapped) at the Carson Park entrance facing Menomonie Street, it is limited, and the Festival in the Pines staff encourages taking a shuttle. Free, air-conditioned shuttle buses operate from 8:30 to 6:30 PM on Saturday and 8:30 to 5:00 PM on Sunday. Pick-up locations include: Hobbs Ice Arena at 915 Menomonie Street, UWEC Fine Arts Parking Lot on Water Street or the Eau Claire County Courthouse Parking Lot on Lake Street.
Admission
Regular admission is only $6 and for senior citizens (62+) just $5. Best part? Kids 11 and under are FREE!
Family Entertainment
Scavenger Hunt: New this year, the Festival in the Pines will be hosting a scavenger hunt! Stop in at the Visitor Information booth and pick up a card containing 12 clues that can be brought to various vendors and attractions. Once completed and returned to the Visitor Information booth, your card will be entered in a drawing for a Gordy's Market gift card.
Featured Acts: Eat those cheese curds in front of one of the two stages featuring great local music and entertainers. There will be a magic show by Michael Oz, Tonight Show veteran Steve Russell will juggle, Karate American will have a live karate demonstration and EC Shimmy will share the art of belly dancing. Enjoy the laid-back sounds of Eau Claire native Matt Wahl as well as the Chippewa Valley band Crowded Heads , not to mention a Garth Brooks Cover Band!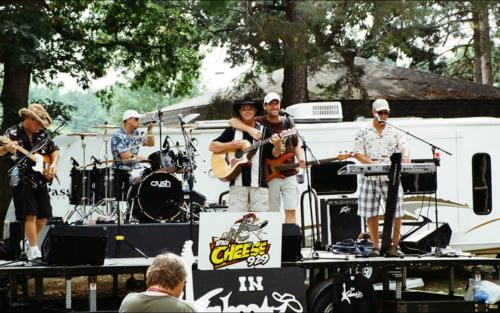 Petting Zoo: Who doesn't love miniature donkeys? The free petting zoo will run 11AM-3PM Saturday & Sunday and will include miniature donkeys & horses, a zebra, fainting goats, chinchillas and more. Pony rides will be available for $3.
Rides & Games: Enjoy carnival style games like "Plinko" and "Pluck a Duck", several bouncy houses, and watch your kids test their golf skills on the putting green. You'll also be right next to one of the best playgrounds in Eau Claire with the biggest slides around!
Paul Bunyan Logging Camp & Chippewa Valley Museum: Free admission to both is included in the cost of your ticket.
For the Adults
Back for the first time in ten years, the Eau Claire City/County Tavern League Beer Garden is returning this year! Infinity Beverages will be serving a variety of their wines in a fenced in area.
Gather those Christmas lists and load up the family! Take part in this great community tradition and come on down to the Festival in the Pines, "Where Families Have Fun!"