Cabin Ridge Rides must qualify – at least unofficially – as one of the Chippewa Valley's loveliest hidden gems. And it really is a gem: This multipurpose getaway sits on 400 mostly wooded acres along meandering Paint Creek in rural Chippewa County, about 20 miles northeast of Eau Claire.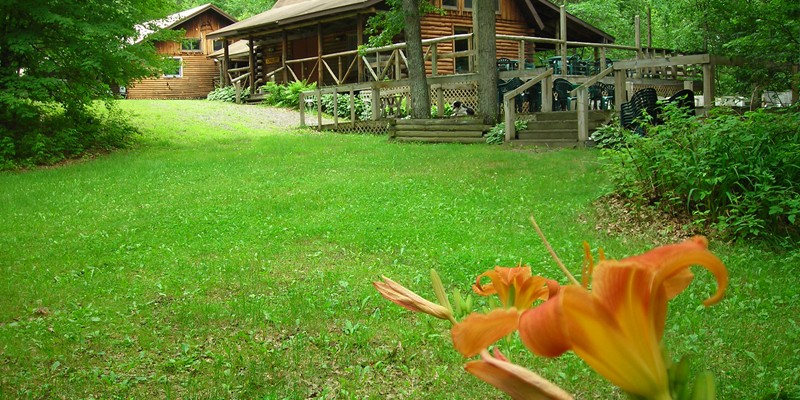 So what is Cabin Ridge Rides? Calling it a "recreation facility" or "event center" is too boring and sterile. Calling it a lovely place for a horse-drawn carriage ride is too simplistic. Let's just call it beautiful, quaint venue that can make your northwoods dreams come true. With two rustic (but sizable) log cabins, an outdoor wedding chapel, picnic areas, and seven majestic Percheron draft horses who can pull a variety of carriages or sleighs, Cabin Ridge is perfectly suited to play host to a spring soiree, a summer wedding, an autumn employee outing, or a magical wintertime frolic in the snow.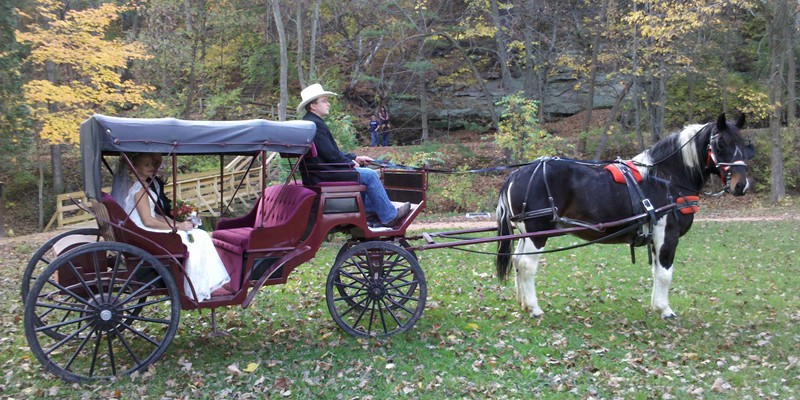 While the rural charm of a barn wedding has filled the Pinterest pages of many Wisconsin brides-to-be, Cabin Ridge Rides sets itself apart one hoof at a time. In other words, leave your car by the gate. "The thing that's different is it's located in the woods and you have to take a horse-drawn wagon ride to get here," explains co-owner Judy Gilles, referring to the deep-in-the-woods venue. "When the bride arrives by horse and carriage," Judy adds, "she doesn't just travel 20 feet." Whatever the season, expect one-of-a-kind nuptials, whether you're exchanging vows in the open-air chapel or (if you want something especially woodsy and symbolic) if you're getting hitched at a literal hitching post.
Judy and her late husband, Rusty, founded Cabin Ridge Rides back in the 1980s. For decades before that, the farm – which has been in the family for more than a century – sold cut-your-own Christmas trees. (Sorry, the towering pines are a bit too large for your living room now.) In the 1980s, horse-drawn sleigh rides were added to transport customers farther back into the woods. Eventually, two gas-lit cabins – the Chalet, which seats 35, and the Lodge, which accommodates 120 – were built to serve visitors, and other amenities were added. The cabins stand on a ridge overlooking the creek (thus the name) and are nestled among the trees at the end of a meandering road.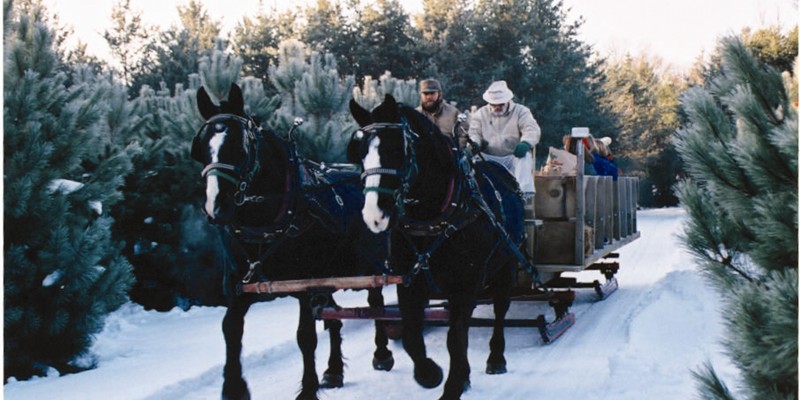 Almost by accident, the wintertime sleigh ride business evolved to include year-round events: You name it, Cabin Ridge has hosted it, from weddings to bachelorette parties, from corporate retreats to 4-H clubs, from out-of-state bus tours to small family get-togethers. Just as they cater the meals, the family will cater to the needs of their clients: As a small, family-owned venue, Cabin Ridge can be pretty flexible and has been known to host weddings and other events on short notice.
If your event, large or small, could use a breath of Wisconsin fresh air, Judy and her son, Mark, would be happy to help. Check out their website or call (715) 723-9537 to learn more.