Opened in 2014, Bug-Eyed Betty's, known as Betty's to locals, has quickly become known for being, well…quirky.
The best description for their food is Weird American. Listing burgers, pizza, wings, and appetizers doesn't seem to do the menu justice. Cheeseburgers are American but burgers with jalapeno jelly, bacon and peanut butter are weird - especially when called the Walk of Shame burger (pictured below). Wings and beer are truly American but have you ever had salted-caramel wings with your Surly craft beer of choice? Or bacon-wrapped tater tots dusted with cayenne and brown sugar with raspberry BBQ sauce to dip it in? Of course not; only Betty's makes these kinds of creations. Ask for the newest exotic burger and your server will tell you about python, ostrich or elk burgers. This twist has made Betty's legendary to its cult-like following.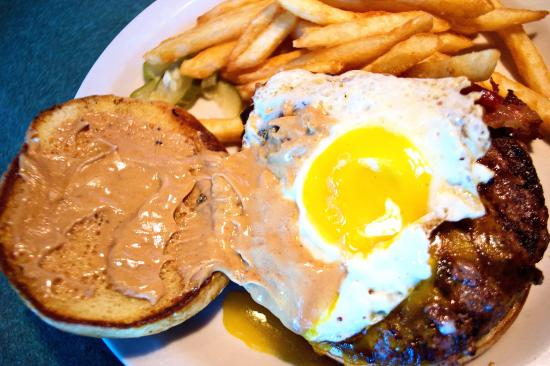 And speaking of the servers, don't you love it when the server gives you a canned speech meant to up-sell profitable items taught through corporate training?  No, no you don't. Nobody does. Servers at Betty's are an eclectic bunch. They have tattoos, piercings, funky hair and awesome personalities. Each server gives a unique experience to each customer and has been known to hold your baby while you eat. You might also find the staff around the valley in BBQ contests in their free time! Oh, and P.S, it's rumored that having your first date at Betty's leads to an elaborate proposal in the bar and engagement pictures on the patio.
Lives are changed in the building but, the business also works to change lives in the community. Fundraisers such as Food for the Soul offering meals to the homeless and raising money for the travel expenses for families in youth baseball help to promote a sense of camaraderie. The staff of Betty's has a regular volunteering day at the local Community Table where they cook and serve lunch to those less fortunate. There have been two incidents where local businesses were close to closing their doors when Betty's sent their customers there for dinner! In the cutthroat business world, Betty's sent their customers away to help another small business owner. Knowing this just makes the food taste better.
So, when looking for what to do on your next night out, check out the Betty's Facebook Page for events such as Trivia Thursdays, Drag Queen Bingo or Coach Purse Bingo where the prizes are authentic Coach merchandise. Did I mention it's free to play?  Get in early for all these events as they don't take reservations and all tables fill quickly.
If you want to show your guests something uniquely local or are tired of the usual burger and fries night out, stop into Bug-Eyed Betty's. The origin of the name is still an industry secret but their food is the talk of the town.