Find your next page turner...and meet the author!
Giant post-it notes cover the walls of the basement meeting room of L.E. Phillips. Sitting around a table, the other workshop participants and I shout out suggestions for qualities we'd like our fictitious character to have. In less than 10 minutes we've created a solid character for a young adult novel, complete with flaws and conflicts for a rich plot.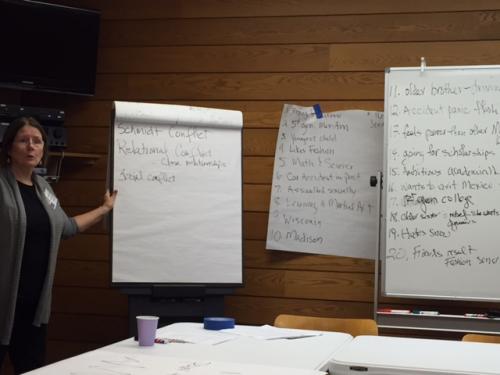 The Chippewa Valley Book Festival officially kicks off October 13, but like any true Wisconsinite, I'm pre-gaming. Leading up to the festival on October 11, 12, and 13 are workshops for aspiring authors given by professional writers. Marsha Qualey, author of nine young adult novels and is a member of the faculty of Hamline University's MFA in Writing for Children and Young Adults program, leads the session on writing for young adults, but she isn't the only author in the room. Two of the sessions attendees are also published authors. And after a few minutes of brainstorming it becomes clear, published or novice, we all have something to bring to the table when it comes to writing for young adults. And while writing is traditionally a very independent activity, throwing ideas around a room of creative people can be very beneficial.
With the onset of colder weather driving people indoors, the fall is an excellent time to pick up a book. In fact, the season encourages it. The last week in September is banned books week, where libraries and schools celebrate books that refused to die when communities banned them. November is National Novel Writing Month, where writers and aspiring authors are challenged to write a novel in a month.
For the 17th year in a row, Eau Claire is getting in on the fall literary fun with the Chippewa Valley Book Festival. The ten day festival features dozens of authors who will be visiting local libraries and schools to share their love of what they do best. Whether you're into crime thrillers, poetry, non-fiction, politics, music, historical fiction, or farming, there is an author for just about everyone. And since no festival is complete without food, there are even opportunities to dine with the authors and attend a cooking demo with a cookbook author! Red lentil seafood soup, anyone?
The Chippewa Valley Book Festival brings together authors from all over the country and as well as highlights our own local writing talents. Don't miss out on an opportunity to meet some truly remarkable individuals and to find your next page turner. And as the winter months sneak up on us, forcing us indoors, remember the words of famed aphorist Mason Cooley, "Reading gives us someplace to go when we have to stay where we are."
For full details about the Chippewa Valley Book Festival please visit their website here.