I know you have heard of the Eau Claire Confluence Project, but have you ever heard of a black box theater?
In addition to a traditional theater, the Confluence will also have a black box, so we figured we would get the inside scoop from the experts behind the scenes.
A black box theater is a versatile theatrical space with a moveable stage and seating area and, a flexible lighting system. The audience and the performer can arrange the area in a variety of configurations to best fit the needs of the performance. According to Arthur Grothe, UWEC's Artistic Director of Theater, "This allows for an intimate and engaging performance experience." Despite the name of this theater (traditionally called "Black Box" to refer to the color these theaters were often painted), to most people this theater will appear to be dark red, which will better support non-theater community events.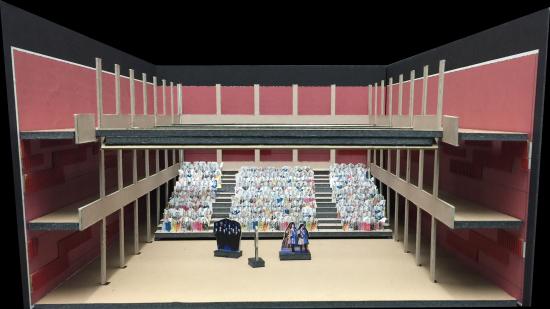 If set up in a more traditional sense, the Black Box Theater will be able to seat 400. Other seating arrangement options such as round, corridor seating or thrust style seating will range from 200-400 seats. "This type of space provides a unique experience for the audience and provides a creative outlet for directors and theatre companies," Grothe says.
While this space will support UW-Eau Claire and their teaching programs, it is also going to beneficial for the whole community. The Black Box Theater has been designed to host a variety of community events and will be available to all theatre groups and musicians in the Eau Claire area. It will provide a location for other artistic outlets, such as live music, dance performances or artist installations. "The natural acoustics for both theater and music will be excellent," says Malcolm Holzman of Holzman Moss Bottino Architecture, the Design Architect for the Confluence project. This space will be unique from any other performance venues in the Chippewa Valley and could provide creative opportunities and potential collaborations for artists.
Sounds like the Confluence will have some exciting things in store for Eau Claire come fall 2018! I know I can't wait, how about you?