Do your March Madness viewing party the right way... with food! As popularity for Charcuterie Boards rises, many are realizing that Charcuterie Boards aren't just for cheese and deli meats. You can put literally ANYTHING on there! So, let's make one out of Eau Claire's favorite appetizers from the menus of our local bars and restaurants! Call ahead, place your order to go, and let's get our apps on!
Cheese Curds 
We had to kick off this list with cheese curds; it's the Wisconsin thing to do! Northern Tap House serves up a mean basket of this beloved app. Their curds come from Ellsworth Creamery and are hand-battered and served with sweet chili sauce. It is the chili sauce that takes these curds to the next level! You'll be surprised... the unexpected tang from the sauce will make your taste buds sing!
Trash Can Nachos
Don't let the "Trash Can" part fool you; if there's anywhere these 44 North nachos belong, it's in your stomach. The tortilla chips are topped with lightly smoked pork shoulder, Pico De Gallo, and queso blanco. They will have the friends at your March Madness party reaching for the board non-stop.
Spuds O' Plenty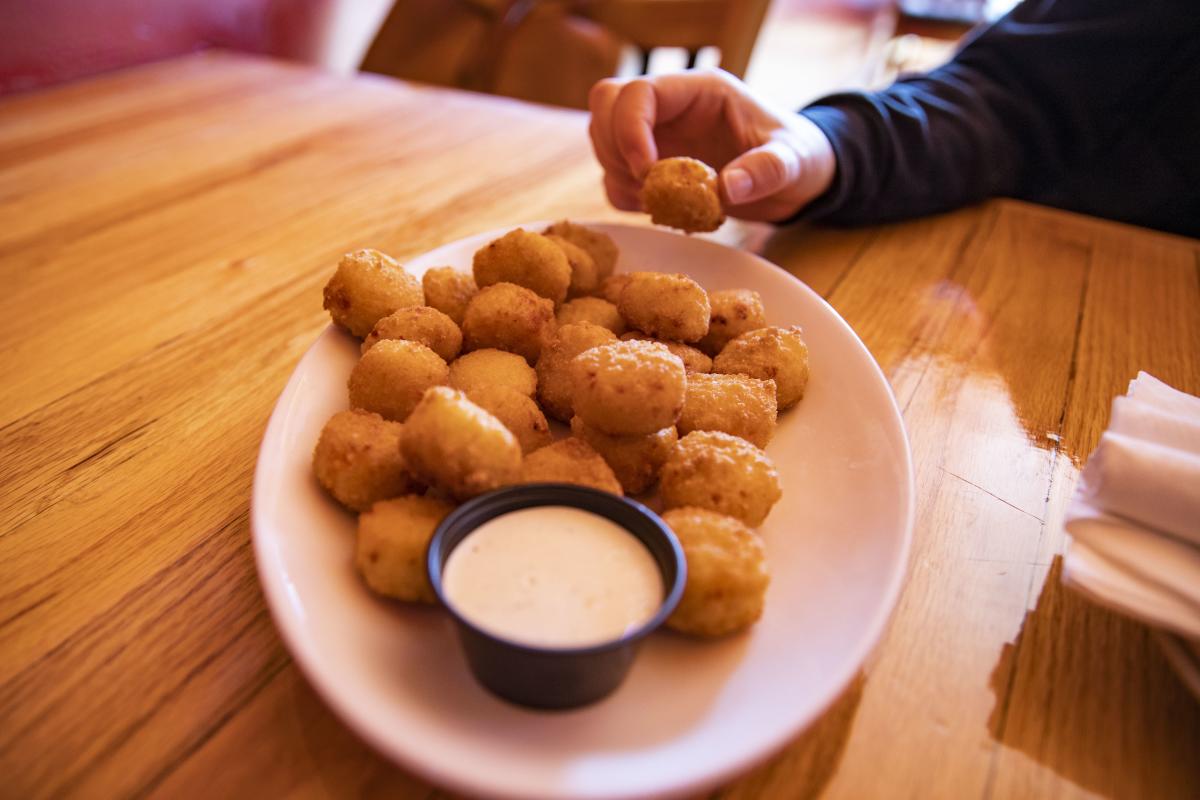 The one appetizer your Charcuterie Board CANNOT go without are the Spuds O' Plenty from Mogie's. They are lightly breaded potato rounds that are... wait for it... stuffed with warm and gooey cheddar cheese. They are a game changer when it comes to appetizers. You'll fall in love just looking at them!
Chips, Salsa & Guacamole
Is it really a party without some chips and guac?! Silly Serrano has you covered! Their salsa and guacamole are filled with so much color and flavor and are exactly what you need for your watch party as you cheer on your favorite teams.
Po-Tater Skins
If your board needs some more potatoes on it, get the Po-Tater Skins from Cowboy Jack's at River Prairie. They are topped with jalapeños, smokehouse bacon, scallions, shredded Colby-Jack cheese, salsa and sour cream. The only thing missing is a good glass of beer! Don't worry, though - we'll get to that in a minute!
Egg Rolls
Who doesn't love a good egg roll?! Besides, this board needs some more international flavors! Egg Roll Plus has some of the best egg rolls in town that will not disappoint. If you're feeling really crazy, get some crab rangoons too! 
Haystack Onions
We need to get some onions on this board! Northwoods Brew Pub is the place to go. Their Haystack Onions are a pile of crispy onion strings that are dry battered and fried served with a side of their Belly Buster sauce. Not your traditional "onion rings", but they are just as tasty... if not better!
Pretzel Bites 
Pretzels! It's the iconic party food! Go to Wisco's and order their pretzel bites for your charcuterie board. They are soft, little pretzel chunks covered in melted butter and sprinkled with salt - simply DELICIOUS! The cherry on top of the cake is the side of beer cheese that comes with the plate. Speaking of beer...
Beer
Your March Madness viewing party is not complete without some beer! Although it's not necessarily going on the charcuterie board, it still deserves to make this line up. The Brewing Projekt has several of their iconic beers canned and ready to go for carryout. Besides, you have to have something to "cheers" with when your favorite team scores!
MORE TO EAT & DRINK