It's floating time! 
If you come to Eau Claire in the summer, it's a necessity to float down the Chippewa River. If you're looking for a fun way to cool off, ask anyone who lives in the area, and they'll tell you the same thing: Go floating down the Chip!
Laying on the river gives floaters a new view of the city. The already-gorgeous river landscapes become even more beautiful from below. Sometimes a new perspective is just what you need!
OK, you know you want to go floating. But how do you prepare? What should you bring? Luckily, Visit Eau Claire has compiled a guide for when you want to go floating down the river, but you have no idea what to bring.
1. A Tube
First thing's first, you need something to float down the river on. The most obvious option is an inner tube, but at some point in the summer, those will be sold out all over the city. When this happens, it's time to get creative. First, you can try renting one from around town, possibly UW-Eau Claire! If that's not going to work, there are plenty of people who float around on air mattresses or huge rafts made for several people.
2. Friends!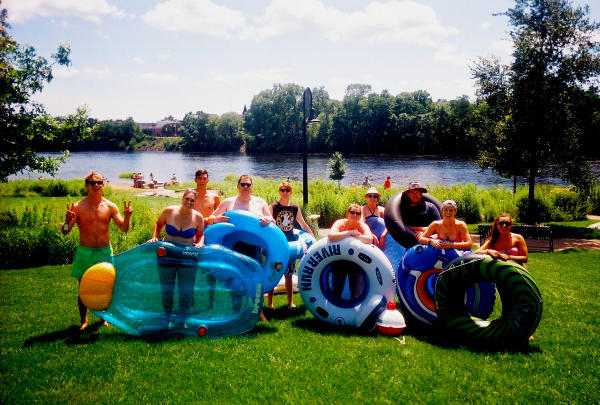 Sure, the view is the same whether you're alone or with buddies, but everything is more fun when you can share it with your pals! Make a day out of it and have a picnic in the park (or stop at Ramone's Ice Cream Parlor for some delicious after-floating desserts). Whatever you do in Eau Claire, the experience is amplified with friends by your side.
3. Sunscreen
Summers in Eau Claire are HOT. Add the scorching heat, plus the sunshine as well as surrounding yourself with water, and you're in for a sunburn you'll be sure to regret. This problem can be easily avoided (most of the time) by just remembering your sunscreen! Bring a lot, because your floating buddies are sure to forget -- and it's never a wrong time to share!
4. Sunglasses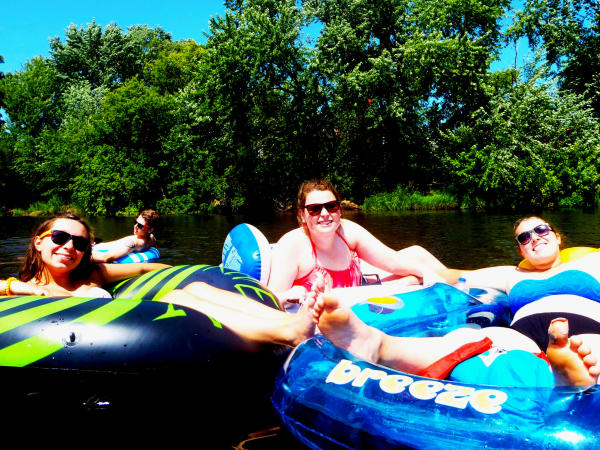 Sunshine mixed with water makes for some bright surfaces, and squinting will get in the way of your new view of Eau Claire!
5. Shoes 
Specifically, shoes you won't mind getting wet. Maybe leave your brand new name-brand sneakers at home for this one, folks. A cheap pair of flip-flops will work just fine. Whether you're ditching your shoes at the car or holding onto them on the river, it's a good idea to bring a waterproof pair, just in case! The river is rocky, and you'll want some shoes when getting in and out.
6. Water
Yes, you're floating on it, but you're going to need some to drink! Hot days are thirsty days, after all. 
7. A Plastic Bag
If you need to bring your phone, keep it in a clear plastic bag, so it doesn't get wet! The river is gorgeous, so taking pictures is a must — but ruining your phone isn't. 
Eau Claire Insider Tip: It's never a bad idea to disconnect for a while! Ditch the phone and go old-school. Buy a waterproof disposable camera so you can still capture the views and the memories. 
Use #CaptureEC to share your photos with us from your breathtaking new view!