Do you love supporting local businesses? Us, too!
The only thing better than buying local is buying local from companies that support local charities. We've compiled a list of Eau Claire businesses that support local charities. 
1. Just Local Food Coop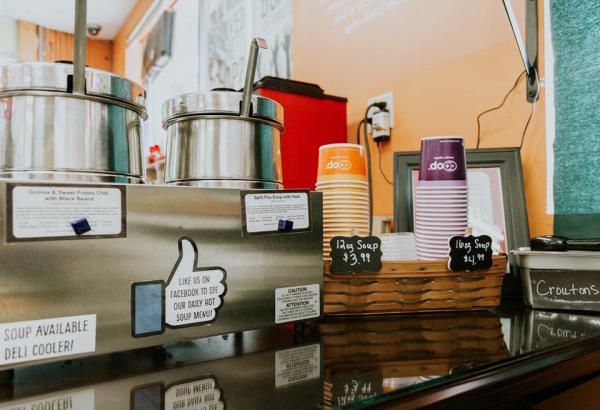 Just Local Food Cooperative regularly partners with charities. Their customers have the option to round up their totals for Just Local's program, "Change Matters" program, which donates to a featured charity. The store aims to pair with charities that aid people who are food insecure, Just Local Food's general manager Maria Bamonti said.
In the past, Just Local has paired with Feed My People, Aids Resource Center, the Community Table, Hmong Mutual Assistance Association and Habitat for Humanity. Bamonti said each month the customer donations add up to about $500-$600 for the month's organization.
In addition to "Change Matters," the co-op donated a portion of the owner investments brought in during November and December of 2017, Bamonti said.
Finally, Just Local has volunteer opportunities at Feed My People and Community Table and a Community Care Cabinet on the side of the store where people can take food if necessary, Bamonti said. 
2. Ramone's Ice Cream Parlor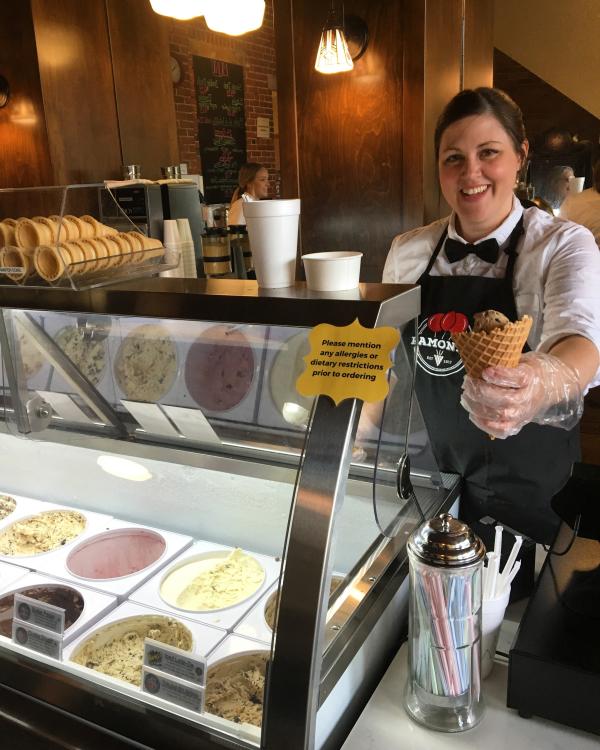 When you tip at Ramone's, 100% of the money goes to various local charities in its "Cash for a Cause" donation program. Currently, Ramone's is raising money for Fierce Freedom, a human trafficking advocacy group.
Most recently, the ice cream parlor donated $500 to Literacy Chippewa Valley, a literacy program that gives adults the reading skills they need to achieve education and employment goals.
Last year, Ramone's donated to charities such as Make a Wish Foundation, Bolton Refuge House, Meals on Wheels, the Beacon House and many others. In 2017, Ramone's donated more than $6,000 to numerous charities according to the ice cream shop's Facebook page. 
3. Red's Mercantile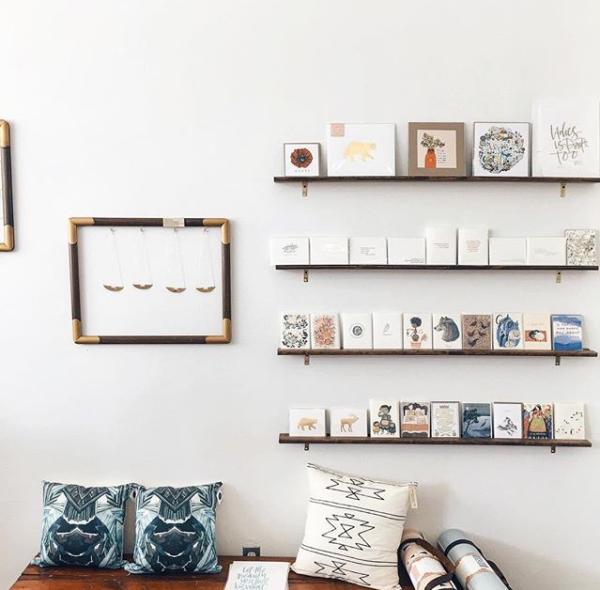 Red's Mercantile owner Becca Cooke founded the Red Letter Grant to support women-owned businesses in Chippewa Valley.
According to Red's website, she started the grant on the one-year anniversary of the business. The grant is funded through sales of the "Red Letter Goods" merchandise at Red's Mercantile. The grant makes up 15% of the sales from the section, according to the website. Red's Mercantile gives out $2,000 grants to four women a year.
4. Tangled Up in Hue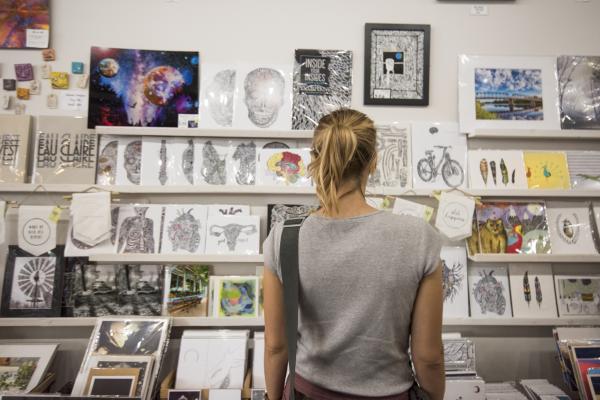 Each quarter, Tangled Up In Hue sells a T-shirt in stores and on Etsy to support a charity. This quarter, the proceeds from the shirt go towards National Alliance on Mental Illness (NAMI) to honor the late artist Jed Leiknes, according to the business' Facebook page, whose art is featured in Tangled Up In Hue.
In the past, the craft store has sold T-shirts to benefit Planned Parenthood, the League of Conservation Voters, and the Humane Association.
Next quarter, Tangled Up In Hue is supporting humanKIND, an Eastside Hill Neighborhood group that is centered around building community and celebrating diversity.
Each quarter, Tangled Up In Hue hosts a kick-off event to let the community know about the new charity they're raising money for. HumanKIND's kick-off event is April 13.
In addition to the quarterly fundraisers, the store also hosts the annual month-long Dog Art Show, in which they sell dog-related art and donate the proceeds to pet-related charities, such as the Humane Association. 
5. Metropolis Resort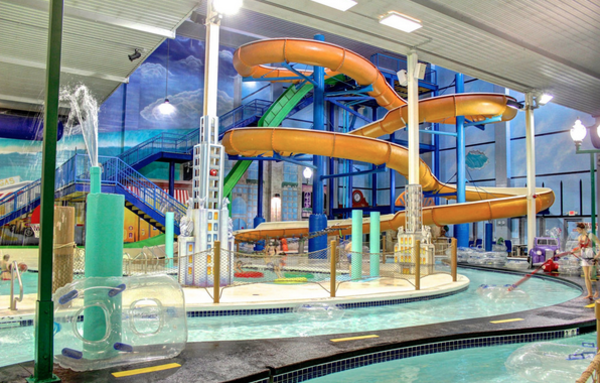 Metropolis Resort has been partnering with Joshua's Camp, a camp for children going through cancer treatment, since its inception. The resort hosts Joshua's Camp and Guiding Star's annual family reunion and a variety of the organizations' fundraisers.
Joshua's Camp approached Metropolis Resort so that they would be involved with the future development, creation and operation of the organization.
The resort doesn't keep track of the funds they raise, which is on purpose, said Benny Anderson, the resort general manager. Their deal with the camp, Anderson said, was to raise enough money to host the camp annually. In addition to Joshua's Camp, Metropolis Resort tries to involve themselves in a variety of charities. 
6. Visit Eau Claire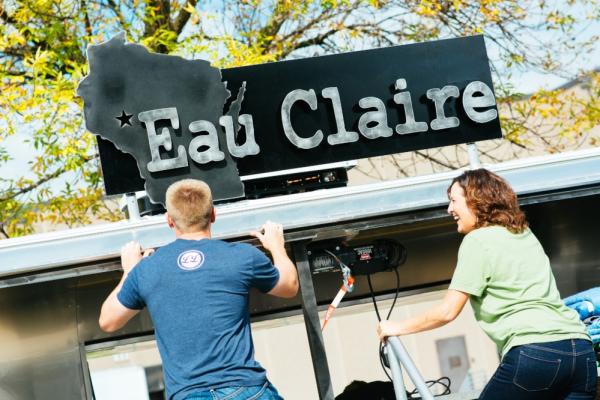 Another supporter of Fierce Freedom is Visit Eau Claire. VEC facilitates a human trafficking awareness training through the website's partnership with hotels. Fierce Freedom's training is designed to make hotels and their employees aware and able to spot the signs of human trafficking.
Fierce Freedom is Visit Eau Claire's social cause, meaning they partner with the organization. In doing so, they attend fundraisers, provide gift baskets, and help the group through vehicles Visit Eau Claire has in order to support them, Visit Eau Claire Operations Manager Katrina Hake said.
Visit Eau Claire uses their website and social media as well as creates videos to promote Fierce Freedom. Hake said everyone in the office gets involved by working on plans to support Fierce Freedom and the team wants to help be part of the solution to ending human trafficking.