Fall is in full swing and families across the Chippewa Valley are filling their weekends with fall festivals, hay wagon rides, and apple picking. But what do you do once you've checked these attractions off your list? Below are six fall family attractions that you might not have heard of but are loaded with fun. Best of all, they're free!
Parade of Colors Fall Hike on the Ice Age Trail
This is a great opportunity to get outdoors and check out the colors, lakes, and hills of the Chippewa Moraine. The Parade of Colors offers hikes of 2, 4, or 6 miles. Shuttles and refreshments provided.
Saturday, October 1, 9:00 - 11:00am at the Obey Interpretive Center at the Chippewa Moraine Ice Age Unit, near New Auburn. Cost: FREE, donations accepted for trail maintenance. 
Observing the Night Sky with Chippewa Valley Astronomical Society
Enjoy the night sky like never before! Here's your chance look through telescopes and see galaxies, nebula, star clusters, colorful double stars, and other wonders of the night sky.
Every clear Saturday until October 29, 9:00 -11:00pm at Hobbs Observatory at Beaver Creek Reserve through the Chippewa Valley Astronomical Society. Cost: FREE, donations accepted. 
Jaycette Park

With so many parks around Eau Claire being outfitted with new playground equipment, it's easy for Jaycette Park to go unnoticed. Sandwiched between the State St. hill and the Fire Station on Patton St, Jaycette Park is an old-school park with minimal equipment that forces kids to use their imaginations.
Plus, while you're there you could take a tour of the Fire Station next door! Just make sure you schedule your visit ahead of time. 
Strut Your Mutt: Howl-O-Ween
It's not fair for us humans to have all the fun for Halloween...so here's a chance to dress up your pups and participate in an event that will feature costume contests, a pet parade, local vendors, and a walk along the city trails. Prizes will be awarded for best costume, best costume couple (human and dog), and best pet/owner look-alike.
Sunday, October 23, 2:00 - 4:00pm at Hobbs Ice Arena (don't worry - the Packers don't play this Sunday!) Cost: FREE. 
LEGO Club
Kids, get ready to use your imagination! You can be a part of a LEGO building club that's going on one Sunday each month through the end of the year. Every Sunday is a different theme, and the LEGOs will be provided by the library.
Sunday, September 25, October 30, November 20, and December 11, 1:30 - 3:00pm at the L.E. Phillips Memorial Public Library. Cost: Free (no registration required).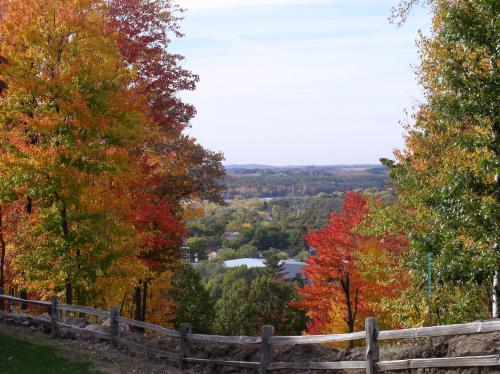 Fall Foliage Drive or Hike
Admiring the fall colors is a no-brainer, but I want to provide you with some resources to make this your best fall color viewing season ever! The first is the Fall Color Report on Travel Wisconsin's website. This is the most comprehensive and timely report for estimating Wisconsin's peak fall colors. Next, you want to make sure you view these colors from the best possible place. Here are some great spots to check out - Six Places to Admire the Fall Colors of Eau Claire.
Any other events going on in or around Eau Claire this fall that you'd like others to know about? Let us know in the comments section below!