5 Scenarios Where Curvue Hideaway & Trees Could Be the Answer
Curvue Hideaway & Trees
Sean and Brittney Malone are in the business of helping people connect with one another. As owners of Curvue Hideaway & Trees on HWY C, they offer the opportunity to withdraw from the busyness, take a deep breath, and focus on what's important. And what's important varies from person to person, but below are five scenarios that could land you and your favorite group of people at their tree farm – which you'll quickly learn is so much more than just a tree farm.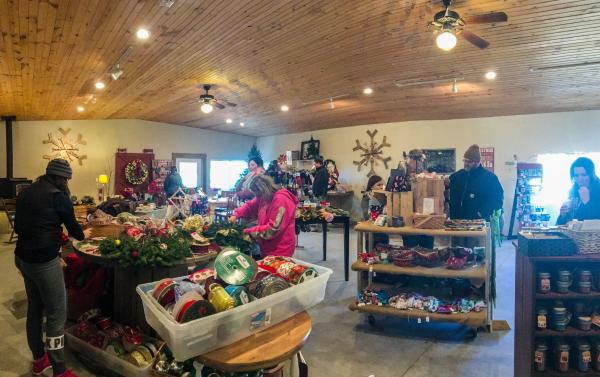 Scenario 1: You want to find and cut your own Christmas tree
Spend the day on Curvue's 12 acres looking for that perfect Balsam Fir, Fraser, or White Pine Christmas tree. Fresh garland, wreaths, swags, and porch pots are also available. Need your tree drilled for the Answer Stand or bailed? Both are free of charge. Once you've secured the tree, enjoy wagon rides throughout their picturesque landscape and warm up by the bonfire with free hot cider, hot cocoa, and S'mores. And if you don't want to cut your own tree, pre-cut ones are available too!
 
Scenario 2: You want someone to decorate your home with Christmas lights so you don't have to do it yourself
Don't mess with freezing temperatures and the stress of hanging your own lights - hire the professionals. Sean and Brittney also own Thomas Leigh Decorators, LLC and would love to talk to you about creating a custom design that will blow your neighbors away!
 
Scenario 3: You need to rent a cozy cabin for the day
Tucked near the back of the farm among the trees stand two cozy log cabins - The Loft and Evergreen Cabin. These beautiful buildings are heated by a wood stove and do not have running water, but that's all a part of the rustic adventure. Both are available as 8-hour rentals (no overnights) and are perfect spaces for smaller gatherings like birthday celebrations, fundraisers, progressive dinners, and church outings.
 
Scenario 4: You need to rent a big room
When you need more room than what The Loft and Evergreen cabins can offer, there's The Lodge to meet all the needs of your large gathering. This 1400 square foot space is heated by a wood stove and provides 12 six-foot tables, 50 folding chairs and – BONUS – free Wi-Fi. The Lodge is the ideal space for baby and bridal showers, larger fundraisers, group meetings, family gatherings, friend reunions, graduation parties, and crafting retreats.
 
Scenario 5: You need to rent a house that sleeps up to 12
Have a bunch of people from out of town coming to your shower, party, reunion, wedding, etc, but don't want to put them up in a hotel miles away? The Hideaway is a remodeled house that sleeps 12 guests and includes a large living room, new kitchen, large bedrooms, a deck off of the kitchen, one full bath upstairs and a mega bathroom downstairs, which you will surely marvel at. It features a large vanity with two sinks, two individual showers, and two individual toilet stalls! All bed linens and bath towels are provided, making it easy to accommodate your group's needs. Check out their stellar reviews on Airbnb.
Curvue is open for Holiday shopping and tree-selecting Friday - Saturday 10:00am - 4:00pm and Sunday 11:00am - 4:00pm beginning the Saturday before Thanksgiving and going through the Sunday before Christmas.
Curvue Hideaway & Trees is located at 6760 Curvue Rd, Eau Claire, WI 54703, and their number is (715) 878-4366. Come out for a visit and reconnect with what's important. Sean and Brittney are excited to meet you!